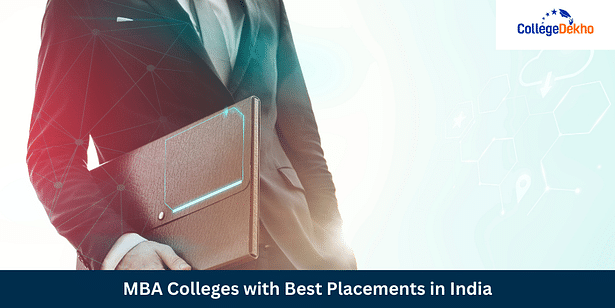 MBA Colleges with Best Placements in India 2023:  One of the most important factors that aspirants must consider when choosing an MBA college is the placement opportunities provided by the institute they will be applying to for MBA admission. With most of the B-schools in India charging exorbitant MBA course fees for MBA and PGDM courses, aspirants must choose an MBA course very carefully. There are various top B-schools in India where candidates can apply after appearing for management entrance exams. But before that, it is very important to find out about the placement records of the MBA colleges in order to ensure a good ROI.
There are several factors that come into play when applying for MBA admissions and choosing an MBA college. Good quality of education, decent infrastructure, and essential accreditations are some of the most important parameters to consider when choosing MBA colleges. Additionally, the average, highest, and number of domestic and international packages offered during placements at B-schools can also help decide which college to choose when it comes to MBA admissions in India. In this article, we have mentioned everything aspirants need to know about the top MBA colleges with the best placements in India 2023.
Also Read:MBA Admission 2023
20 MBA Colleges with Best Placements in India 2023
There are numerous MBA colleges in India that offer lucrative placement opportunities to MBA students after the completion of their degree program. The placement opportunities provided by an institute are one of its most distinctive features and enable aspiring students to distinguish between good and sub-standard colleges when preparing for MBA admissions. Since these placement opportunities are the primary factor in deciding the Return on Investment that aspirants will receive after applying for admission at a particular college, it is a parameter that must be taken into consideration before selecting an MBA college. That being said, we have mentioned the top 20 MBA Colleges with Best Placements in India 2023 in the table below:
Other MBA Colleges with Best Placements
Apart from the MBA colleges mentioned above, there are several other colleges with decent placement opportunities that candidates must check out when applying for MBA admission. Including these colleges will help candidates diversify their choices and also help them understand the different types of requirements they need to fulfill in order to pursue higher education in the field of management. That being said, check out the list of MBA colleges with Best Placements mentioned in the table below:
| | | | |
| --- | --- | --- | --- |
| Name of the College | Highest CTC Offered | Average CTC Offered | Management Course Offered |
| | INR 64 LPA | INR 8.5 LPA | MBA (Master of Business Administration) |
| | INR 60.1 LPA | - | MBA |
| | INR 36 LPA | INR 3.5 LPA | MBA |
| | INR 35 LPA | INR 6 LPA | MBA |
| | INR 13.85 LPA | INR 7.5 LPA | MBA |
| | INR 12 LPA | INR 4.72 LPA | MBA |
| | INR 10 LPA | INR 5.43 LPA | PGDM (Post Graduate Diploma in Management) |
| | INR 10 LPA | INR 4.64 LPA | MBA |
| | INR 10 LPA | INR 3.5 LPA | MBA |
| | INR 7.8 LPA | INR 3.69 LPA | MBA |
The rank of B-schools depends on various factors such as quality of infrastructure, faculty appointed by the college, performance of students, industry brand image, and the influence of alumni network. Placement is also closely dependent on some of these factors.
The reputation of a college in the industry plays a crucial role in placements. Companies hire students from institutes that have constantly been delivering excellence in the academic as well as research sectors. Their objective is to recruit students who have high adaptability and potential to help the organization flourish.
With new management institutes mushrooming in India every year, it is essential to know about the top MBA colleges that can uplift your career. Also, MBA and PGDM programs are costly and you should ensure that the college you are investing in will give you the expected return on investment or not. So shortlist colleges smartly.

Candidates must also check out the articles mentioned below to know more about MBA admission in India!
Related Articles:

You can fill out the Common Application Form (CAF) and apply to the popular MBA colleges in India. For all admission-related inquiries, you can contact our student helpline at 1800-572-9877. We wish good luck to all those aspiring to get MBA admission into their dream colleges!