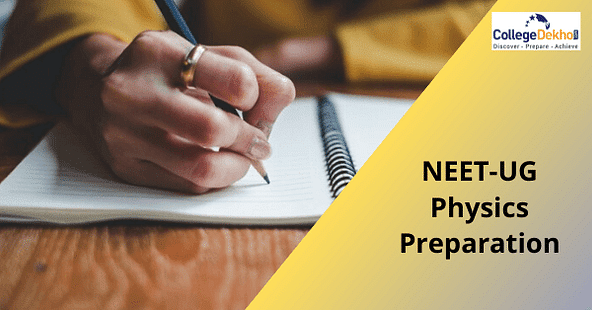 How to study Physics for NEET 2024? Physics is one of the most important subjects in the National Eligibility cum Entrance Test (NEET) for undergraduate medical courses in India. A strong grasp of Physics concepts is essential to perform well in the exam, which is known for its rigorous and competitive nature. Aspiring medical students must prepare meticulously to secure a high rank in NEET UG 2024. As per the recent update, the National Testing Agency (NTA) has released an official notification on September 14, 2024 which consists of the NEET 2024 Exam Date. The NEET UG 2024 exam is scheduled to be conducted on May 5, 2024, and the results for the same will be released in the second week of June 2024.

However, preparing for Physics can be a daunting task for many students. This article aims to provide a comprehensive guide on how to prepare Physics for NEET UG 2024. It will cover essential concepts, study materials, tips, and strategies to help students prepare effectively for the exam. By following these guidelines, students can boost their confidence, improve their problem-solving skills, and increase their chances of success in NEET UG 2024. 

Also Read: 
NEET 2024 Physics Preparation: An Overview
To do well in the Physics section of NEET 2024 exam, the first step is to let go of the idea that Physics is a hard subject. Experts recommend that by mastering 70% of the NEET Physics syllabus, candidates can obtain at least 100 marks in the exam. However, the current NEET 2024 study plan lacks practical exercises, which could make it challenging for candidates to apply their knowledge to problem-solving. It is crucial to obtain a high score in the Physics section of NEET 2024 to secure a higher All India Rank (AIR) and acquire admission to top-tier medical colleges. 
Last year's analysis revealed that good scores in Biology and Chemistry alone would not be sufficient for admission to such colleges, and scoring full marks in all sections was necessary to achieve a perfect score of 720 out of 720. To succeed in the NEET 2024 exam, candidates must understand how to study Physics correctly, as the Physics section is expected to be moderate to difficult, with an emphasis on numerical and tricky questions related to Optics, Semiconductors, and Photoelectric Effect.
Why Preparing for NEET 2024 Physics is Important?
NEET UG Physics is undoubtedly the trickiest and relatively tougher part of the exam paper. Due to this, many students tend to leave out a chunk of the syllabus and focus more on the other two subjects viz. Chemistry and Biology. However, obtaining marks in these two subjects alone will not help get them the desired seat in MBBS. For instance, a candidate scoring 320+ out of 360 in Biology and 160+ in Chemistry will surely crack the entrance exam but in addition to that, scoring 120+ in NEET 2024 Physics will ensure a good rank to get him/her through their preferred medical colleges. Therefore, preparing for Physics is as important as the other subjects to be a top-rank holder in the exam.
NEET 2024 Physics – Chapter-wise Weightage & Important Topics
Considering the vast and diverse NEET 2024 Physics syllabus in mind, the quickest and most efficient way of cracking the subject is to make a list of all the NEET 2024 Physics important topics. While it is important to study the entire syllabus, emphasis should be put on certain topics carrying greater weightage. Here is a list featuring the mandatory topics to study for NEET:
| Important Topics for NEET 2024 Physics | Weightage  |
| --- | --- |
| Thermodynamics | 7% |
| System of Particle & Rigid Body | 7% |
| Laws of Motion | 7% |
| Semiconductor Electronics | 6% |
| Magnetic Effect of Current & Magnetism | 6% |
| Current Electricity | 6% |
| Ray Optics & Optical Instrument | 5% |
| Atoms & Nuclei | 5% |
| Work, Energy, and power | 4% |
| Waves | 4% |
| Wave optics | 4% |
| Dual Nature of Radiation and Matter | 4% |
| Alternating Current | 3% |
| Electrostatics | 3% |
| Properties of Bulk Matter | 3% |
| Oscillations | 3% |
| Gravitation | 3% |
| Mechanics of Solids & Fluids | 3% |
| Electrostatic Potential & Capacitance | 2% |
| Electromagnetic Induction | 2% |
| Thermal Properties of Matter | 2% |
| Kinetic Theory of Gases | 2% |
| Units and Measurement | 2% |
| Kinematics | 2% |
| Electromagnetic Wave | 1% |
| Electric Charge & Field | 2% |
| Rotational motion | 1% |
| Centre of Mass | 1% |
NEET 2024 Physics Best Books
One of the best ways to truly understand and have a clear understanding of a subject is to refer to some of the best books. Similarly, candidates who are currently preparing for the exam must refer to the NEET 2024 Physics Best Books in order to better understand different topics and sub-topics. Here is a list that you can explore:
| Concepts of Physics by H.C. Verma (Vol. 1 & 2) | NCERT Physics Textbook for Classes 11 & 12 |
| --- | --- |
| Objective Physics by D.C. Pandey | Satya Prakash Arya's Objective Physics |
| Problems in General Physics by I.E. Irodov | Fundamentals of Physics by Halliday, Resnick, and Walker |
| Concepts of Competition Physics for CBSE PMT by Agarwal | MTG NEET Champion Physics |
Also Read: NEET 2024 MBBS Seats in Government Medical Colleges
NEET 2024 Physics Preparation Strategy
With less than a month left for the preparation of different topics under the Physics section, aspirants must speed up their preparation process for all the subjects. With Physics being more numerical and mathematical in nature, in comparison to Biology and Chemistry, students must ensure that they take enough time to prepare the subject. Here are certain steps that can be taken to prepare properly for the Physics section of the exam:
1. Collect Sources and Reference Books
The first step in preparing for any subject and exam is to collect the necessary sources and books which will aid in the overall preparation of the subjects. It is also important for all aspirants to figure out the important topics for Physics, as has been mentioned above.
While collecting information and sources, all aspirants must have more than just one reference book, even though preparing from NCERT will work. Books such as Objectives of Physics both by D.C. Pandey and Satya Prakash Arya, Irodov's Problems in Physics as well as H.C. Verma's Concepts of Physics are books that have been recommended by experts to prepare for Physics in national-level entrance exams.
2. Prepare a Time-Table
As cliched as it may sound, preparing a timetable to study the different topics under the subject will help in easing the burden. A proper timetable with the proper ratio of study to break will allow students to prepare for the exam, stress-free.
One thing to keep in mind while preparing a timetable for NEET physics is the emphasis on important topics in physics such as Waves, Optics, Modern Physics, Electrodynamics, Mechanics, etc. It is important to put in a little bit more time and effort into preparing these topics, as questions from the topics are bound to come, which also will help in fetching easy marks if prepared well.
3. Conceptual Clarity
Physics as a subject is a conceptual-based subject, therefore, in order to clear the examination, you will need to ensure that your concepts of the different topics in the subjects are clear. Conceptual Clarity of topics in Physics is key to scoring a good mark in the exam. While you can clear all your concepts through NCERT, referring to one of the other reference books mentioned above, will aid in helping you understand the concepts better.
The theoretical questions in Physics will all be based on different concepts and theories. With clear concepts, securing a good score in physics will be a cakewalk for aspirants.
4. Referring to Previous Year Question Papers and Mock Tests
One of the best techniques for learning any subject is to attempt a lot of question papers and mock tests. This will not only train you to be quicker in answering questions and revising your topics, but you will also learn of the frequently asked questions and topics.
For instance, some of the frequently asked questions come from topics such as electrostatics, optics, heat and thermodynamics, modern physics, magnetism, simple harmonic motion, etc. Many times, there may be more than one question in some of the subjects, increasing the relevancy of the topic.
Students can refer to the important topics to know more about the topics that are frequently asked in the question papers. Attempting different question papers will allow the students to properly understand the topics as well.
Solve NEET Physics Question Papers for FREE Now!
5. Use One Reference at a Time
As mentioned above, using different reference books and sources will help in clearing doubts and bring clarity in concepts as well. However, the opposite can also happen, if you use too many books at one time. It is better to first learn the concepts through one book and in cases of confusion in the concepts, using a couple more books will certainly aid in enhancing your knowledge of the subject.
These are just some tips and tricks you can use in order to properly study and prepare for the exam. The increase in the competition in an already high-competitive exam means that every mark counts. Therefore, make sure your NEET 2024 Physics preparation strategy is at its best irrespective of the difficulty level. 
How to Tackle Numerical Problems in Physics for NEET UG 2024
Numerical problems are an important part of Physics in NEET UG 2024. They require a good understanding of the underlying concepts and strong problem-solving skills. Here are some tips on how to tackle numerical problems in Physics for NEET UG 2024:
Develop a Strong Foundation: Before attempting numerical problems, ensure that you have a strong understanding of the underlying concepts. This will help you understand the problem better and solve it more efficiently.
Practice Regularly: Regular practice is crucial to develop problem-solving skills. Solve a variety of numerical problems from different sources to get a better understanding of the concepts and how they can be applied in different contexts.
Understand the Problem: Read the problem carefully and understand the given information. Identify the relevant concepts and equations that can be applied to solve the problem.
Organize the Information: Organize the given information systematically and write down the relevant equations. This will help you solve the problem in a more structured and efficient manner.
Simplify the Problem: Try to simplify the problem by making assumptions or approximations wherever possible. This will help you get a better understanding of the problem and make it easier to solve.
Solve Step-by-Step: Solve the problem step-by-step, using the relevant equations and concepts. Keep track of the units and ensure that the final answer is in the correct units.
Verify the Solution: Verify the solution by checking if it satisfies the given conditions and if the units are correct. Also, check if the answer is reasonable and makes sense in the context of the problem.
Learn from Mistakes: If you make a mistake, try to identify where you went wrong and learn from it. This will help you avoid making the same mistake in the future.
NEET 2024 Physics Preparation Tips – What Our Experts & Toppers Say
When it comes to preparing for NEET UG Physics 2024, a word of advice from experts and experienced can help boost the confidence of the candidates. Here are a few tips from NEET toppers and mentors that will surely benefit students in their last-minute preparations:
Instead of ignoring the topics that are more challenging, spend more time focusing on them so you have enough time to cover them all. 

On average, about 85% of the questions asked in NEET Physics have a difficulty level of easy to moderate. The majority of these questions are based on formulae. Therefore, make a chart for all the formulae from all the chapters and revise them daily. 

Time yourself when solving sample papers and taking NEET 2024 mock tests because you will not have endless hours to finish your NEET Physics paper in the actual exam. 

While solving NEET sample papers and questions, always attempt the ones that are easy and then move on to the trickier ones, or else you might end up losing time.

Take breaks in between studies. Studying endlessly for hours can make it monotonous and difficult to concentrate.
​​​Also Read: NEET 2024 Daily Practice Problems & Questions
NEET 2024 Exam Pattern 
NEET 2024 will be conducted as a Pen and pen-and-paper test for a duration of 3 hours and 20 minutes. All questions asked in the paper will be objective in nature, which means, the questions will be MCQ-based. According to the information bulletin for the exam, the NTA has stated that the examination will be conducted in English and 12 other native languages including Hindi, Tamil, Gujarati, Bengali, Urdu, Marathi, Malayalam, Oriya, Punjabi, Assamese, Kannada, and Telugu. Moreover, the question paper will consist of 180 questions, each carrying 4 marks, bringing the total marks to 720. However, if candidates fail to correctly answer a question, 1 mark will be deducted from their total score. Here is a breakdown of the NEET 2024 exam pattern:
Subjects

Sections

Total Questions

Total Marks

Total Duration

Chemistry

Section A + Section B

35 + 10

140 + 40

3 hours

20 minutes

Physics

Section A + Section B

35 + 10

140 + 40

Biology (Zoology)

Section A + Section B

35 + 10

140 + 40

Biology (Botany)

Section A + Section B

35 + 10

140 + 40

Total

180

720
Also Read: How to Prepare Biology for NEET 2024: Tips to Score Maximum Marks
NEET 2024 Physics Syllabus 
The NEET 2024 syllabus is designed as per the curricula of Classes 11 & 12. The topics, thus included, are mostly NCERT-centric. The Class 11 syllabus is divided into 10 units/chapters while the Class 12 syllabus comprises 9 units/topics. Thus, there are a total of 19 units in the NEET 2024 Physics syllabus.  Candidates aiming at securing a good rank in the examination are advised to go through the complete NEET 2024 Syllabus here:
| Units/Chapters | Class 11 Physics | Class 12 Physics |
| --- | --- | --- |
| 1 | Physical World & Measurement | Electrostatics |
| 2 | Kinematics | Current Electricity |
| 3 | Law of Motion | Magnetic Effects of Current & Magnetism |
| 4 | Work, Energy & Power | Electromagnetic Induction & Alternating Current |
| 5 | The Motion of Systems of Particles & Rigid Body | Electromagnetic Waves |
| 6 | Gravitation | Optics |
| 7 | Properties of Bulk Matter | Dual Nature of Matter & Radiation |
| 8 | Thermodynamics | Atoms & Nuclei |
| 9 | The Behaviour of Perfect Gas & Kinetic Theory | Electronic Devices |
| 10 | Oscillations & Waves | |
At the end of the day, you are your worst enemy and best friend. You know yourself better than anyone else, therefore, when you are planning your preparation strategy for NEET UG 2024 Physics, try to push yourself to excellence, however, not at the cost of your health or sanity.

Must Read: 
We hope this article has been helpful in providing you with some valuable NEET 2024 Physics Preparation Tips! Check out the NEET 2024 Physics Question Paper Analysis here to go through the probable questions in NTA NEET exam.
For more updates on the latest news and information on NEET 2024, stay tuned to CollegeDekho! For further queries related to NTA NEET admission, get in touch with us at 1800-572-9877.
Good Luck!