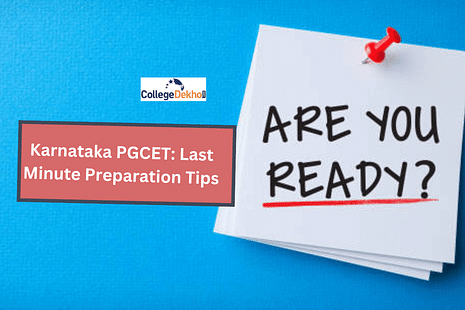 Karnataka PGCET 2023 Last Minute Preparation Tips - The Karnataka Examination Authority has postponed the Karnataka PGCET 2023 exam until further notice. Earlier, the Karnataka PGCET 2023 exam was scheduled to be conducted on September 9 and 10, 2023 for admission into various ME/ MArch/ MCA/ M Tech Courses. Given the difficulty level and competitiveness, aspirants for the Karnataka PGCET 2023 should have an excellent and groundbreaking last-minute exam preparation strategy to ace the exam. Despite the full-fledged preparation, it is mandatory for candidates to put full focus on the exam strategy during the last few days before the exam.

Latest:Karnataka PGCET Application Form 2023 Released
The Karnataka PGCET 2023 last-minute preparation tips given in this article are based on expert opinion and suggestions by previous years' toppers. Candidates preparing for the Karnataka PGCET 2023 exam should go through these tips to make the exam days a cakewalk. 
Last-Minute Preparation Tips for Karnataka PGCET 2023
Starting with re-examining the Karnataka PGCET 2023 exam pattern and syllabus of Karnataka PGCET 2023, candidates should focus on their strengths and evaluate areas for improvement. Solving Karnataka PGCET 2023 mock tests/ sample papers and previous years' papers of Karnataka PGCET 2023 is also considered to be a part of good last-minute preparation tips. 
| S. No. | Karnataka PGCET 2023 Preparation Tips |
| --- | --- |
| 1 | Re-examine the PGCET exam pattern and syllabus |
| 2 | Focus on your strengths |
| 3 | Solve previous year's question papers  |
| 4 | Evaluate areas of improvements |
| 5 | Avoid overburdening yourself with new topics |
| 6 | Avoid unnecessary group discussion |
| 7 | Adopt Pomodoro technique |
| 8 | Take regular breaks & adequate sleep |
| 9 | Time management is the key |
Let us look at the last-minute preparation tips in detail to have a better understanding. 
Re-examine the PGCET Exam Pattern and Syllabus
The first thing to do in the final few days of preparation is to brush over the important exam details like the Karnataka PGCET 2023 exam pattern and syllabus. There are 100 questions to be answered in 120 minutes. Every objective question in the Karnataka PGCET 2023 will award one mark for a correct response. There are 25 questions in each of the exam's four sections. There is no negative marking or sectional timing in Karnataka PGCET 2023 Exam which will help candidates stress less and do their best in the exam.
The Karnataka PGCET Syllabus 2023 is based on the graduate syllabus of several subject disciplines, candidates must completely prepare all main topics covered at the undergraduate level. There are two parts in the Karnataka PGCET 2023 Syllabus namely Part A and Part B. Part A basically consists of the core subjects that are relevant to a candidate's field of study for example Civil Engineering, Mechanical Engineering. On the other hand, the Part B Syllabus includes Mathematics and Computer Science. 
Focus on Your Strengths
The last few days of preparation should be mostly about confidence building and focusing on your strengths rather than thinking about your weaknesses. It will not be a very smart decision to work on your weaknesses at this point in time as it will be a waste of your time trying to achieve something which is far-fetched when you should be sharpening your existing skills and knowledge to help you get the most out of it. In a nutshell, you should put more effort into those sections in which you feel confident or have prepared well rather than the topics or areas that you feel need improvement.
Solve Previous Year's Question Papers 
Previous Year's Question papers are one of the most important components of the Karnataka PGCET 2023 Preparation process, especially in the last few days. Answering questions from previous years is a good technique to practice, evaluate, identify, and enhance the study process. For students preparing for Karnataka PGCET 2023 exam, having access to a proper set of the previous year's question papers is nothing less than a treasure trove. Solving Previous Years' Question papers of Karnataka PGCET 2023 makes candidates familiar with the structure of the question paper, it also gives an insight into frequently asked questions and boosts their confidence. Students must therefore understand, solve, and learn how to optimize these papers. By solving previous years' exam papers and grasping their benefits, students can smartly plan their exam day approach. 
Evaluate Areas of Improvements
The Candidates have to evaluate their weaker areas or which can be improved within the remaining time before the exam. Analyze your performance and level of preparation by taking frequent mock tests and sample papers, it will help you know you're exactly where you stand in the exam preparation and what more has to be done to enhance your chances to score as much as possible. Once you know which areas require improvement you can start working towards those along with the regular revision session keeping in mind the time limitations that you have i.e. focus on those weaker areas that will not take up all of your time.
Avoid Overburdening Yourself With New Topics
Starting new topics right before an exam is not a wise decision at all. Not only will it increase stress levels but also put a strain on the ongoing revision process. It might also result in hampering and undermining the preparation done earlier. The topics learned before can get affected or also overlap in the process. It will result in self-doubt and under-confidence.
Avoid Unnecessary Group Discussions
It is advisable for candidates to avoid unnecessary group discussions as they may result in nervousness or self-doubt. Indulge in group discussion only when required. Do not discuss your progress or ask about the other person's progress as it will lead to self-doubt and also jealousy in some cases which we all know will result in stress and anxiety. Hence candidates should stay focused and work on themselves and their preparation instead of discussing when not required.
Adopt Pomodoro Technique
In order to encourage prolonged attention and prevent mental tiredness, this well-known time management technique requires you to alternate focused work sessions called pomodoros with frequent short breaks. Usually, it is the five-step process given below-
Make a to-do list and set a timer
Tick one Pomodoro when your session is over, then note down your accomplishment
After that, take a five-minute pause
After four pomodoros, take a lengthier, more restorative 15-30 minute pause. Repeat
Take Regular Breaks & Adequate Sleep
You can maintain motivation and avoid burnout by taking a break from studying. It's beneficial to treat yourself so you can return to your study environment with ease and feel happy. Study breaks provide you with a greater sense of control over your time and enables you to still have fun. It will be easier to resume work after a break, and you'll be better able to maintain your focus throughout exams. This accountability will help you in the long run.
Provide variation for yourself throughout each break by taking into account the following:
Get moving-  To relax your joints and improve blood circulation, move your body.
Don't be shy - Make a call, use Zoom, or Facetime a friend or relative.
Be mentally free-  Give up trying to forcefully focus on the subject you are studying.
Fix screen time-  Turn your attention away from your phone, tablet, or computer.
Remain hydrated-  Your partner in maintaining good health and awareness is water.
Time Management 
Karnataka PGCET 2023 requires both smart and hard work. Time management and efficient time use are of utmost importance. You could efficiently cover every subject and cement the ideas in your head. It's important that you understand even the smallest details of complex subjects if you want to score good marks. 
Time management will prove to be the best tool when it comes to preparation. Once a candidate understands how to divide, distribute and manage time effectively through studying, practicing, clearing doubts, and taking breaks it will become easy for them to score high in any exam.
Not just during the preparation period, but also when taking the exam, time management is an essential requirement. To become one of the selected few students, you must answer more questions properly within the stipulated time frame. 
Lastly, make sure to keep all documents handy such as admit cards, identity proof, and any other important documents. Do not forget to reach the exam center as per the reporting time mentioned on the Karnataka PGCET admit card 2023. 
CollegeDekho wishes you the best of luck with your Karnataka PGCET 2023 exam.