CAT 2021 exam will be conducted on November 28, 2021. Registration for CAT 2021 started on August 4, 2021, and will continue until September 15, 2021. Since the difficulty level of CAT is high, candidates should prepare well to ace the exam. Time management in CAT is an essential part to get a good CAT score. There are many good time management habits for CAT that should be followed by aspirants. Managing the time for each section should be practised well during CAT exam preparation itself. Besides this, candidates should try to solve the maximum number of CAT previous year question papers and mock test papers of CAT. This article has information about the section-wise time management tips for CAT 2021.
CAT 2021 Exam Pattern
CAT 2021 will be conducted in online mode. The exam will be divided into 3 sections and each section consist of multiple-choice questions. Candidates will be given 40 minutes to solve each section and they can not switch between the sections during the exam. The table provided below contains the exam pattern of the CAT 2021 exam.
| | | |
| --- | --- | --- |
| Section | No of Questions | Time Allotted |
| Quantitative Aptitude (QA) | 26 | 40 Minutes |
| Verbal Ability & Reading Comprehension (VARC) | 26 | 40 Minutes |
| Data Interpretation & Logical Reasoning (DILR) | 24 | 40 Minutes |
| TOTAL | 76 | 120 Minutes |
Time Management for CAT 2021
The duration of the CAT 2021 exam is 120 minutes, divided into 40 minutes per section. Candidates need to manage the time section-wise since they will not be provided any extra time to solve each section of the exam. They can follow the sectional time management tips provided below during the CAT 2021 exam.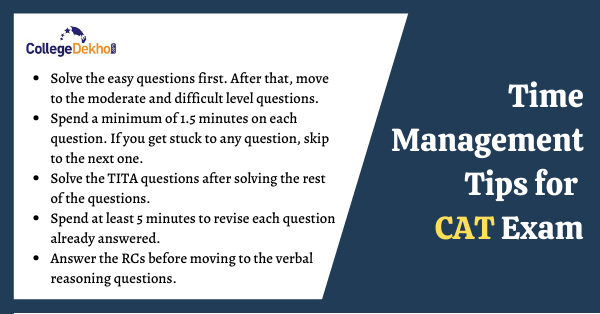 Also Read:How to Approach CAT 2021 Question Paper?
Time Management Tips for CAT VARC 2021
Some of the time management tips for the Verbal Ability and Reading Comprehension(VARC) section of CAT 2021 are provided below. 
Solve reading comprehension questions first. Solve difficult questions that require time.

Allocate 10-15 minutes to solving VA questions. The Verbal Ability part of the VARC section is comparatively easy and requires less time to solve.

Follow the strategy that works the best while solving RCs. 

Have a time limit to solve each question in the CAT exam as that will help in avoiding getting stuck on any question in the VARC section.

Read the RC first. If there is any difficulty while solving the RC,  skip that and come back to it after attempting the rest of the questions.

Divide the total time for solving the questions in the VARC section wisely. Allocate 8-10 minutes for RCs with six questions and 5-6 minutes for RCs with three questions.
Also Read:How Many Questions to Attempt in CAT 2021 for a 99 Percentile Score
Time Management Tips for CAT QA 2021
Provided below are some of the time management skills for the Quantitative Ability (QA) section of CAT 2021.
For the QA Section, solve the easy questions first. After that, move to the moderate and difficult level questions.

Try to utilise the shortcuts and formulas while solving questions in the QA section.

Solve at least 15-17 questions in 20 minutes. Utilise the rest of the time to solve different problems.

Since only 40 minutes will be provided to solve questions in the QA section,  spend a maximum of 1.5 minutes on each problem.

If any candidate is not able to understand the problem, he should skip to the next section.
Also Read:CAT Preparation Tips for Non-Engineering Students - Check Study Plan & Strategy
Time Management Tips for CAT DILR 2021
The time management tips for the Data Interpretation and Logical Reasoning (DILR) section of CAT 2021 are listed below
Solve the Non-MCQ questions first. There will not be any negative marking for Non-MCQ questions of CAT 2021.

Try to complete the seating arrangement questions in less than 15 minutes.

Allocate 15-20 minutes for the Logical Reasoning questions. LR questions are less time-consuming as compared to the DI section.
Also Read:How Much Time is Required to Prepare for CAT?
CAT 2021 Time Management Tips for Exam Day
Candidates should solve the easy questions first, which are easily understandable, can be solved quickly, and require less time. They can later go for the time-consuming questions.

A clock will be provided on the screen. Keep an eye on the clock to know the time left to answer the section.

Around 20 TITA questions are asked in the CAT exam every year. There is no negative marking for these questions. Go for the TITA questions first since they are time-consuming. Devote 10-15 minutes to solve these questions. 

Apply the reverse strategy for those questions which are difficult and non-understandable.

Set an average time per question. This will help get an idea about the maximum time which can be given to each question in the CAT 2021 exam.

Spend at least 5 minutes to revise each question already answered. This exercise will help in checking if all the questions have been answered and no questions have been skipped.
Also Read:Exam Day Tips for CAT 2021 - Key Tips to Help You Succeed
Time Management Tips for CAT 2021 Preparation
It is also necessary to have good time management skills during the CAT 2021 preparation. We have provided some of the time management tips for CAT 2021 preparation.
Divide the time for CAT preparation as per one's strengths and weaknesses. Those who are from engineering backgrounds should spend more time on verbal ability and reading comprehension section preparation in comparison to the rest of the sections.

Spend two days per week to solve the sample papers of CAT 2021. 

Take out some time for revision after completing each topic provided in the syllabus of CAT 2021. Also, solve practice questions for each topic to strengthen the concept.

Start preparing for the CAT 2021 exam at least 5-6 months before the exam. Besides this, allocate the last month for revision.

Spend 1-hour reading each day. Learn at least 10 new words daily and try to use them in sentences. 

Have a proper timetable for CAT preparation. It should be prepared in such a way that enough time is allotted for preparing for all sections of the CAT exam.
Also Read:Important Topics for CAT 2021: Expected Subject-Wise Weightage
Advantages of Time Management for CAT 2021
Time management can help the candidates divide their time equally among all questions. They can calculate the maximum time they can allocate per question and this will help them complete the exam within the allotted time. Time management will also help the candidates leave some time for revision after answering all the questions. Those who want to know more tips for time management in CAT can ask questions on the Collegedekho QnA zone.
Related Links
Those who want admission-related assistance can fill our Common Application Form or call on our toll-free number 1800-572-9877.