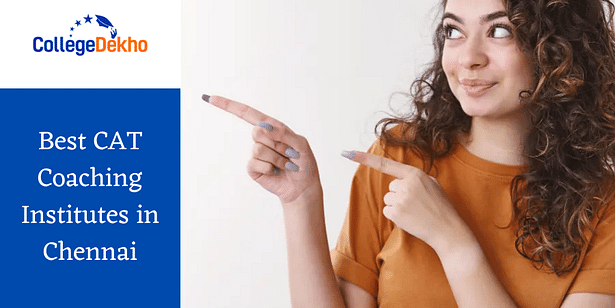 Best CAT Coaching in Chennai 2023: One of the most challenging parts of the CAT exam is preparation, which candidates must complete successfully in order to perform well on the real test. For aspirants hailing from Chennai, preparing for the CAT exam may not be as tough due to the presence of some of the top CAT 2023 coaching institutes in Chennai. The majority of test takers are known to need assistance and aid during their CAT preparation, even if some candidates have been known to ace the exam by self-preparation. Candidates may check the CAT 2023 Expected Score for 90 Percentile.
The CAT 2023 exam is one of the toughest and most competitive entrance exams in India, which is why CAT 2023 preparation is such a crucial aspect of the exam. CAT is primarily conducted for entry into Institute Institutes of Management (IIMs) and several other top-rated B-schools in India. Therefore, if candidates wish to score a high percentile score in the CAT exam, their preparation is required to be immaculate.
In Chennai, one of India's largest metropolises, there is a huge demand for CAT coaching. Therefore, CAT aspirants will have no problem finding some of the best CAT coaching institutes in Chennai that have sprung up in various parts of the city. Aspirants looking for the best CAT coaching institutes in Chennai 2023 must take a look at the article below.
Also Read:
Top 5 Offline CAT Coaching Institutes in Chennai
CAT is easily the most important MBA entrance examination conducted every year across the country. Selecting one of the top CAT Coaching institutes in Chennai automatically allows you to access some of the premier management institutions of the country, including the Indian Institutes of Management, JBIMS Mumbai, IITs offering MBA, etc. Here is the list of the 5 best coaching institutes in Chennai along with their respective address and fees (subject to change):
| Name | Fees (in INR) | Address |
| --- | --- | --- |
| TIME - Triumphant Institute Of Management Education | 39,950 | No. SL 1, Second Floor, Khaleel Centre, Alsa Mall, Egmore, Chennai, 600020 |
| Career Launcher | 40,000-52,000 | 109, Second Floor, Shiva Shanmugham Road (Near Canara Bank, Vidya Theatre) Tambaram West, Chennai, 600045 |
| VproV | 47,750 | IIT Madras (Only for IITians), Guindy, Chennai, 600032 |
| Math Enhancement | 31,500 | Head Office - L-115, 17th Street, Anna Nagar East, Chennai, 600102 |
| IBT - Institute of Banking Training, Anna Nagar | 40,500 | No.1251/2 Thirumangalam Road, Kambar colony, 19th Main Road, Anna Nagar West, Chennai, 600040 |
Best 5 Online CAT Coaching Institutes in Chennai
Several coaching institutes in Chennai offer online CAT preparation courses to help aspiring MBA students achieve their goals. Here's an introduction to some of the top CAT coaching institutes in Chennai offering online coaching:
| Name | Fees (in INR) |
| --- | --- |
| T.I.M.E (Triumphant Institute of Management Education) | 29,950 |
| Byju's - The Learning App | 30,000 |
| Career Launcher | 37,000 - 42,000 |
| Srinivasa Academy | 21,000 |
| 2IIM | 22,000 - 44,000 |
How to Choose the Best CAT Coaching Institute In Chennai 2023
Choosing the best CAT Coaching Institute in Chennai is an important step as the quality of guidance that aspirants will receive during preparation will determine their performance in the CAT exam. Check out some of the most important factors to keep in mind when choosing a CAT coaching institute in Chennai mentioned below:
Success Ratio: When selecting one of the best CAT coaching institutes in Chennai, one of the first things candidates must look at is the success rate. Candidates need to be aware of the coaching center's success rate, which indicates the proportion of pupils there who have previously passed the final selection and qualified for the exam. Candidates will gain a better understanding of the caliber of the counseling offered at that specific institution.

Student Feedback: Feedback from former students and other individuals connected to the institute is another crucial factor to take into account. Candidates must consider reviews from former coaching clients regarding the instructors and professors while selecting one of the top CAT coaching institutes in Chennai. Additionally, candidates must consider input on other factors such as the study atmosphere, the types of classmates, the class schedule, etc.

Track Record and Achievements: Another crucial factor that determines whether or not candidates should commit to a particular CAT coaching facility for their CAT preparation is the center's track record and accomplishments. Before submitting an application for admission, candidates must be aware of the coaching center's history and prior successes.

Cost and Fee Structure: Whether a CAT coaching center is worthwhile or not depends significantly on the cost of enrolling in a CAT preparation course. Before submitting an admissions application, candidates need to be aware of the fee schedule. Candidates should also ask the tutoring center about its refund policy if one exists.

Infrastructure and Facilities: When selecting one of the top CAT coaching institutes in Chennai, candidates should pay close attention to a number of crucial elements, including infrastructure and facilities. Aspirants can benefit indirectly from infrastructure, safety, and assurance when it comes to CAT preparation.

Location and Schedule: Last but not least, prospective students should consider the location and class schedule of the CAT coaching center before enrolling. To ensure that they have ample time for independent study, candidates should select a CAT coaching center that is both close by and offers flexible class times.

Study Material and Aids: For students who sign up for CAT preparation classes, the bulk of the best CAT coaching institutes in Chennai offer their own study guides and other resources. For better preparation for entrance exams, study materials are crucial resources, particularly those offered by coaching facilities as they often feature pertinent questions and sample tests. Before requesting admission, applicants must, however, confirm that the coaching facility has the required reading material.
Benefits of CAT Coaching Classes in Chennai
Wondering why you should choose CAT coaching in Chennai? Here are the reasons to choose the same: 
They are located in prime locations such as Adyar, Annanagar, and Nungambakkam, making it easier for aspirants to take up CAT coaching. 

Almost all the CAT coaching institutes in Chennai provide aspirants with the flexibility of online and live classes. 

One can even choose between weekday or weekend classes as per their availability. 

Apart from the CAT exam, CAT coaching institutes in Chennai take care of the subsequent stages of MBA admissions including Group Discussions, Written Ability Test (WAT/Essay), and Personal or Group Interviews. 
Also Read:CAT Preparation Tips for Non-Engineering Students
Study Material Offered by CAT Coaching Institutes in Chennai
The best CAT Coaching institutes in Chennai offer a variety of study materials to help students prepare for the CAT exam, starting from printed study material to live video sessions. Here is the list of the study materials typically provided by the best CAT coaching institutes in Chennai:
Printed Study Material

Practice Test Papers

Mock Tests

Online Learning Platforms

Study Plans and Guidance

Classroom Coaching

Doubt Clearing Sessions

Library Facilities

Personalized Coaching

Online Forums and Communities

Current Affairs Updates
Chennai offers a variety of CAT coaching institutes that cater to the diverse needs of MBA aspirants and keep up with the dynamic CAT syllabus. The city's vibrant educational landscape provides candidates with ample opportunities to prepare for the CAT exam effectively. While the best CAT coaching institute in Chennai may vary from person to person based on individual preferences and requirements, several institutes have consistently garnered positive reviews and achieved remarkable success rates.
Related Articles:
Stay tuned to CollegeDekho for more information about the CAT exam 2023. For admission-related assistance get in touch with us and drop your queries at CollegeDekho QnA Zone or call our toll-free number 1800-572-9877.