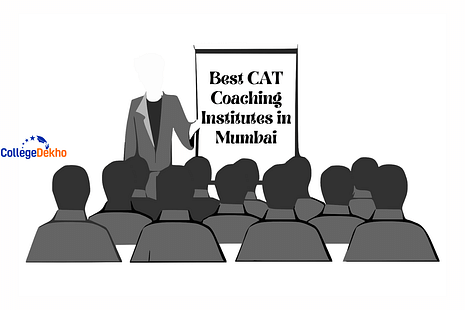 Best CAT Coaching Institutes in Mumbai 2023: CAT preparation is one of the toughest phases of the CAT exam that aspirants must overcome successfully in order to give a decent performance on the actual exam. For aspirants who are already familiar with the CAT exam or have appeared for the exam before, CAT 2023 preparation may not be as tough as it is for first-time test takers. Although candidates have been known to crack the exam through self-preparation, a majority of test takers are known to require external assistance during their CAT preparation. Candidates may also check the CAT Question Paper 2023.
The CAT 2023 exam is one of the toughest and most competitive entrance exams in India. It is primarily conducted for entry into Institute Institutes of Management (IIMs) and some other top-rated B-schools in India. Therefore, if candidates wish to score a high percentile score in the CAT exam, their preparation is required to be immaculate.
Mumbai being one of the largest metropolitan cities in India has a high demand for CAT coaching in the city. Owing to the demands of CAT aspirants, many established CAT coaching institutes have sprung up in various parts of the city. Aspirants looking for the best CAT coaching institutes in Mumbai 2023 must take a look at the article below.

Also Read:
List Best CAT Coaching Institutes in Mumbai (Online & Offline)
Mumbai offers students an excellent opportunity to study and explore themselves, especially in the field of business and management. The educational environment in Mumbai is because of the presence of the top colleges like IIT Bombay, SP Jain, and many more which attracts a lot of CAT aspirants looking for the best CAT coaching in Mumbai. These days many institutes offer demo classes that help students settle on their dream school. The following table given below will shed light on the Best CAT Coaching institutes in Mumbai 2023 (offline):
| Name of the Institute | Address |
| --- | --- |
| TIME Andheri | TIME Andheri, 2nd floor, New Nagardas Road, Pinky Cinema, Andheri (East), 400069 |
| Career Launcher | Office No. 10, 2nd floor, Nelam Bldg, Plot No 55, Hindu Colony Lane No 1, Above Swagger Salon, Dadar East, Mumbai, Maharashtra 400014 |
| IMS | 2nd floor, 244, Powai Plaza, Opp IIT Mumbai, IIT A S Marg, Powai - 400076 |
| Endeavor Careers | E) Railway Station, Near, Rajaram Estate, Rajaramseth Lad Chowk, Dadar, Mumbai, Maharashtra 400014 |
| TIME | Ground Floor, Post Office Building, Court Lane, Behind Bhandarkar Medical Store, Opp.Borivli Station Pf.-3, Borivli West, Mumbai - 400092 |
| Quoin Academy | Madhav Wadi, Balaji Building No. 2, Second Floor, Room No. 17-A, Naigaum Cross Road, Near Station, Dadar (East), Mumbai, 400014 |
| Conduira Education | Andheri Office No. 201, 2nd Floor, 22 Business Point, S.V. Road, Opp. Andheri Subway, Andheri West, Mumbai, 400058 |
| CATKing | Ajanta Industrial Estate, 4th Floor, Flat No.13, Gulmohar Road, Above Vrunda's Hotel, Opp.Vodafone Gallery, Borivali West, Mumbai, 400092 |
| Planet. E | 113, First Floor, Civic Centre, Opposite Sunshine Plaza, MMGS Marg, Near Kailash Lassi, Dadar East Railway Station, Dadar East, Mumbai, 400014 |
| The Prayas India | 114, B- Wing, Nerul E Station Complex, Mumbai, 400706 |

Also Read: How Much Time is Required to Prepare for CAT 2023?
Best CAT Coaching in Mumbai 2023: Online vs Offline
Individual preferences, circumstances, and educational style are important factors in deciding whether to choose online or offline CAT coaching institutes in Mumbai. There are pros and cons to each of the two options, but what would be best for one person might not be good for another. Here are some pros and cons to consider when making your decision:
Pros and Cons of Online CAT Coaching in Mumbai
| Pros | Cons |
| --- | --- |
| Flexibility | Lack of Personal Interaction |
| Variety of Options | Self-Discipline Required |
| Cost-Effective | Personalized Learning |
Pros and Cons of Offline CAT Coaching in Mumbai
| Pros | Cons |
| --- | --- |
| Structured Learning | Rigid Schedule |
| Face-to-Face Interaction | Commute and Costs |
| Peer Support | Limited Options |
The final decision on whether to take the CAT coaching via the Internet or Offline is a matter for each of you, in line with your preferences, educational style, and circumstances. In some ways, the structure and interaction of the top CAT coaching institutes in Mumbai can be preferred by a certain number of people while others find it flexible and cost-effective. To determine the most appropriate format for your needs and goals, it is necessary to spend time on a comparison of training institutions, reading reports, or considering taking some trial courses.

Also Read: Coaching vs Self Study for CAT 2023
How to Choose the Best CAT Coaching Institute in Mumbai?
When looking for the best CAT coaching institutes in Mumbai aspirants must be aware of all the necessary parameters and requirements that must be met to ensure students can benefit from the institute in terms of good CAT preparation. The best CAT coaching in Mumbai will have all the vital tools that candidates need to prepare and perform in the CAT exam successfully. That being said, take a look at the factors to consider when looking for the top CAT coaching institutes in Mumbai 2023 mentioned below:
Coaching Methods & Approach: You may make a better decision when selecting the best CAT coaching in Mumbai by interacting with the teachers and faculty and by learning more about the teaching style will help you make more informed decisions.
Teaching Staff & Faculty Members: The success of your CAT preparation is significantly influenced by the teachers and faculty members of the CAT coaching institute. Your CAT preparation heavily relies on the faculty's knowledge base and experience.
Fees Structure: For many pupils, coaching costs are very important. Numerous institutes offer affordable, high-quality coaching. Simply compare the costs of the top CAT coaching institutes in Mumbai to locate one that works within your spending limit.
Student Feedback: You can simply ask the students who have completed their CAT coaching or who are already receiving coaching at that facility for feedback before finalizing on some of the top CAT coaching institutes in Mumbai.
Batch Strength: Small batch sizes are good for CAT coaching sessions in Mumbai as they may provide students with better preparation in the classroom as interaction between students and teachers in large batches is challenging. While a smaller batch size gives every applicant a better time to prepare.
Demo Classes: Some of the best CAT coaching institutes in Mumbai provide free trial classes as it is an excellent way to learn about an institute's teaching approach and structure. Aspirants can choose the appropriate coaching facility for their needs after visiting these demo classes.
Is CAT Coaching Good in Mumbai?
Yes, Mumbai is known to be one of the best cities for top CAT coaching institutes primarily because of it being home to some of the most reputed and top-notch b-schools like SPJIMR Mumbai, NMIMS Mumbai, IIT Bombay, IIM Mumbai, JBIMS Mumbai, etc. These coaching classes offer scientifically designed course material as per the latest CAT syllabus 2023 for conceptual learning, seminars and workshops on preparation, personal interviews and group discussions, regular doubt-clearing sessions, and more. 

The faculty in top CAT coaching institutes in Mumbai like TIME, and IMS, among others, give you real-life experiences and higher chances of getting into top schools. 
In conclusion, the best CAT coaching institutes in Mumbai are the ones that align most closely with your individual needs and help you achieve your CAT score goals. It's a personal decision, and with the proper guidance and effort, you can excel in the CAT exam and secure admission to a top management institute.
Related Links:

Stay tuned to CollegeDekho for more information about the Best CAT Coaching Institutes in Mumbai. For admission-related assistance get in touch with our CollegeDekho QnA Zone or call our toll-free number 1800-572-9877.

Written by Agrima Gaba