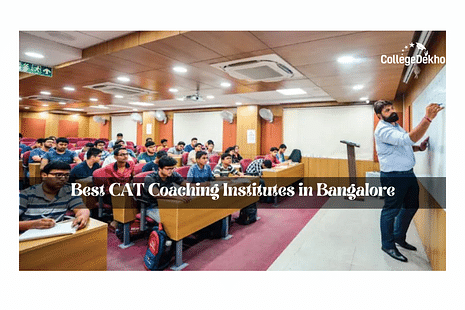 Best CAT Coaching in Bangalore: Bangalore, also known as the Silicon Valley of India, boasts a flourishing education system with numerous CAT coaching institutes. As a result, prospective CAT students in Bangalore have an abundance of options when it comes to selecting one of the top CAT coaching institutes in Bangalore to guide them on their path to success. If you're looking to crack the Common Admission Test and get into the best business schools in India, then joining a reliable CAT coaching institute is a must. Candidates may also check how to prepare for CAT 2023 without coaching.

CAT 2023 coaching institutes, especially the best CAT coaching institutes in Bangalore 2023, have a proven track record of helping students achieve their dream scores and get into top-notch MBA colleges IIMs, IITs, XLRI, JBIMS, SP Jain, MDI Gurgaon, etc. With their experienced faculty and comprehensive study material, these institutes can give you the edge you need to ace the CAT 2023 exam. Let's have a look at the list of the best CAT coaching institutes in Bangalore.

Also Read: 
List of Best CAT 2023 Coaching Institutes in Bangalore
There are numerous CAT coaching institutes in Bangalore, however, only a few of them are well-establish and provide top-notch guidance. Here is a list of some of the top CAT coaching institutes in Bangalore along with other details.
| Name | About the Institute | Address | Type of Classes |
| --- | --- | --- | --- |
| T.I.M.E. | T.I.M.E. is a leading CAT coaching institute in Bangalore known for its effective teaching methods and impressive track record. T.I.M.E. offers regular classroom sessions, mock tests, and high-quality study materials to help students achieve success on the CAT exam. | No-271, 2nd Floor, C M H Road, 2nd Stage, Indiranagar, Bengaluru, Karnataka 560038 | Classroom and LIVE online |
| IMS | IMS Learning Resources Pvt. Ltd. is a national-level institute that offers mentoring, training, test preparation, and admissions consulting through classroom and online programs. | Next to Indiranagar Metro Station, 1st floor, above Tadka Singh Next building to CCD & McDonalds, Indiranagar, Bengaluru, Karnataka 560038 | Classroom and LIVE online |
| Career Launcher | Career Launcher is an esteemed institution that offers both online and classroom coaching. With over 100 centers throughout India, the institute has established itself as a pioneer in the industry. Its priority is to provide the best preparation experience for students, regardless of their preferred mode of learning. | NO 241, 2nd floor, 6th cross,1st stage, CMH road, Near to KFC opposite to spice hotspot, above positive homeopathy | Classroom and LIVE online |
| BYJU's | BYJU's is one of the well-renowned learning centre providing the best training to candidates preparing for CAT. The institute has the finest faculty members and provides the best study materials. | Head Office: 2nd Floor, Tower D, IBC Knowledge Park, 4/1, Bannerghatta Main Road, Bengaluru, Karnataka | Classroom and LIVE online |
| iQuanta | iQuanta is a top-ranked online coaching institute in India that specializes in training for management program entrance exams such as CAT, NMAT, SNAP, OMET, and GMAT. Their unique dual learning approach has proven to be effective in just four years since their establishment, achieving 20,000+ IIM calls and 2000+ top IIM converts - a feat that other players took 15 years to accomplish. | Villa 47, WINDMILLS OF YOUR MIND, Whitefield, Basavanna Nagar, Bengaluru, Karnataka 560048 | Classroom and LIVE online |
| VPROV | VPROV is owned by Prof. Rajesh, the CAT topper of 2006. The institute has helped so many students achieve their goals of attending top B-schools in India. With its impressive number of learning centers both in India and overseas, along with its experienced team, it has been providing excellent CAT training to candidates. | MBA Auditorium, Cambridge Institute of Technology, KR Puram, Bengaluru, Karnataka-560036 | Classroom and LIVE online |
| Mindworkzz | Mindworkzz is an aptitude training institute founded by IIM Bangalore alumnus Mr. Arun Sharma 20 years ago. Its goal is to prepare students for MBA entrance exams and help them get admission to their dream college. | No.31, 2nd Floor, Krishna Reddy Layout, Domlur, Bangalore, Karnataka 560071 | Classroom and LIVE online |
CAT Coaching Fees in Bangalore
Check out the fees of the best CAT coaching institutes in Bangalore 2023 provided in the table below.
CAT Coaching Institute

Fees

T.I.M.E.

1-year Classroom Program: INR 70,000

Correspondence/ Online Courses: INR 24,950

OMET, Online Management Test Series: INR 450 to 750

Career Launcher

MBA Classic (Weekends): INR 60,000

MBA Classic (Weekdays): INR 55,000

MBA Classic Extended (Weekends): INR 56,265

MBA Classic Extended (Weekdays): INR 57,977

CAT day classes (at centre): INR 38,500

Elan Educate

Regular Classroom Course: INR 18,500

Online Classroom Course: INR 13,500

IMS

Regular Classroom Course: INR 38,000

Online Classroom Course: INR 15,000

iQuanta

CAT Full Course: INR 36,999

CAT Crash Course: INR 13,499

Mindworkzz

Bulls Eye

Also Read: Coaching vs Self Study for CAT 2023
How to Select a CAT Coaching Institute in Bangalore?
Choosing the right one out of the top CAT coaching institutes in Bangalore or other cities is a crucial decision that can greatly affect your performance in the exam. CAT is a highly sought-after entrance examination for business schools in India. To make an informed decision when selecting a CAT training center in Bangalore, consider the following factors:
Reputation and Track Record: A crucial factor that informs potential students about whether to commit to a particular CAT coaching center for their CAT preparation is the center's track record and accomplishments. Prior to submitting an admissions application, candidates must be aware of the coaching center's history and past successes.
Faculty: Your performance in the CAT exam will be greatly influenced by the effectiveness of your CAT preparation and your CAT preparation will be determined by the instructors and professors at the CAT coaching center you choose. The faculty's knowledge base and expertise are crucial to your CAT preparation.
Teaching Methodology: Your preparation for the CAT is greatly influenced by the teaching style and methodology. By speaking with the teachers and faculty and knowing more about the teaching methodology, you may be able to choose the best CAT coaching in Bangalore. This will enable you to make a more educated choice.
Batch Size: The contact between students and professors in huge batches can be difficult, thus small batch sizes are preferable when selecting CAT coaching institutes in Bangalore as they may give students better attention in the classroom. A smaller batch size allows each applicant more time and effort to become ready for the CAT exam.
Mock Tests and Practice Materials: For students who sign up for CAT preparation classes, a majority of CAT coaching institutes offer their own study materials and other resources. For better preparation for entrance exams, study materials are crucial resources, particularly those offered by coaching institutes as they often feature relevant questions and sample tests. Before obtaining admission, applicants must, however, confirm that the coaching facility provides all the required study and practice material.
Location and Accessibility: Candidates should carefully consider these aspects before enrolling in a CAT coaching program, as well as the location and class schedule. In order to have enough time for independent study, applicants should select a CAT coaching center that is both close by and offers flexible session times.
Fees and Scholarships: Whether a CAT coaching center is worthwhile or not depends significantly on the cost of enrolling in a CAT preparation course. Before submitting an admissions application, candidates need to be aware of the fee schedule. Candidates can ask the coaching institute about refund policies as well as other financial matters like scholarships, discounts, and other financial incentives.
Demo Classes: Free trial sessions are offered by a few of the top CAT Coaching Institute in Bangalore because they are a great opportunity to discover the methods and organizational principles of a particular center. After visiting these trial classrooms, aspirants can select the teaching facility that best suits their requirements.
Trial Period: A rare attribute, some of the best CAT coaching institutes in Bangalore also offer a trial period instead of a single demo class. Candidates can take advantage of this trial period to gain a better understanding and clarity regarding the quality of guidance provided by the coaching center.
Competition: Checking the competition is of utmost importance to make sure that candidates are aware of all the options when it comes to the top CAT coaching institutes in Bangalore.
Also Read: How Much Time is Required to Prepare for CAT 2023?
Benefits of Studying in CAT Coaching in Bangalore
If you're preparing for the CAT exam, studying at a coaching center in Bangalore can provide numerous advantages. The CAT is an essential test for admission to top management institutes in India, including IIMs and some of the world's best business schools. Here are some benefits of attending the best CAT coaching institutes in Bangalore:
Experienced Faculty: One of the most important features of the best CAT coaching institutes in Bangalore is the experienced faculty and teaching staff. As we know, better guidance received from experienced teachers leads to better preparation for CAT. Therefore, it is vital that aspirants choose a CAT coaching center with the best faculty possible.
Structured Curriculum Based on Updated CAT Syllabus: The teaching methodology of every CAT coaching center is different. However, one thing that should be followed by the top CAT coaching institutes in Bangalore is the latest CAT syllabus and a structured curriculum. If a coaching center is not following the latest CAT syllabus then it should be avoided for CAT preparation.
Regular Mock Tests: Another important attribute of CAT coaching institutes is regular mock tests. Mock tests are one of the best tools for CAT preparation and candidates must take at least one mock test every week before CAT. Some of the best CAT coaching institutes offer unlimited mock tests for their students.
Study Material: Study material and preparation aid is something that every coaching institute should provide. It is a well-known fact that some of the top CAT coaching institutes in Bangalore are known for their study material and teaching aid which is of top-quality and helps candidates enhance their CAT preparation significantly.
Peer Learning: Learning in a classroom is beneficial in several ways. Since candidates studying under a CAT coaching center will study alongside other CAT aspirants, it will help them learn more effectively through peer learning and healthy competition. Candidates will also be able to clear small doubts and issues through their classmates and peers.
Motivation and Discipline: Adhering to the timetable and schedules of a CAT coaching institute is easier for aspirants as it helps them stay motivated and disciplined throughout the CAT preparation process. Such discipline is not easy to maintain especially when a candidate is preparing for the CAT exam by themselves.
Customized Study Plans: Personalized attention and guidance is a very important feature provided by only the best CAT coaching institutes in Bangalore. Students are often asked to appear for tests that enable the teaching staff to analyze the specific needs of a particular student. Subsequently, personalized study plans are created for students that help them prepare for CAT more effectively.
Overall Personality Development: Apart from the benefits of learning among peers, being part of a CAT coaching institute also helps candidates enhance their personality and interpersonal skills. Some of the top CAT coaching institutes in Bangalore also provide MBA interview and personality development courses which can be extremely beneficial for students planning on pursuing a career in management and undertaking an MBA course in the future.
Choosing the best CAT coaching institute in Bangalore is a subjective matter and depends on various factors like location, budget, learning style, and individual requirements. To make a well-informed decision that aligns with your goals and aspirations, it is advisable to visit different educational institutions, attend demo classes, and interact with current students. Wishing you all the best for your CAT Exam in 2023.
Related Links:

Stay tuned to College Dekho for more information about CAT coaching. For MBA admission-related assistance get in touch with our customer care executives by calling our toll-free number 1800-572-9877. You can also drop your queries on the CollegeDekho Q&A Zone!