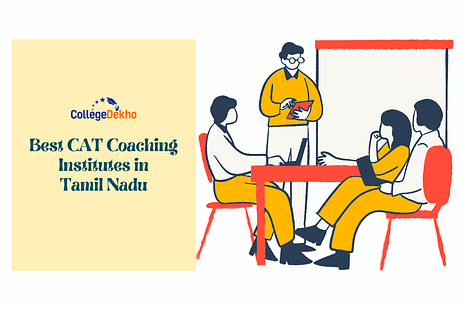 Best CAT Coaching in Tamil Nadu: Cracking the Common Admission Test is a tough task and not everyone can accomplish the same. The CAT exam requires a candidate to put in all their time and effort in their preparation in order to achieve a high score. Covering the extensive CAT syllabus 2023 to practicing CAT previous year question papers and taking mock tests, students have to go through a lot while preparing for the CAT exam. That being said, joining one of the best CAT coaching institutes in Tamil Nadu is often considered a great method of preparation as it allows one to learn from MBA experts, set a fixed study routine, and get access to the best study materials.
CAT, being one of the most popular MBA entrance exams in India, is taken by over 2 lakh candidates. To help the test-takers crack the CAT exam successfully, a number of best CAT 2023 coaching institutes have come into existence in every state of the country. If you are looking for the best CAT coaching institutes in Tamil Nadu, then you have landed on the right page. We have listed here some of the top CAT coaching classes in different cities of Tamil Nadu that will help you take your exam preparation to the next level.

Also Read:
List of Best CAT Coaching Institutes in Tamil Nadu 2023
Check out the top CAT coaching institutes in Tamil Nadu, along with their address, duration, and course fees:
Name of the Institute

Duration

Fees

Address

The Hinduzone

5-12 Months

INR 25,000

5/45 1B, Shas Orchid, NVN Layout, near Thiruvalluvar Bus Stand, New Siddhapudur, Gandhipuram, Tamil Nadu 641044

IMS

5-12 Months

INR 21,000

Renaissance Terrace, 176 /2, Thirugnanasambandam Rd, Race Course, Gopalapuram, Coimbatore, Tamil Nadu 641018

T.I.M.E

1.5 year

INR 35,000 for 12-15 months training

INR 25,000 for 5-12 months training.

Office 3rd floor, Ambika Appalam Building, Ceebros Arcade, No.1, 3rd Cross St, Kasturba Nagar, Adyar, Chennai, Tamil Nadu 600020

Prime Educators

5-12 Months

INR 20,000

Gems Court, G-6, 14, Khader Nawaz Khan Rd, Nungambakkam, Chennai, Tamil Nadu 600036

2IIM

1 Year

INR 22,000

c/o DAV Guru Shikshanam, No. 25 Conron Smith Lane, Conron Smith Rd, Gopalapuram, Chennai, Tamil Nadu 600086

Erudite

5-12 Months

INR 18,000

No. 49, Basement, Burkit Road, T. Nagar, Chennai - 600017.

BYJU'S

1 Year

INR 50,000

No. 96, Prince Kushal Tower, No. 96, 4th floor, General Patters Rd, Chennai, Tamil Nadu 600002

C-CAT

1 Year

INR 28,000

56, South Usman Road, T. Nagar, Chennai- 600017

VistaMind

1 Year

INR 37,000

600, Dev's Ark, Door No 33, F Block 600 600, 102, 2nd Ave, Block F, Annanagar East, Chennai, Tamil Nadu 600102

Career Launcher

1 Year

INR 54,977

C-40, 1st Floor, II Avenue, Anna Nagar West, Chennai, Tamil Nadu 600040

Also Read: Coaching vs Self Study for CAT 2023
Benefits of CAT 2023 Coaching Classes in Tamil Nadu
If you're looking to pursue a career in management and want to crack the highly competitive entrance exam, then joining any one of the best CAT coaching institutes in Tamil Nadu can be highly beneficial. Here are some advantages of joining CAT coaching classes in Tamil Nadu:
Structured Curriculum: Every CAT coaching institute uses a different teaching style. The most recent CAT syllabus and an organized curriculum are, however, two things that the top CAT coaching institute in Tamil Nadu should adhere to. For CAT preparation, a coaching center should be avoided if it is not using the most recent CAT syllabus.
Expert Guidance: The qualified professors and teaching staff are among the best characteristics of the top CAT coaching centers in Tamil Nadu. We all know that receiving better instruction from seasoned teachers results in improved CAT preparation. As a result, it is crucial that candidates pick a CAT coaching center with the greatest faculty.
Time Management: Another useful characteristic of CAT coaching institutes is they follow a fiend timetable which helps aspirants maintain their own routine effectively. 
Mock Tests and Practice Sessions: Most CAT coaching schools provide their own study materials and other resources for students who sign up for CAT preparation programs. Study materials, especially those provided by coaching organizations because they frequently include pertinent questions and example tests, are essential tools for better entrance exam preparation. To get admitted, candidates must first ensure that the coaching facility has all the necessary reading and training materials.
Study Material: Every coaching institute offers study materials and preparation tools. It is a well-known truth that some of the top CAT coaching institutes in Tamil Nadu are renowned for their high-quality teaching materials and study guides, which considerably aid applicants in improving their CAT preparation.
Peer Learning: There are various advantages to classroom learning. Candidates would learn more successfully through peer learning and healthy competition since they will study with other CAT aspirants when enrolled in a CAT coaching centre. Additionally, candidates will have access to their classmates and peers for clarification on minor questions and problems.
Motivation and Discipline: Aspirants find it simpler to stick to the calendar and timetables of a CAT coaching centre since it keeps them motivated and disciplined throughout the CAT preparation process. A candidate preparing independently for the CAT exam may find it challenging to maintain such discipline.
Strategy Development: Candidates will also find it easier to develop examination strategies for CAT with the help of the experts and teaching faculty present at the best CAT coaching institutes in Tamil Nadu.
Confidence Building: Membership in some of the top CAT coaching institutes in Tamil Nadu aids candidates in developing their personalities and social skills in addition to the advantages of learning with peers. Some of the best CAT coaching institutes in Tamil Nadu also offer MBA interview and personality development programs, which can be very helpful for students hoping to pursue a career in management and enroll in an MBA program in the future.
Also Read: How Much Time is Required to Prepare for CAT 2023?
Study Material Offered by CAT Coaching Institutes in Tamilnadu
Top CAT coaching institutes in Tamil Nadu provide students with extensive study materials and resources to aid in their preparation for the CAT. The study materials offered include the following:
Printed Study Material

Online Learning Platforms

Mock Tests

Study Guides and Books

Classroom Notes

Practice Sets

Personalized Study Plans

Doubt Clearing Sessions

Online Forums

Current Affairs Materials
How to Choose CAT Coaching Institute in Tamil Nadu?
When it comes to preparing for the CAT exam, selecting the right CAT coaching institute in Tamil Nadu becomes highly important. To make an informed decision, take these factors into account:
Reputation and Track Record: Another key consideration that determines whether or not candidates should commit to a particular CAT coaching facility for their CAT preparation is the center's track record and accomplishments. Before submitting an application for admission, candidates must be aware of the coaching center's history and prior successes.
Faculty Expertise: Teachers and faculty members at the CAT coaching institute have a big impact on how well your CAT preparation goes. The faculty's expertise and knowledge are crucial to your CAT preparation.
Study Material and Resources: The majority of CAT coaching organizations offer students resources and information to help them engage in CAT preparation programs. Study resources are essential for preparing for entrance exams, particularly those offered by coaching facilities as they often contain crucial questions and practice tests. Before submitting an application for admission, students must verify that the coaching institute offers the required reading material.
Batch Size: Large classes make it difficult for students to communicate with teachers, hence small batch sizes are preferable for CAT coaching sessions in Tamil Nadu. This may help students prepare better in the classroom. However, fewer applicants means that each one has more time to become ready.
Mock Tests and Practice Material: The quality of mock tests and practice material provided by a CAT coaching center greatly determines the quality of guidance provided at the coaching institute. Therefore, candidates must take a look at the mock tests and practice material of a coaching institute before applying for admission.
Infrastructure and Facilities: The infrastructure and facilities are some of the most crucial aspects that applicants must take into account when selecting a CAT coaching facility. When it comes to CAT preparation, infrastructure, safety, and assurance can indirectly help applicants.
Location: Before enrolling, candidates should consider other essential variables such as the CAT coaching institute's location and class schedule.
Fee Structure: Whether a CAT coaching center is beneficial or not depends significantly on the cost of enrolling in a CAT preparation course. Before submitting an admissions application, candidates need to be aware of the fee schedule. Candidates can also ask the coaching institute about any scholarship programs, discounts, and refund policies that may be offered.
Trial Classes or Demo Sessions: Some of the best CAT Coaching Institute in Tamil Nadu provide free trial sessions because they are a terrific way to learn about the policies and operating procedures of a specific facility. Following their visits to these trial classrooms, candidates can choose the educational setting that best satisfies their needs.
Peer Group: The type of students that enroll for a CAT coaching center also signify the quality of guidance that is provided at the institute. Candidates must check the reputation and track record of ex-students of a CAT coaching institute and the current batch with which they will be preparing for CAT to ensure they are selecting one of the best CAT coaching institutes in Tamil Nadu.
To sum up, Tamil Nadu has several CAT coaching institutes that have a good reputation for preparing students for the competitive CAT exam. When selecting the best coaching institute, it is important to consider factors such as location, fees, and teaching methods, but the ultimate decision should be based on individual preferences and needs.
Related Links:
Stay tuned to CollegeDekho for more information about the best CAT coaching institutes in Tamil Nadu. For admission-related assistance, drop your queries at CollegeDekho's QnA Zone or call our toll-free number 1800-572-9877!