XAT 2022 has been conducted on January 2, 2022, across India. Xavier Aptitude Test, XAT is one of the leading MBA exams in India used by over 150 leading MBA colleges, besides XLRI & SP Jain Mumbai. Almost all popular B-Schools in India accept XAT scores for MBA admissions. Students interested in appearing for XAT 2022 had to check the eligibility criteria and apply for it before the deadline expired. 
Many students look for a brief analysis of XAT score vs percentile to understand the cutoffs of XAT 2022. Never assume that there will be a low cut-off in XAT. Score and percentile are two different concepts as far as XAT exam concerned. Mostly, students are confused between XAT score and percentile. Scan through the article to understand the essence of XAT score vs percentile in detail.
Overview of XAT 2022 Score Vs Percentile Analysis
After analyzing XAT Scorecards, we estimate that a score of 35 in XAT 2022 can fetch you 95 percentile and 32 marks can get you 93 percentile. A score of 30 will comfortably place you in the 90+ percentile bracket. XAT 2022 Scorecard will display only the percentage and percentile of XAT. The XAT Score will not be included here. To access this, candidates need to login to the official website and download the XAT Scorecard.
MBA experts predict that the XLRI XAT 2022 cut off will most probably be around 96 percentile for XLRI's flagship PGDM-BM. XAT is considered to be one of the difficult papers among all MBA entrance exams because of its scoring pattern.
XAT percentile denotes the percentage of students who have scored less than you have scored in the exam. Imagine there are 100 students in the class, and a student scored the highest mark in the XAT exam than any other student. It means that the score of that particular student is better than 99 students. Therefore, the percentile scored by a student is 99. XAT score denotes the total marks obtained by you in the entrance exam.
Factors Determining XAT 2022 Percentile
XAT 2022 percentile is purely based on the candidates' performance in the entrance test. The percentile of XAT is determined by considering the following factors.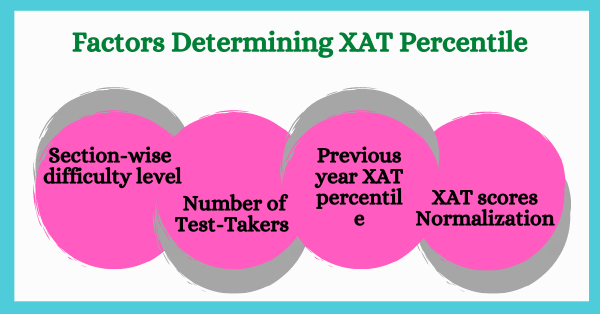 Also Read: XAT Cutoff Requirements, GD and PI
XAT 2022 Marking Scheme
Compared to other management entrance exams such as CAT, SNAP, NMAT and CMAT, XAT is regarded as the most difficult entrance exam for MBA admission, essentially because of its marking scheme. XAT 2022 has negative marking as well. Check the detailed XAT 2022 Marking Scheme below.

XAT Score vs Percentile
Understanding the relationship between XAT score and percentile is not only complex but also confusing. XAT result is published in percentile format, and students make a note of the same. In simple words, XAT percentile indicates the candidate's position among all the candidates who have appeared for the XAT exam. Candidates who will appear for XAT 2022 can estimate their percentile through our XAT 2022 Percentile Predictor Tool.
The detailed analysis of XAT score vs percentile can be checked below. We have listed the section-wise XAT score vs percentile and XAT 2022 overall score vs percentile –
Name of the Section

XAT Raw Score vs Percentile

English Language and Logical Reasoning

Raw Score (Three Examples)

Percentile (Three Examples)

8.00

90+

7.5

85

6.5

80

Decision Making

8

90+

7.5

85

6.5

80

Quantitative Aptitude and Data Interpretation

8

80

10

85

12

90+

Overall Score

28

88

30

90+

32

92
Note: - The GK section in the XAT paper is not accounted for the XAT percentile. 25 questions out of the 99 in the MCQ section of the XAT paper are not taken into account for percentile calculation.
Also Read: XAT 2022 Important Dates
Here are some more examples that will help you to understand the difference between the XAT score and percentile –
| | |
| --- | --- |
| XAT Raw Score (Overall) | XAT Percentile (Overall) |
| 28 | 89 |
| 30 | 90+ |
| 32 | 93 |
| 35 | 95 |
| 40.5 | 99+ |
Note: - The above XAT raw scores and overall percentile are prepared by considering previous year trends. The overall percentile which is prepared on the basis of XAT 2022 may vary. You can also check the XAT sectional score VS XAT sectional percentile here.
You can also check the detailed XAT 2022 paper analysis here to estimate XAT 2022 paper cutoffs. Students preparing for XAT 2022 may have a look at the following links.
Once XAT 2022 result is out, students can apply at colleges according to their respective cutoffs at different colleges that accept XAT. Candidates who have questions regarding XAT or any other management entrance exam may ask them on the CollegeDekho QnA zone. For any admission related assistance, feel free to dial the toll-free number 1800-572-9877 and talk to our admission experts!
Stay connected for more updates and News of XAT 2022 with CollegeDekho!