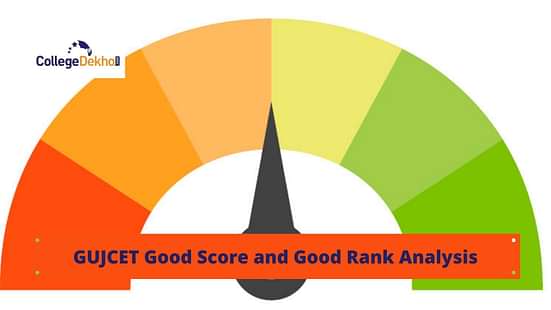 Good Score and Rank in GUJCET 2023 descriptive article aims at explaining the terms "Good Score in GUJCET" and "Good Rank in GUJCET" to the candidates appearing in this year's GUJCET examination basis the previous year's statistics. GUJCET 2023 exam was conducted this year for a total of 120 marks and the candidates who obtain marks between 1 and 120 are put into four categories viz., Very Good Score, Good Score, Decent/Average Score, and Low Score. Based on the four categories of marks mentioned above, the candidates appearing in the GUJCET 2023 exam are assigned ranks, which again, are segregated into Very Good Rank, Good Rank, Decent/Average Rank, and Low Rank. The GUJCET 2023 Result has been released on May 2, 2023, on the official website, candidates can analyse their marks to know if they have gotten a good score in GUJCET 2023. Moreover, GUJCET seat allotment 2023 result for round 2 has been released on August 2, 2023 and round 1 result was released on July 6, 2023 respectively.

In this article, we will discuss duly good rank and a good score in GUJCET alongside how these two terminologies are interrelated, how to assume ranks based on the GUJCET marks/score, and GUJCET 2023 participating colleges accepting these scores for admission purposes. The candidates reading this descriptive article must know that the details and information regarding GUJCET's good rank and good score available in the following sections are based completely on the previous years' GUJCET statistics. The data in this article should not be taken as the final data for the current year's GUJCET examination.
What is a Good Score GUJCET 2023?
Wondering what is a good score in GUJCET 2023? The maximum mark for GUJCET is 120 and the table below defines what is a very good, good, average, and low score in GUJCET - 
| | |
| --- | --- |
| Particulars | Details |
| Very Good Score | 110+ |
| Good Score | 80+ |
| Average Score | 60+ |
| Low Score | below 50 |




What is a Good Rank in GUJCET 2023?
Around 1 lakh to 1.15 lakh candidates are expected to appear in this year's GUJCET examination for admission into a total of 138 colleges. Based on this year's number of appearing candidates and previous years' records, we have calculated the tentative very good, good, average and low rank for GUJCET 2023 given in the table below - 
| | |
| --- | --- |
| Particulars | Details |
| Very Good Rank | 1-10,000 |
| Good Rank | 10,001-20,000 |
| Average Rank | 20,001-40,000 |
| Low Rank | 40,001 and above |
GUJCET Ranking System 2023
The GUJCET authorities consider the performance of the candidates in their respective qualifying examinations and the GUJCET entrance examination to prepare the rank list. The ranks are offered to the candidates based on their GUJCET 2023 marksand the percentile scores are calculated on the basis of the class 12 performance and GUJCET entrance exam performance of the candidates. 
Also Read: GUJCET 2023 Result
GUJCET Cutoff 2023
The Admission Committee for Professional Courses (ACPC), will announce the cut-off for GUJCET 2023 in May 2023. The course-wise and institute-wise cutoffs are provided by ACPC along with the overall cutoff. The GUJCET cutoff 2023 will include the opening and closing ranks of the institutions.
Each year, a variety of factors influence the cutoff scores. The following GUJCET 2023-related parameters will be taken into account by the admissions committee for determining the cut-off:
The difficulty level of the exam.
A number of questions were asked in the test.
The total number of candidates appeared.
Previous Years' Cutoffs.
The number of seats in the Institutes.
Number of seats in a particular course
Related Links