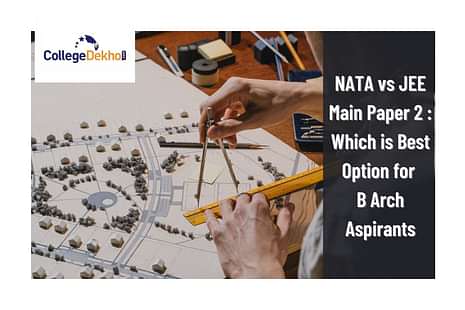 NATA vs JEE Main Paper 2- Students interested in pursuing a BArch. degree have the choice of applying through JEE Main Paper 2 or NATA. NATA and JEE Main Paper 2 are both conducted to provide admission to BArch courses. Depending on the college for which admission is sought, students may opt to take either the NATA or JEE Main 2024 Paper 2 for BArch admission. NATA is administered by the Council of Architecture (CoA), whereas JEE Main Paper 2 is administered by the National Testing Agency (NTA).

NTA has released the JEE Main 2024 exam dates and the Phase 1 exam is scheduled to take place from January 24 to February 1, 2024. JEE Main Application Form 2024 has been released officially. 
Quick Links:
While NATA is used to offer admission to colleges like SPA Delhi and CEPT University Ahmedabad, JEE Main Paper 2 opens the door to NITs and GFTIs offering BArch courses. Students usually get confused thinking about 'Which test should I take' and 'What is the syllabus, exam pattern, and eligibility requirements' Given that both exams have similar exam patterns and objectives, you can choose between taking the NATA or the JEE Main Paper 2 by reviewing our detailed guide.
Today, let us go through both these national-level exams for BArch admissions and try to find out if it is really advantageous to appear in one of these two exams compared to the other.
About NATA (National Aptitude Test in Architecture)
NATA or National Aptitude Test in Architecture is a national-level entrance exam for BArch admissions in various institutions in the country offering  a 5-year undergraduate programme in Architecture. NATA is conducted thrice every year, usually during April and May. NATA is a gateway exam for the vacant BArch seats in various premier institutes in India but the decision regarding final admission to the candidates who appear in NATA lies with the authorities of the respective institutions or colleges.
About JEE Main (Paper-II)
JEE Main 2024 exam is another popular national-level entrance examination conducted by the National Testing Agency (NTA) every year for students looking for admission into programmes such as Bachelor of Technology, Bachelor of Engineering, BArch and Bachelor of Planning offered by the National Institute of Technologies (NITs), Indian Institutes of Information Technology (IIITs) and Centrally Funded Technical Institutes (CFTIs) in the country. For BArch admission in these institutes, the aspirants have to appear in the second paper of the JEE Main examination. 
Differences Between NATA and JEE Main 2024
The table below contains the basic differences between the two BArch entrance exams, i.e. NATA and JEE Main Paper 2 -
Particulars

NATA

JEE Main (Paper-II)

Frequency of Exam

4 times Every Year

Twice Every Year

Total Questions in Paper

125

82

Total Sections


1 (Including all the subjects i.e. General Aptitude, Mathematics and Drawing)


3 (Physics, Chemistry, Mathematics)

Total Duration of Exam

3 Hours

3 Hours

Institutes Accepting Scores

Premier Architecture Institutes including the three SPAs

NITs, IIITs and CFTIs

Number of Vacant Seats

More compared to JEE Main

Less Compared to NATA

Eligibility

12th pass students from PCM background with a minimum aggregate of 50% are eligible for NATA

12th pass students from PCM background with a minimum aggregate of 50% are eligible for JEE Main (Paper-II)
Students Appearing in the class 12th exam and those who have passed their qualifying exam in the last two years are also eligible
Which is Tougher - JEE Main Paper 2 or NATA?
This question - 'Is JEE Main paper 2 tougher compared to NATA' again has haunted many BArch aspirants in the past. Although there is no such thing as tough or easy yet, students fall for these kinds of comparisons and pre-determined notions do rarely help in scoring good marks in these kinds of national-level architecture entrance exams.
However, there is one little thing that might make JEE Main (Paper-II) tougher to crack as compared to NATA and that is the number of participating colleges. The number of institutes accepting JEE Main Paper 2 scores for BArch admission is far less than the colleges which accept NATA scores for BArch admissions. Fewer institutes mean fewer seats and thus fierce competition. Due to this small reason, talks are everywhere regarding how tough it is to crack JEE Main (Paper-II) compared to NATA. The experts at CollegeDekho believe that instead of gauging the toughness of the exams, the candidates must devote their entire energy towards preparing to fulfil their dream of pursuing a BArch from one of these reputed Architecture colleges in the country.
NATA v/s JEE Main (Paper-II) - Syllabus Comparison
As we are talking about whether JEE Main or NATA is the best option for an Architecture aspirant in the country, it is time we compare the syllabus of these two reputed national-level undergraduate architecture entrance exams. The following table contains the direct link to the syllabus of NATA and JEE Mains -
JEE Main Exam Dates 2024
You can find JEE Main 2024 exam dates in the table below -
Events

JEE Main Dates 2024

JEE Main 2024 exam date

January session - January 24, 25, 27, 28, 29, 30, 31, and February 1, 2024
April session - April 1 to 15, 2024
NATA 2024 Exam Dates 
Check out the NATA 2024 exam dates given in the table below -
| Events | NATA Phase 1 Dates 2024 | NATA Phase 2 Dates 2024 | NATA Phase 3 Dates 2024 | NATA Phase 4 Dates 2024 |
| --- | --- | --- | --- | --- |
| NATA 2024 Exam date | Third week of April, 2024 | First week of June, 2024 | Second week of July, 2024 | Third week of September, 2024 |
Related Articles
Here are some quick links to some of the topics related to JEE Main (Paper-II) and NATA examinations -