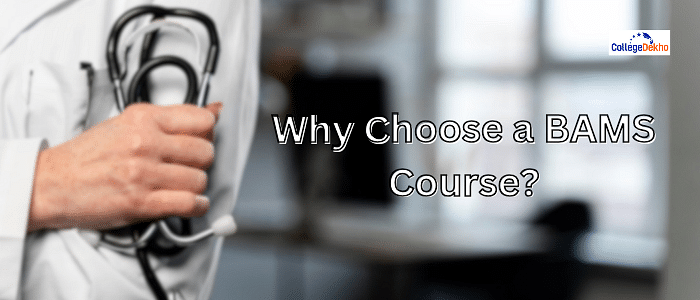 The practice of Ayurvedic Medicine has been prevalent in India since the Vedic period. Although many original texts depicting the practice of Ayurvedic treatment have been lost over the years, the positive impacts and benefits of Ayurveda are still intact and prevalent in today's times. Ayurvedic Medicine has now been recognised all over the world as an important part of medicinal studies. The World Health Organisation has recently taken up several initiatives to spread awareness of Ayurvedic medical practices.
One of the primary highlights of BAMS is that the syllabus for the same includes a vast of topics to be covered such as the study of Kriya Sharira, Rachana Sharira, Dravyuaguna, Yoga, Shalya Tantra, Roga Nidana and Vikriti Vijnana, Shalakya Tantra etc. The course details of the same also includes human anatomy, physiology, pathology & diagnostic procedures, principles of medicine, toxicology, forensic medicine, pharmacology, E.N.T, gynaecology & obstetrics, ophthalmology and principles of surgery from modern medicine.
Advantages of Studying B.A.M.S.:
BAMS is accepted and encouraged worldwide. All doctors and scientists are perpetually interested in finding alternative and traditional medicines for curing diseases. Since it is considered one of the ancient and traditional ways of treating severe as well as minor ailments, there is no doubt that this field has immense potential and variety of career prospects.
All candidates have the option to do a bridge course after the completion of BAMS degree programme, to practice allopathy medicine. Additionally, BAMS students are generally considered equivalent to MBBS graduates.
Interestingly, various health centers have been set up by various state governments as well, for the Ayurvedic practices all over India. Various MD and MS courses after BAMS are available nowadays for a better understanding of the subjects.
Who Can Enroll in B.A.M.S.?
All candidates who are interested in the integrated study of Medical Science and Traditional Ayurveda, should pursue a BAMS degree to have an insightful understanding of the subjects and to grow in the field. All candidates wishing to pursue BAMS should have completed their Higher Secondary with Physics, Chemistry and Biology from a recognized board. Also, candidates who are interested in finding alternative methods for the treatment of diseases are also advised to enroll themselves into BAMS to satisfy their desired career prospects.