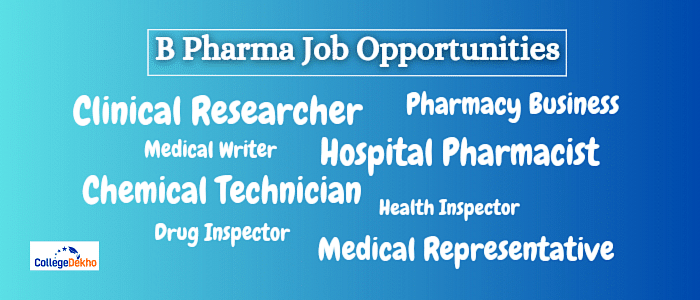 After completing the B Pharma course, students can pursue a variety of B Pharma careers in the pharmaceutical field. Students have the option of working in a pharmaceutical company or practicing as a pharmacist. Students have access to a wide range of options in both the public and private sectors. You can also work for the government. Aside from that, you can work for an Abroad Company.
You can work in government hospitals, private medical shops, and private hospitals/clinics after earning a bachelor's degree. You can even open your own medical practice and store.
Students with a B Pharma degree have a variety of job options. From the government to the commercial sector or starting one's own firm, there are many options. A few B pharma job opportunities/occupations for students who have finished their B Pharma course are listed below.
The following are some B Pharma job descriptions in the discipline of pharmacy along with average B Pharm Salary:
B Pharma Scope in India
When it comes to the B Pharma scope, there are numerous options available to students. To understand the B Pharma scope in India, it is wise to segregate the category into three divisions: scope in the government sector, scope in the commercial sector, and higher education.
Prospects in the Government Sector: A student with a B Pharma degree has a number of alternatives for employment in the government sector. In the government sector, students can apply for positions as a drug inspector or a pharmacist. A government drug inspector's salary is likewise fairly good. A fresher can expect to earn between INR 45,000 - INR 55,000 per month, depending on the profession.
Higher Education: If a person wishes to pursue higher education, that option is available as well. M. Pharma is an option for those who are interested. Master's degrees in pharmaceutics, pharmacology, biotechnology, and clinical pharmacology are all available. Keep in mind that the better the candidate's qualification, the higher the wage package.
MBA as an option: Those who have completed their B Pharma course can pursue an MBA. An MBA can assist a student in obtaining employment with one of India's numerous reputable pharmaceutical corporations. In addition, if the student has earned an MBA from a reputable college, the compensation will be considerable.
Ph D: Those who want to take their education to the next level might pursue a Ph D in the same field. There are various options available after completing a Ph D. There are numerous options to begin teaching in an institute, do research, or work as a researcher for a firm.
Employment areas for B Pharma
With a B Pharma degree, you can work in a range of fields. Here are some examples of potential B Pharma employment areas:
Top Recruiters of B Pharma
Graduating from the best B Pharma college/universities ensures top placements and the possibility of settling abroad/overseas. For your convenience, we've compiled a list of some of the best pharmacy recruiters.
Here is the list of B Pharma Indian as well as International recruiters tabulated below respectively: