General Tips and Tricks for UPCET 2022 (UPSEE) Preparation
If you are planning to sit for UPCET 2022, you can consider the following tips and tricks to crack the exam with flying colours.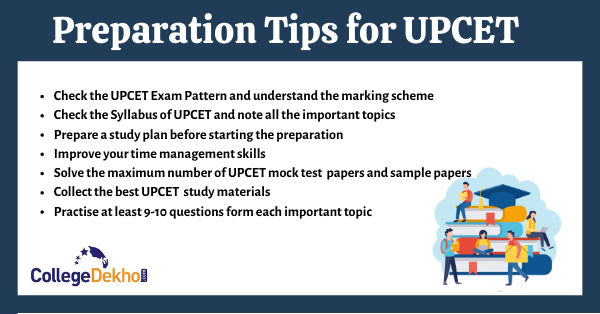 Gather Exam Related Information:
You should try to gather all the information related to UPCET like its exam pattern, syllabus and study material required to prepare for the exam. This information can make your life a lot easier if you're making a study plan.
Collect the Right Study Material:
To crack the UPCET exam, it is very important to collect the right study material to be fully prepared. Browse the internet and seek the help of your teachers, to choose the right book and sample test papers.
Have a Strong Foundation:
A solid foundation of concepts and subjects is very important when appearing for any entrance exam. Once you have in-depth knowledge of all the topics and have clarity of concepts, then you can attempt any question in the entrance exam with confidence.
Time Management:
This is one of the most important factors that could affect your performance in the exam. While appearing for an entrance exam like UPCET, You should know how to manage your time well in order to get the best results and be more productive on the day of the exam.
Old Test Papers and Mock Tests:
Going through the previous year test paper and referring to mock tests is a good way to familiarise yourself with the test pattern and different type of questions that come in the exam. They also help in increasing your proficiency.