Career as a Fund Manager
About Fund Manager
Over the past few decades, a career in the investment industry has been booming. Among the many job profiles available is to pursue a career as a Fund Manager. In layman's terms, a Fund Manager, as the name suggests, manages the funds that are used for investment purposes by private and corporate investors alike. Fund Managers have become more common in areas like Mutual Funds where private investors rely on the expertise and skills of a fund manager to provide them with the appropriate information allowing them to invest in the right companies and organisations or bonds, etc.
As a Fund Manager, an aspiring candidate will be required to have an in-depth knowledge of market trends, the market outcomes, investment trends and have the ability to predict the future trends in the market, especially in a dynamic economic market of the 21st century. To pursue a career as a Fund Manager, one needs to have the knowledge to understand all possible methods of efficiently and effectively managing a client's funds, bringing them good returns for their investment.
Responsibilities of a Fund Manager
Some of the major responsibility that a career as a Fund Manager brings forth include:
Learning and Researching the financial and future standing of different companies based on their policies, projects and processes along with other parameters and recommend probably investment strategies to their clients. 

Offer financial advises and recommendations pertaining to fund management of a client's financial assets and help them receive better returns.

To research on all possible investment areas and provide the best possible recommendation to help better invest their client's savings.

To educate and provide easy to understand financial and investment advises to a client, in order for them to make the right choices for themselves

Interacting with the clients to know their requirements

Making changes to the investment plans

Suggesting ideas to invest money 

Conducting research to find out the best investment strategies

Maintaining the accounts of all clients
Eligibility to become Fund Manager
For a career as a Fund Manager, it is important to have the basic academic qualifications and understanding of the field. In India, to become a Fund Manager:
You must have an undergraduate degree such as B.Com, BBA, BBM or an equivalent degree in finances and investment. Courses such as B.Com in Financial Management, B.Com in Investment Management, etc would provide the necessary academic boost to jump-start a career in the field.

Additional academic qualifications such as MBA in Finance would allow for a better scope of bagging a good career position in the field of Fund Management.

Pursuing short-term Stock Exchange or Stock Market courses after your UG degree will also allow for a better understanding and higher chance of following a lucrative career path in the field.
Skills Required: Some of the skills required for a career as a Fund Manager are Confidence, Strong time management skills, Analytical and problem-solving skills, Communication skills, Teamworking skills, Documentation skills and IT skills
Courses to become a Fund Manager
The table below will help you know some of the course you can take to become a Fund Manager. The table also includes the average fee for all courses, along with some well-known finance management colleges in India. You can apply to any of these colleges by filling our Common Application Form.
Course

Total Fee (Approx)

Top Colleges for Finance Management

INR 1.2 lakh to INR 8.30 lakh

INR 50,000 to INR 80,000

INR 35,000 to INR 1.40 lakh

INR 25,000 to INR 6.00 lakh

INR 50,000 to INR 2.00 lakh
Types of Job Roles Fund Manager
There are specific job roles available for a fund manager as the job description for each position is more or less the same. In all of the Fund Manager job roles available in the market, there are three major roles that are commonly pursued by aspirants, which are as follows:
Investment Fund Manager: Under such a profile, candidates will focus on providing critical decisions on investments with the best possible outcomes and returns to the clients. Here, Investment Fund Managers would work closely with Financial Analysts to provide them with ample data to come to a profitable decision.

Mutual Fund Manager: One of the more common job roles is that of a Mutual Fund Manager where candidates would be required to pick out the best stocks and bonds through parameters such as price to earnings ratio, dividends, the direction of prices along with other parameters to determine an attractive portfolio of assets, bonds and stocks for a mutual fund.

Portfolio Fund Manager: Here, Portfolio Fund Managers would work towards creating customised individual portfolios for each individual client, depending on various factors such as their age, current earnings and future earning potentials and the ability to take risks. Portfolio Managers would be required to provide the best solutions for investments and also make the client aware of the various investment strategies and tools available to them.
Those who you want to know more job profiles and opportunities available for a Fund Manager can ask questions on the Collegedekho QnA zone. Apart from this, If any candidate wants to know what profile is right for him/ her can take our Career Profiling Test.
Employment Opportunities for Fund Manager
The employment opportunities for a fund manager are immense, especially in the private sector with a number of finance and investment companies offering a range of job positions to fresh graduates and experienced veterans of the field. Here are some of the Fund Manager employment opportunities available to graduates and aspirants of the field.
Investment Banking Organisations

Mutual Fund Organisations

Banking Industry

Investment Consultancies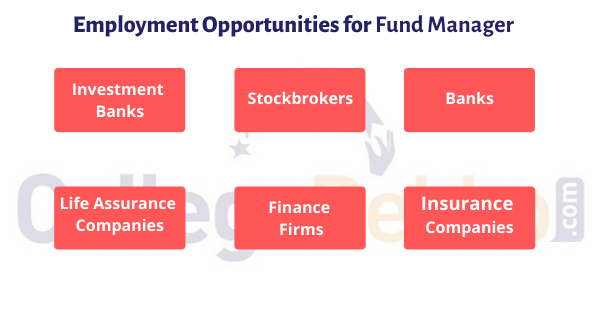 Top Recruiters for Fund Managers in India
India is home to a number of investment and mutual funds organisations offering a range of investment services to the citizens of the country. Here are some of the top recruiters for fund managers in India.
HDFC Mutual Fund

ICICI Prudential AMC Ltd

Reliance Mutual Fund (Nippon India Mutual Fund)

Aditya Birla Sun Life Mutual Fund

Kotak Mahindra Mutual Fund

SBI Mutual Fund

Franklin Templeton Mutual Fund

IDFC Mutual Fund

DSP Blackrock Mutual Fund
Planning to choose Fund Manager as your career?
Pay Scale/Salary of Fund Manager
The annual salary packages offered to Fund Managers would depend on various factors including the academic and professional qualifications and record, area of employment, expertise, skills and organisation of employment, along with other parameters. Check out the salary details of a career as a Fund Manager in India.
| | | | |
| --- | --- | --- | --- |
| Job Profile | Initial Salary (Annual) | Median Salary (Annual) | Senior-Level Salary (Annual) |
| Fund Managers | ₹3,50,000 - ₹5,50,000 | ₹6,00,000 - ₹10,65,000 | ₹12,00,000 - ₹14,00,000 |
| Investment Fund Managers | ₹3,70,000 - ₹5,90,000 | ₹6,35,000 - ₹11,00,000 | ₹13,00,000 - ₹17,00,000 |
| Mutual Fund Managers | ₹3,45,000 - ₹5,65,000 | ₹6,50,000 - ₹11,25,000 | ₹14,00,000 - ₹17,50,000 |
| Portfolio Fund Managers | ₹3,60,000 - ₹5,80,000 | ₹6,75,000 - ₹10,55,000 | ₹13,00,000 - ₹20,00,000 |
Note: The salary packages mentioned in the table above are just for reference purposes and will differ in the real world. As mentioned above, various factors will determine the final pay packages of the candidates.
Books & Study Material to Become Fund Manager
While you would be working in a dynamic and ever-changing environment and would require you to change your techniques every other day, it is always better to refer to books written by accomplished professionals in the field. Some of the books available for reading for future fund managers are as follows:
Poor Charlie's Almanack: The Wit and Wisdom of Charles T. Munger

Warren Buffett's annual letters to shareholders

Fault Lines – How Hidden Fractures Still Threaten the World Economy by Raghuram Rajan

One up on Wall Street: How to use what you already know to make money in the market by Peter Lynch

The Most Important Thing: Uncommon Sense for the Thoughtful Investor by Howard Marks
Pros of becoming a Fund Manager
Dynamic work culture, requiring you to come up with new and innovative ideas and solutions

High rewards, especially at higher job positions and higher earnings as well.

With experience and skills, the respect you receive in the industry also increases.

A high level of job security for competent fund managers in the industry.
Cons of becoming a Fund Manager
Stressful career path due to extensive research under limited time periods

There are defined work hours but fund managers often find themselves in overtime finding new solutions and information regarding different investment strategies.

Little to no wiggle room in terms of mistakes as fund managers are dealing with money that belongs to others and not them, thus increasing the overall pressure.

High level of competition, which increases the overall pressure to out-perform their rivals.
Paths for Being Fund Manager