Career as a Loco Pilot
About Loco Pilot
A Loco Pilot is a person who is responsible for driving the trains and ensuring the proper maintenance of trains during transit. It is a senior-level post in the Indian railways and no candidate is directly hired for the post of a Loco Pilot. Instead, Indian Railways conducts an entrance exam to hire Assistance Loco Pilots who can then be promoted to the Post of Loco Pilots and to more senior-level positions.
The job responsibilities of an Assitant Loco Pilot (ALP) include helping the Loco Pilot in running the train smoothly. An ALP does this by performing several key activities such as ensuring the proper functioning of the locomotive, carrying out minor repair activities in the train, checking for signal changes, communicating with the other railway officials, etc. It is very important for a Loco Pilot to carry out his / her duties responsibly as the safety of thousands of passengers depends on it.
Assistant Loco Pilots are hired as Group 'C' personnel through an exam conducted by the Railway Recruitment Board (RRB). Becoming a Loco Pilot in the Indian Railways is a very interesting career choice as it is a government job. The post ranks high in terms of job security and offers good pay as well as additional benefits. However, it is considered to be a tough job and requires high stamina, good endurance, and an attentive mind.
Eligibility to become Loco Pilot
Candidates who are applying to become Assistant Loco Pilot must keep themselves updated with the recruitment notification issued by the Railway Recruitment Board. Candidates must also ensure that they satisfy the eligibility criteria before applying for the recruitment exam for Loco Pilots. The details regarding eligibility have been provided below.
Nationality for Assistant Loco Pilot
A candidate applying for the post of Assistant Loco Pilot can be of the following nationalities.
A citizen of India.

A subject of Nepal.

A subject of Bhutan.

A Tibetan refugee who arrived in India before 1st January 1962 for permanently settling in India.

A person of Indian origin who migrated from selected countries for permanently settling in India.
Academic Qualification for Assistant Loco Pilot
Candidate must have passed Class 10th / High School / Matriculation / SSC examinations or equivalent from a recognized board.

Candidate must have completed any of the following courses:

ITI course from an institute recognized by NCVT or SCVT.

Diploma in Engineering in any of Electrical / Electronics / Mechanical / Automobile Engineering streams from an AICTE-recognized institute.

Act Apprentenship course
Age Limit for Assistant Loco Pilot
The candidate must be between 18 and 28 years of age to be eligible for the Assistant Loco Pilot post.

Age relaxation is provided to reserved category candidates (SC / ST / OBC / PwD / Ex-Servicemen etc.) as per the norms issued by the Government.
Entrance Exam for Assistant Loco Pilot
Candidates are required to quality the entrance exam conducted by RRB to qualify for the post of Assistant Loco Pilot. The entrance exam is a Computer-Based Test (CBT) and is conducted in the following three stages.
CBT 1: 75 questions, 60 minutes

CBT 2:

Part A: 100 questions, 90 minutes

Part B: 75 questions, 60 minutes

Computer-Based Aptitude Test (CBAT)
Only the candidates who qualify in one stage are called for the next stage of ALP recruitment.
Medical Fitness for Assitant Loco Pilot
Skills to become a Loco Pilot
Given below are some skills that are required in order to become a Loco Pilot
Physical Strength - Loco Pilots are required to work in a stretch for an extended period of time and at times, they have to lift heavy machinery so they have to be in good shape physically, and fit, and healthy.
Technical Skills - Technical skills are very important in this field as Loco Pilots are often required to perform various practical tasks related to mechanical, scientific, or mathematical in information systems. Some of these technical skills include having knowledge of mechanical systems, language programming, or methodologies.
Critical Thinking - This is again important for Loco Pilots as it would help in solving problems in an efficient manner and fix any issues/ problems in the workplace.
Courses to become a Loco Pilot
Loco Pilots need to qualify for the ITI course from an institute approved by the National Council for Vocational Training or State Council of Vocational Training. They can also pursue engineering diplomas in electrical, electronic, mechanical or automotive engineering from an All India Council for Technical Education (AICTE)-recognized institute.
Courses and Certification
| | |
| --- | --- |
| Civil Services Exam | Special Class Railway Apprentices Examination |
| Diploma in Railway Engineering | Combined Engineering Services Examination (CES) |
Types of Job Roles Loco Pilot
An Assistant Loco Pilot may be promoted to senior positions in the Indian Railways after gaining certain years of experience. Given below are the job profiles of an ALP in increasing order of seniority.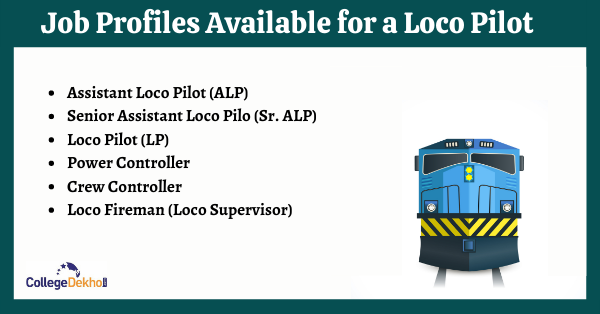 Assistant Loco Pilot (ALP)

Senior Assistant Loco Pilo (Sr. ALP)

Loco Pilot (LP)

Power Controller / Crew Controller / Loco Fireman (Loco Supervisor)
Planning to choose Loco Pilot as your career?
Pay Scale/Salary of Loco Pilot
Standard Indian Railway Loco Pilot's compensation package is Rs. 55,500. Loco Pilot salaries in Indian Railways range between Rs. 20,000-85,000. Given below is the salary structure for Loco Pilots.
Assistant Loco Pilot
Junior level salary - 20,000
Senior-level salary - 50,000
Average salary - 30,000
Senior Assistant Loco Pilot
Junior level salary - 40,000
Senior level salary - 70,000
Average salary - 50,000
Books & Study Material to Become Loco Pilot
| | | |
| --- | --- | --- |
| Book | Author / Writer | Publisher |
| Railway Assistant Loco Pilot and Technician | Arihant Experts | Arihant Publications |
| Lucent's General Knowledge | Dr. Binay Kamra | Lucent Publications |
| General Science for RRB Junior Engineer, NTPC, ALP & Group D Exams | Disha Experts | Disha Publications |
| Lucent's General Science | Ravi Bhushan | Lucent Publications |
| A Modern Approach to Verbal & Non-Verbal Reasoning | R S Aggarwal | S Chand Publishing |
Pros of becoming a Loco Pilot
Cons of becoming a Loco Pilot
Lots of travelling involved.

Requires a lot of stamina as work shifts can last for 3 days.

On-field job requires you to stay away from home.
Top Colleges to pursue career as Loco Pilot