How to Become a Chef
About Chef
A chef is a qualified professional who is responsible for menu planning, food preparation, kitchen staff supervision, and other activities related. Chefs are typically employed by hotels and restaurants. A chef's employment and advancement opportunities are virtually limitless. According to the National Restaurant Association of India (NRAI), approximately 7.3 million jobs were created in 2018-19, with an additional 2 million expected by 2024. Aspiring students must enroll in UG and PG Chef Courses and Hotel Management Management Courses at a number of top Hotel Management Universities located throughout the nation. Students must pass a variety of national and state level hotel management entrance exams, including the NCHMCT JEE, AIMA UGAT, IIHM eCHAT, MAH BHMCT CET, WBJEE JEHOM, and UPCET, in order to enroll in hotel management courses.
For admissions to the various IHMs, State Governments, and PSU Affiliated Institutes, the National Test Agency conducts NCHMCT JEE. For the NCHMCT JEE in 2019, there were over 32,000 applicants for roughly 11,000 seats. After receiving their diplomas, graduates have the option to enroll in certificate programmes in hotel management to become chefs.
Based on their areas of expertise and their years of experience, there are different types of chefs, including executive chefs, sous chefs, pastry chefs, head chefs, etc. Students must pass the 10+2 exam in order to enroll in degree programmes like BA in Culinary Arts, Bachelor of Hotel Management (BHM), Bachelor of Catering Technology, and Culinary Arts (BCTCA). Few colleges also provide diplomas and certifications to candidates for the 10th pass. These programmes typically last three years.
Roles and Responsibilities of a Chef 
In India, a chef is a professional chef who manages all aspects of the kitchen, including hiring and firing staff, choosing the weekly menu, and guaranteeing that the food is of high quality. A chef also wears many other hats in addition to the chef hat. If you're considering becoming a chef, you should be aware that in addition to overseeing the logistics, a chef is responsible for the smooth operation of the kitchen. One of a cook's main duties is to keep the kitchen and also the establishment safe and tidy. Supervisory duties, menu planning, maintaining an inventory of all ingredients, staff management, and making sure that the food being served is of a high standard as well as safe for consumption are all tasks that fall under the purview of pastry chefs.
Supervision: A chef's duties also include managing the staff while the food is being prepared and served. He or she directs and instructs the staff. Since there are many activities going on in a kitchen, it's crucial to keep an eye on things to prevent confusion that could cause unintended delays
Preparing a menu: The chef prepares the menu and ensures that everyone on staff is aware of it and has time to prepare. The menu is just what initially draws customers to a restaurant. Consequently, it is crucial for a chef to design the menu in a way that encourages customers to visit the restaurant. The goal is to maintain the intriguing menu so that customers will order from it
Keeping a list of the ingredients: All of the ingredients that perhaps the cook required for preparation must be documented by the chef. They are in charge of estimating the price of the kitchen's ingredients and placing the necessary orders
Management of staff: They oversee the production schedules and ensure that the staff's needs are met. The chefs are typically in charge of having to hire the kitchen staff in hotels and dining establishments. Everybody is given the same assignment. This is carried out to ensure smooth operation and minimal delays in the kitchen. A successful restaurant is one where all operations are carried out effectively, which leads to good food being served and satisfied customers
Ensuring the taste and quality of food: While preparing the dish, the chef ensures the quality of the food and verifies the ingredients. The dishes' flavours are also approved by him or her. He or she directs other members of staff to add the distinctive flair of the hotel or restaurant to dishes
Eligibility to become Chef
To pursue a career as a chef, obtaining a degree in the related field is a must. If you pursue a degree in hotel management and catering technology from a reputed institution, then it will certainly increase your chances of getting better placements. An individual interested in this career option can also take up diploma and certificate courses offered by various institutes across the country. All such hotel management institutes focus on bringing the best out of every student and impart the right skills and knowledge to make them industry-ready.
While the educational path to become a chef may be different for each one of you, aspirants usually take up two-year or four-year Culinary degree courses. Apprenticeships are also available to help students get the necessary training.
As part of the training process, chefs learn to operate a business, which may involve maintenance of kitchen inventory, purchasing kitchen supplies and account management. While training is an integral part in this career, a trained and professional chef must exhibit strong leadership and interpersonal skills.
How to Become a Chef?
If you still have questions about how to work as a chef after finishing high school, read on. Then, we have provided complete information about a chef career path for you.
Step 1: Clear 10+2
You should complete your 10+2 or equivalent examination in any stream with a total of 50% of the marks from a recognised board in order to become a chef and learn functional skills.
Step 2: Entrance Exam
In order to help you learn more about the industry before becoming a professional chef, we have made available to you a career path for chefs that includes academics. You must take entrance exams held by colleges for hospitality and chef careers to start working as a chef.
Candidates must have taken the 10+2 exam to meet the entrance exam's minimum requirement.
Important Entrance Exams
| | |
| --- | --- |
| National Council for Hotel Management Joint Entrance Examination (NCHM JEE) | IHM Aurangabad Entrance Test |
| Maharashtra Hotel Management Common Entrance Test (MAH HM CET) | Maharashtra Bachelor of Hotel Management Common Entrance Test (MAH BHMCT CET) |
| West Bengal Joint Entrance for Hospitality Management (WB JEHOM) | Indraprastha University Common Entrance Test (IPU CET) |
Step 3: Taking a Bachelor's Degree
Candidates are expected to enroll in a bachelor's degree course after successfully completing the 10+2 exam.
Important Bachelor's Degree Programmes
| | |
| --- | --- |
| BA (Bachelor of Arts) Culinary Arts | BHM (Bachelor of Hotel Management) |
| BHMCT (Bachelor of Hotel Management and Catering Technology) | - |
Step 4: Post Bachelors
After receiving a bachelor's degree, one has a variety of options for pursuing a career as a chef. The two main options for a career as a chef are listed below:
Option 1: Students may choose to pursue a master's degree in the relevant specialisation after earning a bachelor's degree in culinary arts and otherwise hotel management. They can begin working in the sector at an entry-level after earning a master's degree.
Option 2: After earning a bachelor's degree, candidates can begin working in the field in an entry-level position. After gaining some experience, they can return to school and pursue a master's degree in a related field such as catering technology, hospitality, cuisine, or hotel management.
Important Master's Degree Programmes
| | |
| --- | --- |
| MA (Master of Arts) Culinary Arts | MHM (Master of Hotel Management) |
| MHMCT (Master of Hotel Management and Catering Technology) | MTHM (Master of Tourism and Hotel Management) |
Aspirants who do not want to attend college in a full-time degree programme may choose a related specialization's diploma or certification programme.
Skills to Become a Chef
Apart from the education qualifications provided above, candidates should also have some of the skills provided below.
| | |
| --- | --- |
| Time Management | Willingness to Learn |
| Ability to Skilfully Multitask | Organisational Skills |
| Creativity | Teamwork |
| Leadership Skills | Resilience |
Courses to Become a Chef
You can check the table provided below to know all courses to become a Chef. Eligibility criteria of all these courses will vary from college to college. You can apply for admission to these colleges provided below by filling our Common Application Form.
Types of Job Roles Chef
There are various types of chef related positions in both private and commercial sectors. In a restaurant or a dining establishment, there is usually a hierarchy comprising of positions such as an executive chef, sous chef or line chef. On the other hand, individuals interested in this profession could also choose to work for small, specialised customer base by becoming personal chefs.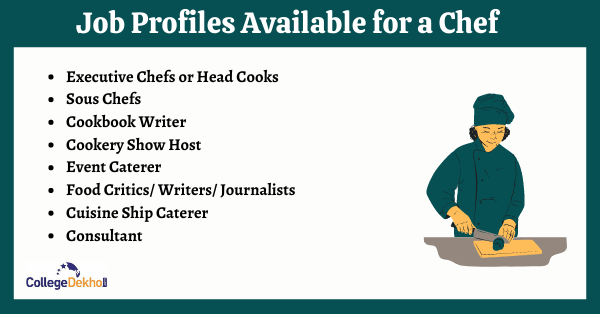 Given below are some chef-related positions:
Executive Chefs or Head Cooks look after the operation of a kitchen. They align themselves with sous chefs and other cooks who are responsible for the preparation of most of the meals. They also provide training to cooks and other workers involved in food preparation. Apart from performing these functions in the kitchen, the executive chefs or head cooks also design the menu, review food and beverage purchases. In addition, there are some head chefs who don't spend too much time in the kitchen and focus primarily on administrative tasks.
Sous Chefs are basically second-in-command after the executive or head chefs. They are responsible for supervising the cooks working for the restaurant. They are also involved in preparing meals, and their reporting is usually to the head chefs. Sous chefs also run the kitchen in the absence of the head chef.
Another type is a Private Chef who typically works for one client full-time. A private chef may work for a household, corporate groups, president, or a diplomat.
Apart from these chef-related job roles, you can also pursue any of the following roles after getting some years of work experience.
Cookbook Writer – Being a recipe book writer means writing to provide valuable recipes and tips to cooks and other individuals.
Cookery Show Host – Hosting cookery shows are fun and interesting and get a lot of attention from viewers. These shows can give you celebrity status.
Event Caterer – Being in this lucrative business means you can work on events such as weddings, parties, business functions, cocktail receptions, gallery openings.
Cuisine Ship Caterer/ Railways/ Airlines Caterer – Requires a person to provide catering services to feed passengers onboard.
Restaurant/ Pub Manager – Apart from taking care of the kitchen, one can expand his/her profile by overseeing day-to-day operations of restaurants and hotel chains.
Food Critics/ Writers/ Journalists – Requires an experienced culinary professional to work for magazines or news organisations and keep people informed about the popular food joints.
Consultant – With years of experience, one can become a consultant and work with restaurants to design their menu and also contribute in improving the restaurant ambience.
Employment Opportunities for a Chef
The hotel and restaurant business is growing by leaps and bounds every year. Today, you will find restaurants (big or small), bakeries, hotels and private clubs in every nook and corner of your city. With increasing choices, there has also been a huge surge in the demand for people with expertise in cooking.
Culinary professionals can find jobs in conventional restaurants and hotel dining facilities. They are also required in a variety of other settings – whether they are private or public. Basically, there are plenty of opportunities for such individuals in the food business.
Being a chef could open many avenues in the following areas:
Entrepreneurship
Food Manufacturing
Hotels
Food Processing Companies
Airlines
Restaurants
Cruise liners
Catering in Confectionaries
Corporate Catering
An individual can also choose to provide catering or work in canteens of colleges, universities, and private schools. Pursuing a formal education in this field opens another option of working as a faculty member in private or government institutions that offer hotel management courses.
Planning to choose Chef as your career?
Pay Scale/Salary of Chef
The salary that an individual withdraws in this sector depends on various aspects such as confidence, experience, specialisation, personal skills and the place where he/she works. While newcomers can take home a salary of Rs.10,000 to Rs.15,000 per month, those with around 10 years of work experience can expect to fetch somewhere between Rs.40,000 and Rs.50,000. Head chefs or executive chefs can earn somewhere around Rs.1 to Rs.2 lakhs every month.
If you're working in a five-star hotel, the salary could be higher. You can also work in bars and night clubs, or you could become an entrepreneur and open your own food service store or a chain of hotels.
| | |
| --- | --- |
| Level | Annual Salary Package |
| Fresher level | 1,80,000 to 3,00,000 |
| Mid-level | 6,00,000 to 9,00,000 |
| Senior-level | 12,00,000 to 24,00,000 |
Note: The salary provided in this table is indicative only and may be different for every individual.
Top Recruiting Companies for a Chef
Employability is usually one of the biggest concerns when students start out to pursue this course. However, the hospitality industry and the traditional food businesses have opened a gamut of options that an individual will never have the need to look back in life.
ITC Hotels
Oberoi Sheraton
Taj Group
Vivanta by Taj
Career Path for Chef
You can begin a chef career as a Sous chef, line cook, prep cook, pastry chef, fish chef, vegetable chef, or meat chef. Each person in the hierarchy has value and contributes to the success of the establishment. The executive or head chef handles the kitchen and therefore is accountable for creating the menu.
Executive chefs: They are at the top of the hierarchy of management in the kitchen. Executive chefs are typically found in the largest organisations, and they are also in charge of multiple outlets' services. They offer managerial positions in the hotel sector.
Head chef: The head chef is primarily in charge of running the entire kitchen, from overseeing the staff and controlling costs to closely coordinating with suppliers and developing menu options.
Commis chef: This title refers to junior staff members who work under the direction of a party chef to learn every little aspect of a specific establishment. These very people are typically the ones who have accomplished formal culinary education with success or are still enrolled in the programme.
Pros of becoming a Chef
Excellent Salary Package
Creative Satisfaction
Freedom to experiment and innovate
Popularity can get you celebrity status
Can start own food business
Can focus on any specialisation in the food business
Cons of becoming a Chef
Working hours can be longer than usual
Demand during festivals increases so you may have to work
Not a desk job, demands physical labour
Need to keep quality check always
Kitchens can be suffocating so it could affect your health