Career as a Photographer
About Photographer
A career as a Photographer is a blend of technical and artistic acumen. Photography is an art, and it needs a lot of practice and perseverance. Photographers produce images/ pictures that tell a specific story, give an internal message or record an event. With the rapid growth of the advertising and media sectors, the employment opportunities in photography witnessed a tremendous boost.
The major responsibility of Photographers working with various agencies like advertising agencies and magazines is to click the images on different themes. Photographers in different sectors have different motives and aims.
Responsibilities of a Photographer
Here are some of the well-known responsibilities that a Photographer has to perform in his/her job profile.
Setting up photographic equipment.

Choosing and setting up locations.

Taking pictures.

Promoting the business, especially if a freelance photographer

Editing and retouching images.

Reproducing and framing photographs.

Researching and making contacts.
Eligibility to become Photographer
Check out the eligibility criteria that an individual must satisfy to be a well established Photographer.
Qualification Required

Candidates must have cleared class 12th in any stream.

Graduation, diploma or certificate in Photography courses is an added advantage.

Skills are preferred more than academic qualifications.

Skills

Eye for Details

Artistic Approach

Aesthetic Taste

Knowledge of Photography

Communication Skills

Team Working Skills

Concentration Skills

Work Experience
Courses to Become a Photographer
Here is the list of popular courses and colleges that an individual can consider to be a renowned and successful photographer. These academic qualifications would not only help in equipping the right kind of skills but also provide an exposure to the candidate.
Course Name

Total Fees (Approx.)

College Name

Bachelor of Arts (Visual Arts and Photography)

INR 50,000 to INR 3,14,000

Diploma in Photography

INR 5,000 to INR 5,00,000

B.A. (Hons) Communication Design - Photography

INR 50,000 to INR 3,14,000

Professional Certificate in Wedding & Events Photography (EEMA)

INR 5,000 to INR 5,00,000

Bachelor of Fine Arts (BFA) in Photography and Digital Imaging

INR 40,000 to INR 3,00,000
To take any admission related assistance, reach out to our admission experts by either dialling 1800-572-9877 (toll-free) or fill the Common Application Form.
Types of Job Roles Photographer
Apart from the required qualification, photography needs certain skills. After attaining the necessary skills and training, photographers can fit into various roles and positions that match their skills. The different roles that Photographers can take up are listed below.
Advertising Photographer: Photographers working in various advertising agencies who take photographs for a particular commercial are called as advertising photographers. Advertising photographers click the photographs we see for various commercial advertisements.

Event and Concert Photographer: These photographers will have to present at any event like parties, launching of certain products, ceremonies etc. These photographers are responsible for taking photographs of a big concert with thousands of people.

Photo Journalist: Photographers who cover social issues and send them to various newspapers are called as photojournalists. These journalists can also work as freelancers.

Wedding Photographer: A photographer who is responsible for taking photographs of wedding occasions are called as wedding photographers. These photographers should have complete knowledge of different cameras and modes of handling a camera.

Wildlife Photographer: Photographers who are associated with various channels and magazines that cover various aspects of wildlife are called as wildlife photographers. These photographers need to take pictures of different kinds of birds, animals etc.

Fashion Photographers: Photographers who take photographs of models and catches the beauty of a person in the camera are called as a fashion photographer. These photographers also work in studios and outer locations.

Aerial Photographers: These photographers take aerial photographs of places, buildings, landscapes, terrains during natural disasters, war, or under similar situations from aircraft in flight for use in news, business, industrial, scientific or military purposes.

Food Photographers: They click pictures in a studio with an attached kitchen or in hotels for exclusive shots.

Industrial Photographer: They click photographs of workers on the job, machinery in the industry etc. for use in company publications or for advertising campaigns.
Employment Sector/Industry for Photographer
Photographers can find a variety of jobs in different sectors. They can also start their own studio by proving a varied range of services in photography. Some of the top sectors that hire photographers including the following:
Newspapers

Magazines

Advertising Agencies

Studios

Press and Publishing Houses

NGOs

Industries and Medical Institutes

Event Management Organisations

Freelancers
Top Recruiting Agencies for Photographers
Here is the list of top agencies that recruit professional photographers in India: -
Vijushah

Photographers Direct

Freelance India

Best Indian Sites

Click India
Photographers can also start their own studios and agencies by providing a varied range of services in photography.
Planning to choose Photographer as your career?
Pay Scale/Salary of Photographer
There is nothing like senior or junior Photographers. The profession depends upon the skills of a Photographer and his/ her vision. Unlike other professions, it is difficult to compare the salary of Photographers based on the seniority levels. For instance, Wedding Photographers are paid per day or per hour depending on their popularity. The average salary earned by a Photographer is around Rs. 3,66,376 per annum. The range of earnings of photographers in different sectors is elaborated below.
| | |
| --- | --- |
| Job Profile | Salary or Earnings |
| Wedding Photographer | Rs. 10,000 to Rs. 1,00,000 per day |
| Newspapers and Magazines | Rs. 15,000 to Rs. 20,000 per month |
| Fashion Photographer | Rs. 25,000 per month |
| Wildlife Photographer | Rs. 15,000 – Rs. 25,000 per month |
| Advertising Photographer | Rs. 25,000 per month |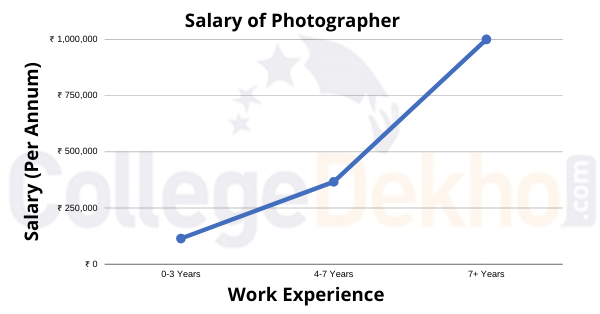 Note: The above figures are an estimate and may vary from individual to individual and company to company.
Books & Study Material to Become Photographer
Here is the list of some of the top photography books for enhancing your skills and knowledge in the field of photography.
Complete Digital Photography by Ben Long

Langford's Basic Photography

Life Guide to Digital Photography by Joe McNally

Understanding Exposure by Bryan Peterson

The Photographer's Eye by Michael Freeman

The Photographer's Mind by Michel Freeman
Pros of becoming a Photographer
A career in photography is creative, and it develops the creative skills of a person.

A popular and highly skilled photographer is paid more in India.
Cons of becoming a Photographer
The first disadvantage of photography is self-promotion. You will not find clients easily. You have to promote yourself to find clients.

The job market for photographers is very small. Hence, the job you get as a regular photographer comes with a very low salary.
Career path for Photographer
Firstly, the photographer needs skills and vision besides mandatory qualification. Several institutes in India offer courses in Photography after Class 12. You can also step into photography through your own talent and skills. However, a complete knowledge of photography is mandatory for the same. It is advisable to take up courses in photography after Class 12 to become professional photographers. The process to become a photographer is elaborated below.
Subjects Combination: Students from any stream in Class 12 are eligible to take up courses in Photography. Some of the top institutes in India conduct an entrance test for the admission to photography courses.
Paths for Being Photographer