Career as a Graphic Designer
About Graphic Designer
Graphic Designers combine art and technology to articulate their ideas through images and the layout of websites and printed pages. To achieve artistic or decorative effects, they use a variety of design elements. The work of a Graphic Designer is based on a variety of products and activities, such as advertising, websites, books, posters, magazines, computer games, product packaging, exhibitions and displays, corporate communications, etc. To choose Graphic Designing as a career, one must have a creative flair, up-to-date knowledge of industry software and computer technologies in order to remain competitive. The job of a Graphic Designer includes designing layouts and select colours, images, and typefaces to use, incorporating changes recommended by clients or art directors into final designs, using digital illustration, photo editing software, and layout software to create designs and reviewing designs for errors (if any) before printing or publishing them. It is extremely crucial to pick up the right kind of Graphic Design courses and Graphic Design colleges in order to establish a successful career in the industry. Read on to catch some of the key requirements and information that every aspiring Graphic Designer must be aware of.
We are frequently captivated by the design of a website, a book cover, or simply a product. Graphic designers are the individuals in charge of the fascinating design. Graphic Design is a creative short term course after 12th that requires the creation of visual content using high-tech software tools to communicate meaningful messages. With the rise of YouTube and social media, the demand for design professionals has skyrocketed. Because of its higher employability and global working environment, a large number of aspirants see it as an alternative to traditional degrees. A career in graphic design is all you need to enjoy a dynamic job profile, flexible work hours, and lucrative pay.

Responsibilities of a Graphic Designer
Provided below are the responsibilities shared by a Graphic Designer. Go through the pointers to understand the job profile better.
Discussing with the clients the requirements, budgets and possibilities.

Liaising and working with clients and organisations by advising and briefing design style, format, timescales and print production.

Brainstorming creative designing ideas.

Researching and preparing rough drafts as per the organisation or client requirements.

Developing and designing layouts, concepts, graphics for company logos, product illustrations and websites.

Suggesting improvements after reviewing final layouts.

Ensuring that the deadlines are met and printouts are available in the highest quality.
Eligibility to become Graphic Designer
Mentioned below are the eligibility criteria of a Graphic Designer. Check out the qualifications, skills and work experience required to be a successful Graphic Designer.
Qualification Required

Candidates must have any degree or diploma in Graphic Design

Students must have a wide understanding of Graphic Designing tools. Any certificate in the HTML, Photoshop, CSS or Web Design can act as an added advantage.

Skills

Creative Skills

Sound Communication Skills

IT Skills

Critical Thinking

Problem Solving Ability

Time- Management

Eye to Details

Knowledge of HTML, CSS, Photoshop etc.

Work Experience
Courses to Become a Graphic Designer
In order to be a Graphic Designer, an individual must check out the table below as it has all the adequate information regarding the top courses, fees and colleges one can look out for.
Course

Total Fee (Approx.)

Top Colleges for Graphic Designer

B.Des in Graphic Design

₹ 30,000 to ₹ 3,10,000 per annum

₹ 10,000 to ₹ 5,00,000 per annum

₹ 10,000 to ₹ 5,00,000 per annum

M.Des in Graphic Design

₹ 1,00,000 to ₹ 5,79,000 per annum

₹ 30,000 to ₹ 94,000 per annum

₹ 32,900 to ₹ 94,000 per annum
To take admission in any aforementioned colleges or to explore more options, either dial 1800-572-9877 (toll-free) or fill-up the Common Application Form. Our admission experts will be glad to assist you with the application process.
Types of Job Roles Graphic Designer
Graphic Designer job profiles depend on the experience and type of education one has. Following are some of the job profiles for a Graphic Designer.
Art Directors: They are responsible for the visual style and images in newspapers, magazines, product packaging, and movie and television productions. Art directors work closely with their clients or internal management teams to collect information about the brand and the desired target audience of their work.
Multimedia Artists and Animators: They create animation and visual effects for movies, television, video games, and other forms of media. UX and UI Designers are also highly popular among the aspirants.
Web Designer: A Web Designer is responsible for designing and creating websites. He/she takes care of the text, information architecture, images, fonts, colours, HTML, markup language and other interactive elements etc. that go on the layout of the website.
Industrial Designers: They combine art, business, and engineering to make products that people use in day-to-day life. When developing new product concepts, they consider the function, aesthetics, production costs, and usability of products.
Craft and Fine Arts: They create handmade objects, such as pottery, glassware, textiles etc. They use a variety of materials and techniques to create art for sale and exhibition.
Drafters: The drawings of Drafters provide visual guidelines and show how to construct a product or structure. They use software to convert the designs of engineers and architects into technical drawings.
Mobile Designer: Mobile Designers collaborate with cross-functional teams to create compelling, interactive experiences on mobile devices. These designers know the aesthetic and functional aspects of web and mobile design.
Product Designer: They are the professionals who are responsible for the visual or tactile aspects of a product. A Product Designer also looks after the information architecture and system design of the product.
If you are still wondering which career profile is suitable for you, go for the Career Profiling Test of CollegeDekho. It assesses your aptitude, interest and personality in order to suggest an apt job profile.
What Can You Do With a Degree in Graphic Design?
Graphic design offers a plethora of career opportunities because almost every organisation nowadays requires graphic designers, whether for their products or services. Here are the top ten Graphic Design jobs:
Graphic Designer
Product Developer
Art Director
Creative Director
Video Designer
Multimedia Artist or Animator
Production Artist
User Experience (UX) Designer
User Interface (UI) Designer
Web Designer
Skills Required to be a Graphic Designer
Are you curious about the qualifications required for a successful career in graphic design? The following are the key skills required for careers in graphic design:
Artistic Talents
Perceptivity
Typography Expertise Communication Abilities
Extraordinary Imagination and Creativity
Organizational and Time Management Skills
Knowledge of Adobe Photoshop, Illustrator, and InDesign, as well as other Photo-Editing Software
Knowledgeable about Contemporary Trends, Visual Arts, and etc.
Employment Sector/Industry for Graphic Designer
There are various employment opportunities for Graphic Designer in different sectors. Some of the top sectors/industries that require a Graphic Designer are listed below:
Corporate businesses

Television industry

MNCs

Publishing houses

Multi-media companies

AD Agencies

Web designing

Marketing firms

Printing and Publishing

Design studios

Commercial packaging

Training Institutions

TV and film company
Top Recruiting Companies for Graphic Designer
Few of the leading recruiting companies in the field of Graphic Designing where a Graphic Designer can find employment opportunities are listed below:
Cogwheel Studios

Wipro technologies

Fisheye, New Delhi

General Motors Design

Edge Studio, New Delhi

Mangoblossom Design, Mumbai

Think Design, Hyderabad

Eastern Silk Industries Ltd

Design Factory India

Moonraft Innovation Labs Pvt. Ltd

SAP Labs India Pvt. Ltd
Career Path for Graphic Designer
There are many career paths in the field of graphic design that have better prospects for development and growth. offering top-tier employment opportunities and enticing compensation packages. In the digital age, where visuals and images are the primary means of communication, graphic design has a vast range of applications. The following are the top factors making graphic design one of the most sought-after careers in the twenty-first century:
High-paying Positions in Various Sectors, Including Business, Marketing, Media, and the Visual Arts
Continuous Learning as You Develop Your Technical and Aesthetic Skills
Including a Variety of Career Paths, including Web Design and Art Direction
A Career Option That Is Both Creative and Intellectually Rewarding
You can start a successful career in graphic design by enrolling in a course. Due to the practical nature of the field, the schools place a greater emphasis on hands-on training, enrolling a smaller number of students. It is understood that the admissions process at prestigious schools can be challenging, but not if CollegeDekho is on your side. Your path to your dream job will be easier if you seek assistance from the leading professionals in the field.
Planning to choose Graphic Designer as your career?
Pay Scale/Salary of Graphic Designer
On average, Graphic Designers extract around INR 3,03,765 per annum. An exceptional professional can earn as much as INR 12,00,000 per annum. The salary of a Graphic Designer is based on the experience and projects given to him/her. Following are some relative salary figures in the different stages of the job profile.
| | | | |
| --- | --- | --- | --- |
| Job Profile | Entry-Level Salary per annum (in INR) | Mid-Level Salary per annum (in INR) | Senior-Level Salary per annum (in INR) |
| Graphic Designer | 1,43,000 | 2,99,000 | 6,19,000 |
Note: The above figures are an estimate and may vary from individual to individual and company to company.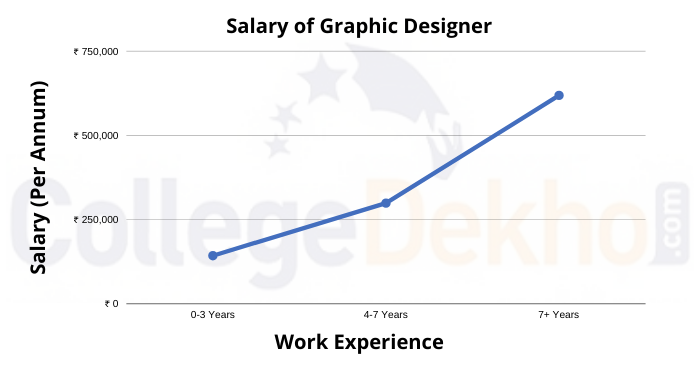 Books & Study Material to Become Graphic Designer
Since Graphic Designing is a professional course and there is no entrance test to take admission in this course, hence, candidates will learn about graphic designing while pursuing the course itself.
However, here are some best books and study material that can be used to study for a Graphic Designing course:
The Elements of Graphic Design by Alex W. White

The Little Know-It-All: Common Sense for Designers by Silja Bilz

Design, Form and Chaos by Paul Rand

Graphic Design Theory From the Field by Helen Armstrong

Guide To Graphic Design by Scott W. Santoro

Graphic Design: The New Basics by Ellen Lupton and Jennifer Cole Phillips

Media Design with Adobe by Catherine Skintik

Principles of Form and Design by Wong

Universal Principles of Design by William Lidwell, Kritina Holden, Jill Butler​
Pros of becoming a Graphic Designer
Graphic Designer has a high demand in many industries. One gets to share his/her work online that opens up an endless stream of opportunities.

The field of Graphic Designing has the liberty to express one's imagination and creativity.

Being in the designing industry, one learns new skills and techniques every day. The job does not get monotonous.
Cons of becoming a Graphic Designer
Graphic Designers should be aware of and prepared for fluctuations based on business cycles and economic changes.

Graphic Designing is a highly competitive field. One has to perpetually show a willingness to learn and improve.

An individual constantly needs to keep up with the trends and the ever-changing society.
Career path for Graphic Designer
If one wants to work for a large firm and earn a good salary, then, having an academic degree in graphic design is a preferred qualification. However, the minimum academic qualification required for becoming a graphic designer is mentioned below:
Subject Combination – Any Stream