Career as a Lawyer
About Lawyer
Advocates or lawyers are advisors and solution providers to legal issues that could range from disputes of property, marriages, divorce, criminal offences to even the rights of an individual etc. Lawyers are the ones who represent their clients in court - be it initiating a lawsuit, attending formal hearings, documenting legal papers, assessing the cases to come up with solutions and so on. 
Becoming a lawyer requires one to obtain extensive training in legal procedures and to be familiar with the laws that have been laid down by the constitution.  A law aspirant must have an LLB degree to be a Lawyer. It is not possible to be an Attorney or a Lawyer with just a Diploma or Certificate Law courses.
A lawyer or advocate can either deal with individual clients, law agencies, law firms, litigation, administrative service, government agencies or corporate houses etc. With so many employment areas and options to choose from, the legal position of a Lawyer remains secure and safeguarded in the market.
Responsibilities of a Lawyer
Check out the top-notch responsibilities that a Lawyer have to fulfil after entering the Legal field.
Take up legal cases of clients and represent them in courts.
Conduct analysis and research of legal problems.
Present facts verbally and in writing to their clients.
Argue on behalf of their clients.
File, draft and prepare legal documents such as wills, lawsuits, appeals, contracts and deeds.
Communicate with their clients, judges and colleagues involved in the case.
Eligibility to become Lawyer
The eligibility criteria required to be a Lawyer is provided below along with the qualification required, skills and work experience.
Qualification Required

Candidates must have qualified at least a 5 years long LLB or a 3 years long LLB.
Students with an LLM degree are also eligible to be a Lawyer.
Candidates with just diploma or certificate courses can not be a Lawyer

Skills

Sound Communication Skills
Good listener
Persuasion Skills
Analytical Skills
Problem Solving
Eye to Details
Quick Responsiveness
Good Debating Skills
Critical Thinking
Deep Knowlege of Legal Terms and Concepts
Time- Management

Work Experience
Courses to Become a Lawyer
Check out the courses and colleges mentioned below that can grant a successful career to a lawyer. To take any admission related help, feel free to talk to our admission experts either by dialling the helpline number 1800-572-9877 (toll-free) or filling the Common Application Form. You can also click on the college links below to directly apply for admission to the desired law college.
Course Name

Total Fee (Approx.)

Top Colleges for Lawyer

₹ 30,000 to ₹ 3,00,000 per annum

₹ 22,000 to ₹ 2,50,000 per annum

₹ 50,000 to ₹ 5,00,000 per annum
Types of Job Roles Lawyer
When you attain the necessary education qualification to become a lawyer, there are a variety of Lawyer job profiles that you can target the basis of your interest areas and legal acumen. Following are some of the job profiles for lawyers and advocates that you can opt for.
Mediators, Arbitrators or Conciliators - They solve disputes between the parties while negotiating outside the court system.
Legal Assistants and/or Paralegals - They assist lawyers in maintaining files, conducting research, working on the case etc.
Lawyers - Lawyers ideally defend their clients in the courtrooms. Apart from that, they also work as guest lecturers, assist in corporate affairs etc.
Judge / Hearing Officers - They are the decision-makers in a dispute. They conduct pre-trial hearings, assess the evidence presented, interpret the law and roll out unbiased and fair judgements.
Family Lawyers - They advise the clients on legal issues pertaining to child custody, divorce, domestic violence, adoption proceedings etc.
Securities Lawyers - They advise the clients or corporations to adhere to laws relating to buying and selling stocks while ensuring that disclosure requirements are met.
Environmental Lawyers - They deal with issues that are critical to the environment and largely work with advocacy groups, government agencies to ensure all the environmental laws are adhered to.
Tax Lawyers - They handle the different kinds of tax-related issues of corporations as well as individuals while keeping up with the Indian Revenue Services (IRS) rules.
Note: In case you are confused about the job profile you want to pursue, do not hesitate to take our free Career Profiling Test! It will analyse your attitude, personality and interests to suggest the most suitable career profile for you. If you have any queries, drop them in the QnA zone.
Employment Opportunities for Lawyers
Lawyers can find a variety of employment opportunities in different sectors. Some of the top sectors that hire lawyers or legal advisors are provided below.
Corporate businesses

MNCs

Media and Entertainment houses

Political Parties

Engineering firms

Information Technology companies

Finance companies

Consulting Firms

Universities and Colleges
Top Recruiting Agencies for Lawyer
A Lawyer can choose to work in a private firm or public firm depending on the requirements. Few of the most popular recruiting agencies that hire a lawyer are mentioned underneath.
The Lawyer's Hub

Kapil Gupta & Associates

Legistify.com

SRP & Associates

Bankai Group

ATMA

Uday Shankar Associates

Sanjay Mann & Associates
Planning to choose Lawyer as your career?
Pay Scale/Salary of Lawyer
The salary of a lawyer may vary according to the specialization he/she may work in and the experience one holds. It usually increases with exposure, time and knowledge enhancement. The average salary of a Lawyer has been recorded to be ₹4,68,000.
Following are some relative salary figures enjoyed by a Lawyer at different levels of the profession.
| | | | |
| --- | --- | --- | --- |
| Job Profile | Starting Salary per annum (in INR) | Mid Level Salary per annum (in INR) | Senior Level Salary per annum (INR) |
| Lawyer/ Attorney | ₹1,56,000 | ₹4,68,000 | ₹40,00,000 |
Note: The above figures are an estimate and may vary from individual to individual and company to company.
Check out the growth of the salary of a Lawyer captured in the figure below.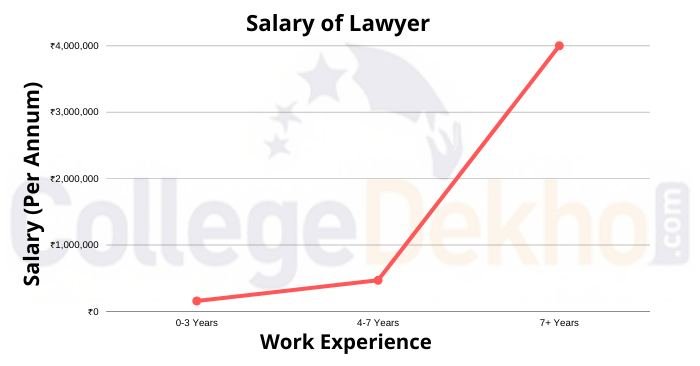 Books & Study Material to Become Lawyer
In order to make it to a good law college in India, it is important to clear national level exams such as AILET, CLAT or LSAT or other university-specific law exams such as IPU CET Law, DU LLB, BHU UET Law etc. For that, one needs to have a clear understanding of legal terms and profession. Some of the best books and study material for aspiring lawyers are as follows.
The New Lawyer's Handbook- 101 Success Strategies They Didn't Teach You in Law School by Karen Thalacker.

Tomorrow's Lawyers: An Introduction to Your Future by Richard Susskind

Best For Aspiring Activist Attorneys: The Story of My Life by Clarence Darrow

The Rule of Law by Tom Bingham, Baron Bingham of Cornhill

Making Your Case: The Art of Persuading Judges by Antonin Scalia and Bryan A. Garner
Pros of becoming a Lawyer
High earning potential as lawyers are among the top-paid professionals in the country.

Lawyers enjoy a lot of prestige and power ultimately leading to respect and success.

They get the opportunity to help others and work towards equality in all respects while abiding by the law.

There are diverse opportunities in the field of law - family, corporate, financial, civil, criminal etc.

Lawyers can earn additional income by working as consultants, guest lecturers at law colleges, public speakers etc.
Cons of becoming a Lawyer
Lawyers may require to work under stress while abiding by deadlines, client demands, changing laws etc.

The competitive job market in the field of law is another disadvantage of picking up a career as a lawyer.

The workload of lawyers often translates into long working hours that may add to fatigue and health issues of the individual.
Paths for Being Lawyer