Career as a Judge
About Judge
A Judge is an elected or appointed professional who presides over the court trial and hearing in order to come up with a decision. It is often believed that a Judge does all the work in the courtroom. However, it is not true. Judges also look after certain responsibilities outside the courtroom. Their duty is to research regulations and laws, issue case decisions and opinions, supervise the work of other court staff and law clerks, meet the lawyers to discuss cases and encourage settlement, establish procedures and court rules. Some Judges also perform marriage ceremonies and issue a marriage license.
In the court, Judges are in charge of making a final verdict. They hold the topmost authority and are expected to analyse the evidence presented and deliver an unbiased verdict by listening to the hearing of the case. A Judge has to stay neutral to give a correct verdict.
An individual wishing to be a Judge must acquire at least an LLB. They are also required to be an Indian National and clear the Judicial Services Examination. The job of a Judge brings lots of respect and responsibilities along with it. A Judge of any court is considered to be honourable, impartial and of high stature.
What does a Judge do? 
A Judge, also known as the 'Custodian of Constitution', is someone who's in a place of authority in courtroom proceedings. The competence and responsibility of a Judge differs across jurisdiction. A Judge is responsible for the fate of an accused person. The fundamental responsibilities of a Judge includes- 
Responsibilities of a Judge
Some of the major duties or responsibilities that a Judge is responsible for are provided below. 
Listen to the testimony of witnesses.

Hear allegations of the defending and prosecuting parties.

To oversee a trial or hearing and serve as an impartial referee.

Instruct the jury.

Determine the guilt or innocence of the defendants.

If found guilty, impose sentences on defendants.

Determine the extent of punishments levied during trials.

Listen to the testimony of the witness.

Inform defendants of their rights.

Rule on the admissibility of evidence.

Rule on motions presented by counsel.
Eligibility to become Judge
It is extremely important for a Judge to meet the minimum requirements including academic qualifications, age criteria, skills, work experience and other criteria mentioned below.
Academic Qualification Required

Candidates must have completed an LLB course of either 5 years or 3 years.

Students with an LLM degree can also apply for the job profile of a Judge.

Candidates with just diploma or certificate courses are not eligible to be a Judge.

Other Requirements

Applicant must be a citizen of India.

An aspirant must fall under the age bracket prescribed by the authorities. It varies from state to state.

Candidates must have qualified the Judicial Services Examination which includes Preliminary Examination, Main Examination and an interview.

Skills

Good Listening Skills

Sound Verbal and Writing Communication Skills

Reasoning and Logical Thinking

Legal Knowledge

Analytical Skills

Mediation Skills

Unbiased Approach

Eye to Details

Empathy

Work Experience

To start the career as a Judge, an aspirant must be an advocate for at least 7 years.
Courses to Become a Judge
In order to become a Judge, legal knowledge of an aspirant must be sound. Provided below are the apt courses and colleges that can help an aspirant in inculcating the right set of legal skills. You can either dial our toll-free number 1800-572-9877 or fill-up the Common Application Form to talk to our admission experts and take admission or free assistance. You can also click on the links provided below to directly apply for admission.
Course

Total Fee (Approx.)

Top Colleges for Trial Lawyer

₹ 30,000 to ₹ 3,00,000 per annum

₹ 22,000 to ₹ 2,50,000 per annum

₹ 50,000 to ₹ 5,00,000 per annum
Types of Job Roles Judge
Check out the various different types of job roles that an individual willing to be a Judge can consider.
District Judge

High Court Judge

Civil Judge

Sessions Judge

Supreme Court Judge

Author
How to become Judge of a Supreme Court in India?
The Judge of a Supreme Court has substantial power and is appointed by the President of India. Here are the qualification that a person should posess in order to become a Judge of the Supreme Court in India-
The person must be a citizen of India.
They must have an LL. B/ LL. M degree.
One must be a Judge of High Court for at least 5 years or should be an advocate of High court for at least 10 years.
A person must have qualified in Judicial Service Examination.
He/she should be an exceptional jurist according to the President.
How to become Judge of a High Court in India?
The High court is the chief of the state judicial system. Here's how an individual can become a Judge of High court in India-
A person must be a citizen of India.
He/she must have an LL. B or an LL. M degree.
He/she should have held a judicial office in India for at least 10 years or he/she should have been an advocate in High court for at least 10 years.
Employment Opportunities for Judge
The Indian Constitution follows a Judicial System where job opportunities are provided to Judges across 3-tiers that are Subordinate Judiciary, the State Judiciary and the Union Judiciary. To get enrolled in any of these positions, an individual must fulfil the prescribed eligibility requirements and skills. Generally, after gaining a few years of work experience, an aspirant is promoted from Subordinate to State then to Union Judiciary.
Top Recruiting Agencies for Judge
Sessional courts, District courts and High courts of all states and districts require Judges. The Supreme Court also provides a chance to experienced, skilful and professional judges. Few of the top recruiting agencies that offer job opportunities to an aspirant are mentioned underneath.
Uttarakhand Public Service Commission

Delhi High Court

Supreme Court

Sashastra Seema Bal

Haryana District and Sessions Court

Rajasthan High Court

Ministry of Law & Justice
Planning to choose Judge as your career?
Pay Scale/Salary of Judge
The average salary earned by a Judge is around ₹ 1,325,000 per annum. The figure might change depending on the individual and the job profile. The table below has the salary earned by a Judge.
| | | | |
| --- | --- | --- | --- |
| Job Profile | Entry-Level Salary per annum (in INR) | Mid-Level Salary per annum (in INR) | Senior-Level Salary per annum (in INR) |
| Judge | ₹ 7,00,000 | ₹ 10,00,000 | ₹ 30,00,000 |
Explained through the image below is the salary growth of a Judge over the years.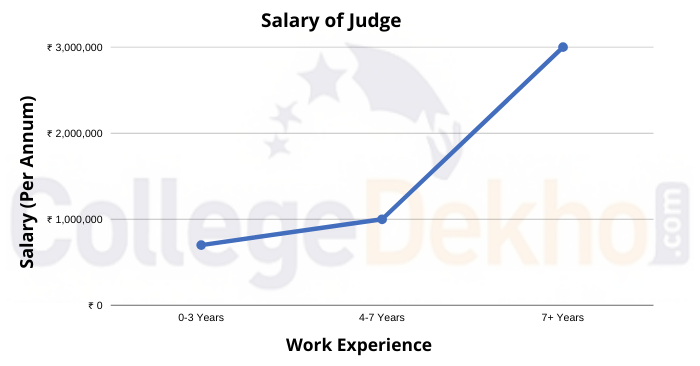 Books & Study Material to Become Judge
The books and study materials that play a vital role in gaining knowledge and becoming a Judge are enlisted below.
How Judges Think by Richard Posner

The Nature of the Judicial Process by Benjamin N. Cardozo

Men and Books Famous in the Law by Frederick C. Hicks

Law and the Modern Mind by Jerome Frank

The Making of a Justice: Reflections on My First 94 Years by John Paul Stevens

Men and Books Famous in the Law by Frederick C. Hicks
Pros of becoming a Judge
The major advantage of being a Judge is that an individual gains respect and stature in the public eye.

Judges generally have job security and do not have to worry about switching or losing jobs.

A Judge gets a handsome salary and benefits. Their salary is generally more than others in the legal profession.
Cons of becoming a Judge
The job can be very stressful and a Judge has to be precise with the observations and details.

They have to keep the moral compass aside in order to stay unbiased and come up with an apt decision.

There is only limited career growth in this profile. After a few years, no further promotions can be completed.