Career as a Legal Assistant
About Legal Assistant
Legal Assistants are known to be as a helping hand of the lawyer or attorney. They maintain legal documents, update files, do research and write the first draft of the documents. The duty of the Legal Assistant is to enhance the effectiveness of a lawyer by developing evidence, case information and settlement options. A Legal Assistant also tracks cases to support the legal proceedings of the lawyer.
Besides, the files work, a Legal Assistant must also possess a sound knowledge of the computer as they have to maintain digital databases, prepare and deliver affidavits and reference law libraries. An aspirant who was unable to clear the Bar Exam can also be a Legal Assistant. With the increase in the number of lawyers, the demand for Legal Assistant is also increasing. There are plenty of opportunities in the legal field and anyone with the right skill and knowledge set can be a successful Legal Assistant.
Responsibilities of a Legal Assistant
A Legal Assistant is hired by the lawyers in order to take some work off from their shoulders. The duties and responsibilities that a Legal Assistant shares are provided below.
To organise files, establish records and monitor deadlines on behalf of the lawyer.

To document action, confirm case status with the attorney, input information into case management software and file database.

To maintain contact with people involved in the case and draft complaints.

To communicate case progress to the clients and the lawyer.

To maintain and look after the case cost by verifying outstanding balances with the clients, lawyers and providers.

To prepare materials for conferences, pleadings and case summaries.

To update job knowledge by participating in educational opportunities.

To enhance trial proceedings by organizing evidence

To prepare exhibits, schedule witnesses

To ensure that witnesses are ready when needed

To take courtroom notes.
Eligibility to become Legal Assistant
To be a Legal Assistant, it is crucial that the candidate has the required set of qualification and skills. Only with the right legal knowledge and traits can an individual be successful as a Trial Lawyer. Provided below are the eligibility criteria that must be satisfied.
Qualification Required

Aspirants must have a bachelor's degree in law in order to be a Legal Assistant.

Candidates with a Diploma or Certificate can also be a Legal Assistant

Skills

Good Communication Skills

Eye for Details

Analytical Skills

Logical Reasoning

Deep Knowlege of Legal Terms and Concepts

Legal Reasoning

Research Skills

Knowledge of Computer

Organizational Skills

Work Experience

No work experience is required. Lawyers can even hire college graduates and train them on the job.
Courses to become a Legal Assistant
The table given below contains all the necessary information regarding the courses, fees and colleges that an individual can consider if he/she is willing to build a career as a Legal Assistant.
Course Name

Course Duration

Total Fee (Approx.)

College Name

5 Years

₹1,50,000 to ₹11,00,000

5 Years

₹2,00,000 to ₹11,00,000

5 Years

₹2,00,000 to ₹16,00,000

5 Years

₹2,00,000 to ₹11,00,000

6 Years

₹2,00,000 to ₹16,00,000

3 Years

₹1,50,000 to ₹15,00,000

Diploma in Paralegal Practice

1 to 2 Years

₹8,000 to 15,000
To take admission in any of the aforementioned colleges or any top law college, the candidate can simply dial our toll-free number 1800-572-9877 or fill the Common Application Form. Our admission experts will reach out to assist you.
Types of Job Roles Legal Assistant
The job profiles that a Legal Assistant can opt for are as follows.
Legal Assistant

Paralegal

Legal Officer

Law Inspector
If you are confused about which career path is suitable for you, feel free to take the Career Profiling Test of CollegeDekho. In case of any queries, write to us in the QnA zone.
Employment Opportunities for Legal Assistant
A Legal Assistant is like the right hand of a lawyer. They are offered job opportunities in the areas mentioned here.
Corporate Businesses

Law Firms

Consulting Firms

Political Parties

MNCs

Media and Entertainment Houses

Information Technology Companies

Engineering Firms

Finance Companies

Universities and Colleges
Top Recruiting Agencies for Legal Assistant
The names of the recruiting agencies or firms that hire a Legal Assistant are provided below.
Disys India Private Limited

Amazon India

Allied Legal

Jobingo Management Solutions

Aditya Music India Pvt Limited

Bharja Technologies

Adzuna India

Krishna And Saurastri Associates LLP

Ministry of Health and Family Welfare
Planning to choose Legal Assistant as your career?
Pay Scale/Salary of Legal Assistant
A Legal Assistant earns around ₹4,05,016 per annum as an average salary. The pay scale for a Legal Assistant over the years is given below
| | | | |
| --- | --- | --- | --- |
| Job Profile | Entry-Level Salary per annum (in INR) | Mid-Level Salary per annum (in INR) | Senior-Level Salary per annum (in INR) |
| Legal Assistant | ₹1,89,000 | ₹4,05,000 | ₹9,22,000 |
Displayed below is the salary growth experienced by a Legal Assistant.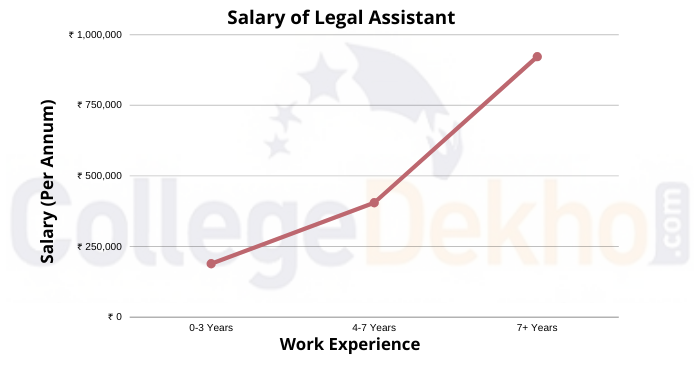 Books & Study Material to Become Legal Assistant
The books that can be considered by a Legal Assistant for strengthening the knowledge and skills are mentioned below.
Paralegal Career for Dummies by Lisa Zimmer Hatch and Scott Hatch

Introduction to Paralegalism: Perspectives, Problems, and Skills by William P Statsky

Introduction to Law for Paralegals: A Critical Thinking Approach by Katherine A Currier and Thomas Eimermann

Legal Assistant by Jack Rudman

The Litigation Paralegal: A Systems Approach by James W. H. McCord

Legal research and writing for paralegals by Deborah E Bouchoux
Pros of becoming a Legal Assistant
There are no set age criteria. With the right skills and qualification, anyone can be a Legal Assistant.
Plenty of job opportunities are provided to Legal Assistants. There is never any shortage of jobs.
The job profile provides a handsome salary. With a little bit of work experience, the pay scale tends to increase swiftly.
Cons of becoming a Legal Assistant
Due to high workload, the job results in unwanted stress and pressure.

A Legal Assistant has to work for long hours and shifts to complete the assigned tasks as per the given deadline.

At the entry-level, the work can get tedious and monotonous.
Top Colleges to pursue career as Legal Assistant
Paths for Being Legal Assistant