Career as a Pharma Benefit Analyst
About Pharma Benefit Analyst
A Pharma Benefit Analyst is responsible for retaining and attracting clients by researching, explaining and recommending benefits programs. He is also responsible for developing, evaluating and documenting tasks designed for the Pharmacy Benefit Management (PBM) solutions. A good Pharma Benefit Analyst conducts research and surveys at regular intervals to determine employee benefits interests. His main duties include assigning tasks to the team members, conducting research and maintaining the existing benefit plans and client pricing. 
Responsibilities of a Pharma Benefit Analyst
Check some major responsibilities of a Pharma Benefit Analyst provided below.
Updating the existing benefits plans of the clients

Determining the best pharma benefits plans for the clients by conducting research

Ensuring timely communication with the client to make changes in the plan

Responding to all claim processing requests from the client

Developing and running macros in RxCLAIM to implement all plan requests

Maintaining the data of the client and updating it at regular intervals
Eligibility to become Pharma Benefit Analyst
The Pharma Benefit Analyst should meet some of the requirements decided by the hospital. The minimum criteria for becoming a Pharma Benefit Analyst is provided in the table below.
Education Required

Soft Skills

Provided below are some key skills required for Pharma Benefit Analyst

Reporting Skills

Presentation Skills

Quality Management

Leadership Skills

Communication Skills

Technical Skills

Work Experience
Courses to Become a Pharma Benefit Analyst
Provided below are some well-known courses that help you become a Pharma Benefit Analyst. The table also contains some of the well known Pharmaceutical colleges. You can apply to these colleges by filling our Common Application Form.
Course

Total Fee (Approx)

Top Colleges for Pharmaceutical Analysis

INR 70,000 to INR 1.25 lakh

INR 40,000 to INR 6.00 lakh

M.Sc Pharmaceutical Analysis

INR 1.00 lakh to INR 4.00 lakh

INR 90,000 to INR 3.00 lakh
Types of Job Roles Pharma Benefit Analyst
Job roles of a Pharma Benefit Analyst will depend upon his work profile. He can start his career by completing a training or internship program in any field related to pharmaceutical research. After that, he can apply to any industry according to his interest. He can also consider some similar job profiles while applying for a job. Some of the job profiles available for a Pharma Benefit Analyst are listed below.
Candidates who are not sure about their work profile can take our Career Profiling Test to know what career is best suited to them. Besides this, those who want to know more about a career as a Pharma Benefit Analyst can ask questions on the Collegedekho QnA zone.
Employment Opportunities for Pharma Benefit Analyst
A Pharma Benefit Analyst may look for a job in the pharmaceutical sector. Besides this, he can also apply for a job in any IT or research industries. Majority of the work of Pharma Benefit Analysts will include research-related activities. The infographic provided below will help you know the employment opportunities available for a Pharma Benefit Analyst.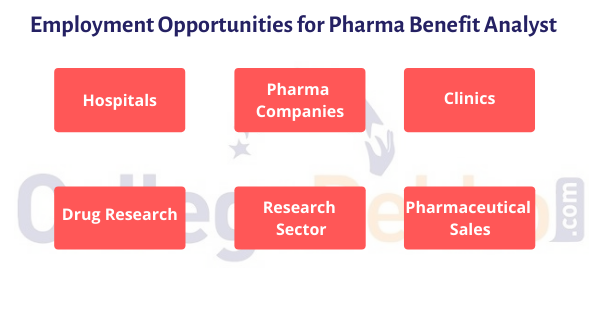 Top Recruiting Agencies for Pharma Benefit Analyst
Some of the major recruiting companies for Pharma Benefit Analyst are listed below.
Planning to choose Pharma Benefit Analyst as your career?
Pay Scale/Salary of Pharma Benefit Analyst
The average salary of a Pharma Benefit Analyst who has a working experience of more than 4 years is INR 4 lakh per annum. Besides this, those who have more than 8 years of experience can surely get an average salary of INR 8 lakh per annum. The table below shows the average salary of Pharma Benefit Analyst for all levels of experience.
| | | | |
| --- | --- | --- | --- |
| Profile | Starting Salary per annum (in INR) | Mid Level Salary per annum (in INR) | Senior Level Salary per annum (INR) |
| Pharma Benefit Analyst | 2,95,000 | 4,23,000 | 8,15,000 |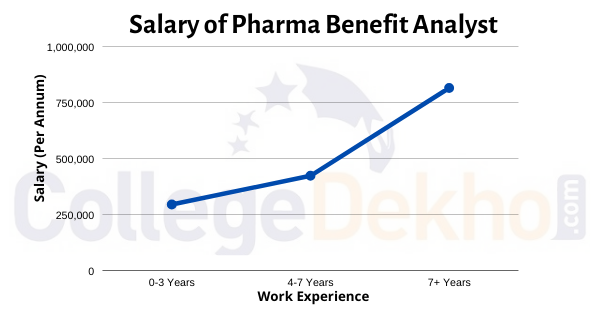 Books & Study Material to Become Pharma Benefit Analyst
Pharma Benefit Analyst should be well updated with the current market trends and the requirements of the clients. There are many books available in the market that can help the Pharma Benefit Analyst to know some additional skills and knowledge about pharmaceutical analysis. Some of the recommendations are listed below.
In Vitro Methods in Pharmaceutical Research

The Pharmaceutical Regulatory Process by Ira R. Berry

Research Methods for Pharmaceutical Practice and Policy

The Power of Habit by Charles Duhigg
Pros of becoming a Pharma Benefit Analyst
You will be meeting different kinds of people daily

You will be working on a variety of tasks

A career as a Pharma Benefit Analyst will help you learn some research skills

This profile is perfect for the candidates who are interested in research related work
Cons of becoming a Pharma Benefit Analyst
Salary of a Pharma Benefit Analyst is not very high

You will be responsible for resolving the plan related doubts of the clients

You should have good analytical and communication skills for a successful career as a Pharma Benefit Analyst

Work experience of 1 year is required for this position
Top Colleges to pursue career as Pharma Benefit Analyst
Paths for Being Pharma Benefit Analyst