Career as a Construction Manager
About Construction Manager
A Construction Manager supervises and coordinates a wide range of projects including the building of all types of commercial and residential structures such as roads, bridges, schools, hospitals and colleges. He is responsible for coordinating, directing, budgeting construction projects. A Construction Manager ensures that the project is running on time and within the allocated budget allowance. He also ensures that the workplace is free of hazards. His main duties include assigning duties among the workers, monitoring finances and making certain that everybody is doing what they should, every day. A Construction Manager also helps with other aspects such as selecting a contractor and the architect. A good Construction Manager coordinates with the client to understand the requirements and helps him prepare a plan as per his requirements. 
Responsibilities of a Construction Manager
Check some major responsibilities of a Construction Manager provided below.
Reviewing the work progress on a daily basis

Coordinating and directing subcontractors and construction workers

Analysing, managing and mitigating risks

Obtaining all necessary permits and licenses

Overseeing and directing construction projects from conception to completion

Developing and implementing quality control programs

Ensuring quality construction standards

Selecting tools, equipment, materials and track inventory
Eligibility to become Construction Manager
The Construction Manager should satisfy some of the requirements decided by the company. The minimum criteria for becoming a Construction Manager can be checked from the table below.
Education Required

Candidates must have completed a bachelor's degree in construction management, project management, building management and civil engineering

Most of the companies prefer the candidates with a master's degree in construction management

They should have in-depth knowledge of different building methods and project management computer software.

Soft Skills

Provided below are some key skills required for Construction Manager

Analytical skills

Customer-service skills

Business skills

Leadership skills

Technical skills

Time-management skills

Writing skills

Certification

Work Experience
Courses to Become a Construction Manager
Some of the courses that you can pursue in order to become a Construction Manager. The table also contains some of the well-known construction management colleges in India. If you in interested in admission to any of these colleges, you can fill out Common Application Form.
Course

Total Fee (Approx)

Top Colleges for Construction Management

INR 40,000 to INR 1.50 lakh

BBA in Project Management

INR 35,000 to INR 2.40 lakh

INR 60,000 to INR 1.50 lakh

INR 60,000 to INR 2.00 lakh

INR 50,000 to INR 10.00 lakh
Types of Job Roles Construction Manager
Construction Managers oversee the operations of the construction site and monitor the project under the direction of the general manager. He spends the majority of the time on the construction site. Those who manage multiple projects will be travelling frequently. They also advertise their services, bid for jobs, and learn how to work on a wide range of projects. Some other job profiles available for a Construction Manager are provided below.
Architect

Project leader

Planning Manager

Assistant Manager
If you wish to know more details about job profiles and opportunities available for a Construction Manager, you can ask questions on the Collegedekho QnA zone. Besides this, If any candidate wants to know what profile is right for him/ her, he can take our Career Profiling Test.
Employment Opportunities for Construction Manager
Most of the Construction Managers are self-employed workers. They work independently without working under any construction company. However, Construction Managers who are interested in a job can also apply for a job in any construction company or manufacturing plant. They can look for a job in railway, highway construction companies. The graph provided below will help you know the employment opportunities available for a Construction Manager.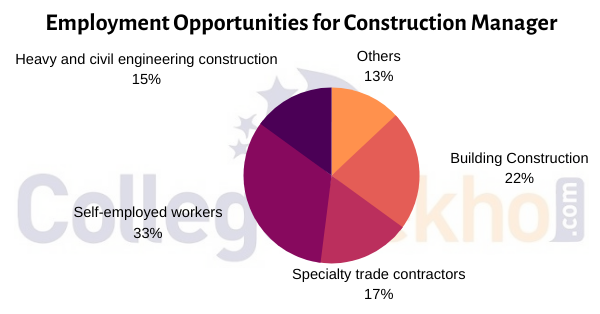 Top Recruiting Agencies for Construction Manager
Some of the major recruiting companies for Construction Manager are listed below.
Planning to choose Construction Manager as your career?
Pay Scale/Salary of Construction Manager
Construction Manager who has working experience of more than 3 lakh can earn around INR 7 lakh per annum. The average salary of a Construction Manager will depend on his experience and skills. The table provided below will help you know the average salary of the Construction Manager.
| | | | |
| --- | --- | --- | --- |
| Profile | Starting Salary per annum (in INR) | Mid Level Salary per annum (in INR) | Senior Level Salary per annum (INR) |
| Construction Manager | 3,07,000 | 10,00,000 | 15,00,000 |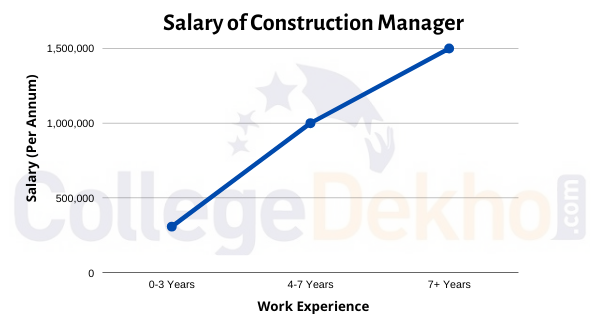 Books & Study Material to Become Construction Manager
Provided below are some recommended books for Construction Manager.
Running a Successful Construction Company by David Gerstel

Construction Management JumpStart by Barbara J. Jackson

Construction Project Management by Alison Dykstra

Successful Construction Project Management by Paul Netscher

Construction Business Management by Nick B. Ganaway

Civil Engineering Project Management by A. C Twort and Gordon Rees

The First Time Manager by Loren Belker
Pros of becoming a Construction Manager
Construction Manager earns more than all other profiles in Construction Management

They have to travel frequently to work on various projects

They have the decision making power

This profile helps the candidates to improve their time management skills
Cons of becoming a Construction Manager
Work experience of more than 2 years is required

You will have to work hard in order to get a job as a Construction manager

You will be responsible for the timely completion of the project

You will have to ensure the safety of all workers working on the construction site
Top Colleges to pursue career as Construction Manager
Paths for Being Construction Manager