Career as a Industry Analyst
About Industry Analyst
An Industry Analyst is a person who is responsible for carrying out research in market sectors such as automotive, technology, pharmaceuticals or financial services. Besides this, he also collects information about the current industrial trends depending on the type of industry he is working for.  An Industry Analyst accesses financial data and advises beneficial financial programs to the investors. Some of the major duties of an Industry Analyst are preparing forecasts, creating segment taxonomies, developing industrial models and drawing and assembling spreadsheets bases on the research. Industrial financial analysts are usually trained in a particular sector or sub-sector and they conduct research on general market growth rather than analysing individual publicly traded stocks or equities. 
Responsibilities of an Industry Analyst
Check some major responsibilities of an Industry Analyst listed below.
Conducting surveys for all types of customers on various topics

Designing and examining trends for raw information and creating new content concepts as per the requirement of the client

Preparing weekly and monthly reports based on market research

Collecting data from all internal as well as external sources and utilising them to analyse the growth of the organization

Supervise all cross-functional activities and delivering the product within the decided budget

Recommending and performing changes in the existing market research report
Eligibility to become Industry Analyst
Candidates aiming for a career as an Industry Analyst will have to meet some of the eligibility requirements decided by the company. The eligibility criteria for becoming an Industry Analyst are set out below.
Education Required

Bachelor's degree in mathematics, computer science, statistics or market research

Master degree in mathematics or analytics may be required for higher positions

Knowledge of some analytics tools such as JIRA, GoodData, SAP Lumira and Google Analytics 360 Suite

Certification

Work Experience

Skills

Some of the skills required for an Industry Analyst are:

Analytical skills

Problem-solving skills

Communication skills

Leadership skills

Managerial skills

Negotiation skills

Critical Thinking skills
Courses to become an Industry Analyst
The table provided below contains some courses that you can pursue in order to become an Industry Analyst. You can apply to these courses by filling our Common Application Form.
Course

Total Fee (Approx)

Top Colleges for Statistics and Market Research

INR 12,000 to INR 50,000

INR 10,000 to INR 50,000

INR 35,000 to INR 3.00 lakh

INR 1 lakh to INR 5.00 lakh

INR 40,000 to INR 6.00 lakh
Types of Job Roles Industry Analyst
Job roles of an Industry Analyst will vary from company to company. For eg. an IT Industry Analyst will be responsible for conducting research for the scope of growth of the product of the company. Besides this, he will be responsible for providing suggestions and advice to the team on what changes are needed in the existing research report. Some of the major job profiles available for an Industry Analyst are provided below.
Employment Opportunities for Industry Analyst
Industry Analyst mainly works for banks, market research firms, investment firms and consultancies that specialize in one or more sectors. Besides this, some of the IT companies hire an Industry Analyst to understand and adopt the current market trends and proving suggestions based on the research. The graph provided below will help you understand the employment opportunities that are available for an Industry Analyst.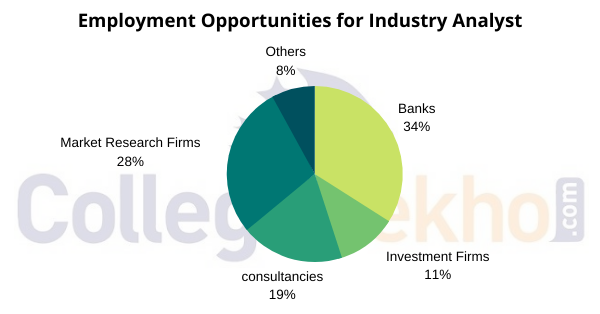 If you want to know more job opportunities available for Industry Analysts then you can ask questions on the Collegedekho QnA zone.
Top Recruiting Agencies for Industry Analyst
Some of the major recruiting companies for Industry Analyst are listed below.
ICICI Group

HDFC Standard Life Insurance Co. Ltd.

Life Insurance Corporation of India

Kotak Mahindra Asset Management Company

Angel Broking

Aditya Birla Sun Life Mutual Fund

Sharekhan
Planning to choose Industry Analyst as your career?
Pay Scale/Salary of Industry Analyst
An experienced Industry Analyst can earn up to 7 lakh per annum.

Those who are new to the industry may get an average salary of INR 3-4 lakhs per annum
| | | | |
| --- | --- | --- | --- |
| Profile | Starting Salary per annum (in INR) | Mid Level Salary per annum (in INR) | Senior Level Salary per annum (INR) |
| Industry Analyst | 6,39,000 | 9,90,000 | 15,10,000 |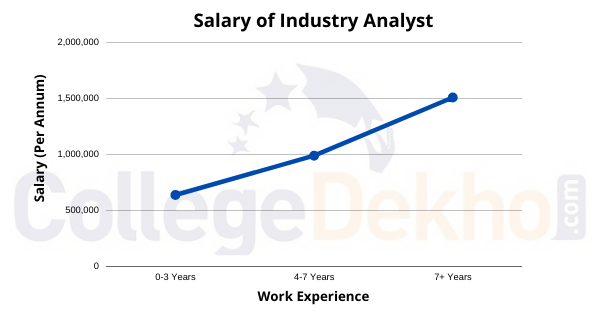 Books & Study Material to Become Industry Analyst
An Industrial Analyst should be updated with the latest trends. Besides this, he should have good analytical skills. Some of the books recommended provided below may help an Industry Analyst to learn new marketing strategies.
Competitive Strategy by Michael Porter

Business and Competitive Analysis by Babette Bensoussan and Craig Fleisher

Modern Competitive Analysis by Sharon M. Oster

Market Research in Practice by Carol-Ann Morgan, Nicholas Hague, and Paul N. Hague

Strategy and Competition by Joan Magretta and Michael Porter
Pros of becoming a Industry Analyst
You will get a handsome salary package

Many employment opportunities are available for an Industry Analyst

This profile will help you know about the current market trends

This profile is ideal for candidates who are comfortable working indoors
Cons of becoming a Industry Analyst
The job can get really hectic and you may have to meet strict deadlines

You will have to stay updated with the latest trends

Work experience of 1-3 years is required for this position

You should have good analytical skills
Top Colleges to pursue career as Industry Analyst
Paths for Being Industry Analyst