Career as a Junior Attorney
About Junior Attorney
Junior Attorney is an individual who works under the Legal Associates and Junior Attorney. They generally prepare drafts, applications for the legal cases. The duty of a Junior Attorney is to perform legal research and to take notes during court proceedings.
A Junior Attorney is like a helping hand for an Attorney. They also act as a proxy for the lawyers in case they are unable to attend the court. An individual is required to possess debating skills, persuasion skills, drafting skills, litigation skills, researching skills, persuasion skills and networking skills in order to be a successful Junior Attorney.  Law aspirants can pursue either an integrated LLB or 3 years long LLB to be a Junior Attorney. With apt legal skills and qualifications, anyone can be a Junior Attorney. 
Responsibilities of a Junior Attorney
Some of the key responsibilities that a Junior Attorney take care of are enlisted below.
They play a critical role in developing the cases by drafting motions, briefs and conducting discovery.

They are responsible for drafting and negotiating corporate agreements.

A Junior Attorney is responsible for closings of prominent transactions.

They are also responsible for maintaining frequent and direct contact with clients.

They help guide and simplify the work of the associates.
Eligibility to become Junior Attorney
It is important to fulfil some minimum eligibility requirements to become a Junior Attorney. Check out the top qualifications, skills and work experience required to be a Junior Attorney.
Qualification Required

Candidates must have completed at least a 5 years long LLB

Those who have qualified a 3 years long LLB are also eligible to be a Junior Attorney

Skills

Sound Communication Skills

Critical Thinking

Problem Solving

Analytical Skills

Time- Management

Eye to Details

Persuasion Skills

Deep Knowlege of Legal Terms, Laws and Concepts

Work Experience

Any prior work experience is not necessary to be a Junior Attorney
Courses to Become a Junior Attorney
Studying the right courses is very crucial to gain apt skills and knowledge regarding being a Junior Attorney. Check out the course names and fees that can be studied by an individual willing to be a Junior Attorney. Also, find out the top colleges to pursue the course. You can click on the available links to directly apply for admission to a college.
Course

Annual Fee (Approx.)

Top Colleges for Trial Lawyer

₹ 30,000 to ₹ 3,00,000 per annum

₹ 22,000 to ₹ 2,50,000 per annum
To take admission in any aforementioned course, either dial 1800-572-9877 or fill the Common Application Form. Our admission experts will be available to offer you free assistance!
Types of Job Roles Junior Attorney
Check out the general job profiles that can be considered if you are willing to be a Junior Attorney below.
Junior Attorney

Legal Associate

Junior Legal Executive
If you are confused about which job profile suits you the best, feel free to take the Career Profiling Test of CollegeDekho. It will help you in finding the apt career profile for you based on your attitude, personality and interests.
Employment Opportunities for Junior Attorney
A Junior Attorney gets employment opportunities to work with both private and public firms. The employment sectors that provide job or recruitment services to a Junior Attorney are specified underneath.
Top Recruiting Agencies for Junior Attorney
Few top recruiting agencies that might offer job opportunities to a Junior Attorney are as follows.
Planning to choose Junior Attorney as your career?
Pay Scale/Salary of Junior Attorney
The average salary earned by a Junior Attorney is ₹ 2,44,168 per annum. With time and experience, the salary of a Junior Attorney sees a massive rise and also he/she get promoted as a Senior Attorneyy. Captured below in a table is the entry-level, mid-level and senior-level salaries extracted by a Junior Attorney.
| | | | |
| --- | --- | --- | --- |
| Job Profile | Entry-Level Salary per annum (in INR) | Mid-Level Salary per annum (in INR) | Senior-Level Salary per annum (in INR) |
| Junior Attorney | ₹ 1,24,000 | ₹ 2,44,000 | ₹ 10,00,000 |
Note: The salary might vary depending on the individual and the organisation.
Check out the salary growth experience by a Junior Attorney through the graph provided below.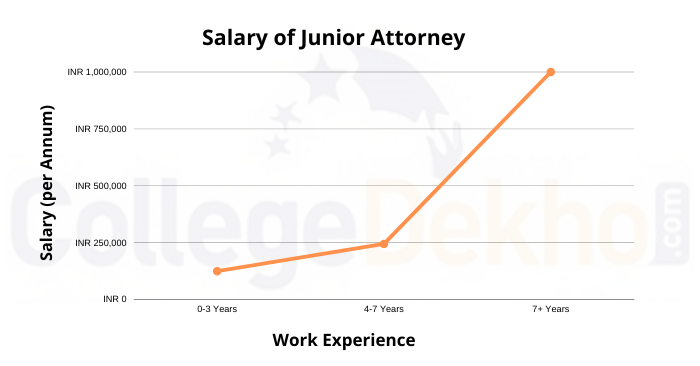 Books & Study Material to Become Junior Attorney
Few books that act as a helping hand for a junior attorney are mentioned below. These books must be studied to increase legal knowledge and polish skills that are required to be a Junior Attorney.
Legal Tech: How Technology is Changing the Legal World: a Practitioner's Guide by Gernot Halbleib, Markus Hartung, and Micha-Manuel Bues

The New Lawyer's Handbook: 101 Things They Don't Teach You in Law School by Karen Thalacker

The Curmudgeon's Guide to Practicing Law by Mark Herrman

The Tools of Argument: How the Best Lawyers Think, Argue, and Win by Joel P. Trachtman

Getting to Yes by Roger Fisher and William Ury
Pros of becoming a Junior Attorney
The individuals get to work with top-notch lawyers and professionals associated with the law which help them in polishing their skills and knowledge.

Learning never stops for a Junior Attorney. They get to learn near things and pick up new skills every day.

A Junior Attorney enjoys great salary after a few years of work experience. They see a huge rise in financial benefits.
Cons of becoming a Junior Attorney
There are no fixed working hours for a Junior Attorney. They might have to work on holidays, weekends and on odd hours.

Junior Attorney has to be extra careful while performing any task as it might impact the developments of the entire case.

Due to the regular workload, the job of a Junior Attorney might get mentally exhausting. It might also disbalance the personal and professional life.
Top Colleges to pursue career as Junior Attorney
Paths for Being Junior Attorney