Career as a Branch Manager
About Branch Manager
Branch Manager is the person responsible for handling the administrative duties of a particular 'branch' or outlet of an organisation. The term is most commonly associated with Banking and Financial sector jobs but other sectors such as Retail, Educational Institutions etc. also the requirement of Branch Managers.
Branch Managers have the responsibilities of supervising the entire operations of a branch, from staff management to financial reports and audits. They even have a hand in ensuring that their branch is comfortably furnished for their customers. They must also work to ensure that the branch achieves its growth targets.
Another important duty of Branch Managers is to take care of customer complaints and providing quick resolutions to any queries. They are expected to know every detail about the operations and products offered through a branch. They may also have to ensure that they maintain a good relationship with existing clients while also scheduling meetings with new and potential clients to get them on board.
Responsibilities of a Branch Manager
The exact responsibilities of a Branch Manager will vary with the type of industry they are working in. However, the general responsibilities that more or less remain the same across all sectors are mentioned below.
Supervising the daily operations of a branch.

Heading staff meetings and providing operational instructions.

Ensuring that proper customer service standards and met.

Personally addressing customer complaints where required.

Monitor the branch's financial health and performance and setting growth targets.

Motivating the staff and supervising operations such as hiring, training, promotions and work schedule.

Taking care of inventory management including purchasing, receiving and signing off payments.
Eligibility to become Branch Manager
The eligibility requirements to become a Branch Manager can be checked here.
Educational Qualifications

Branch Managers must have completed bachelor's degrees in a relevant stream.

Candidates with UG management degrees are good candidates for Branch Manager roles.

Branch Managers must also financially-literate and have a good understanding of operational management of an organisation.

MBA degree holders are also suitable candidates for this role.

CA qualified candidates are also preferred for the role, especially by financial institutions.

Work Experience
Around 5 to 7 years of relevant work experience is necessary to be considered for this role.
Skills Required

The skills required for Branch Managers are listed below.
Courses to Become a Branch Manager
Some of the courses to become a Branch Manager have been provided in the table below. Also, check the average fee and top colleges for Branch Managers.
Course

Average Course Fee (Approx.)

Top Finance Colleges for Branch Managers

Rs 1.5 L to Rs. 2.50 L

Rs. 3.00 L to Rs. 4.00 L

--

Rs. 15 K to 3 L
Rs. 1 L to Rs. 1.50 L
Rs 2 to 2.5 L
Apply to popular finance colleges in India through the Common Application Form (CAF) and get admissions-related assistance for free. For any queries, call our helpline number 18005729877.
Types of Job Roles Branch Manager
As explained above, Branch Managers can be found in multiple industries or sectors. Hence, the job roles for Branch Managers can also vary depending on the sector they are working in. Given below are some of the job profiles available for Branch Managers.
Financial Planner

Area Branch Manager etc.
Want to know what is the best career option for you based on your talents and personality? Try our Career Profiling Test and get a scientific assessment of the best careers for you.
Employment Sector/Industry for Branch Manager
There are many organisations that operate through their outlets spread across many different locations. These outlets are the point of contact at which a customer can get the services or products offered by the organisation. Having a Branch Manager in these outlets is essential for these organisations. Branch Managers work as administrative representatives of these organisations and have the authority to take key decisions pertaining to their branch.
Hence, there are plenty of career opportunities available for Branch Managers available in the market. However, career opportunities will also depend on the sector in which a candidate is working. Usually, Branch Managers cannot switch between different industries unless they both require similar job experience.
Top Recruiting Companies for Branch Managers
Some of the top recruiters of Branch Managers in the banking sector have been given below.
State Bank of India

IDBI Bank

Kotak Mahindra Bank

HDFC Bank

YES Bank

ICICI Bank

IndusInd Bank

Dena Bank etc.
Planning to choose Branch Manager as your career?
Pay Scale/Salary of Branch Manager
The earnings of a Branch Managers will depend on which type of industry they are working in. The table below covers the average salaries of Branch Managers in the Retail and Banking sectors.
Job Profile
Average Salary
(per annum)
Entry-Level Salary
(per annum)
Mid-Level Salary
(per annum)
Senior-Level Salary
(per annum)
Branch Manager (Retail)
Rs. 6,40,000
Rs. 3,10,000
Rs. 5,85,000
Rs. 7,90,000
Branch Manager (Banking)
Rs. 8,00,000
Rs. 4,00,000
Rs. 8,00,000
Rs. 9,70,000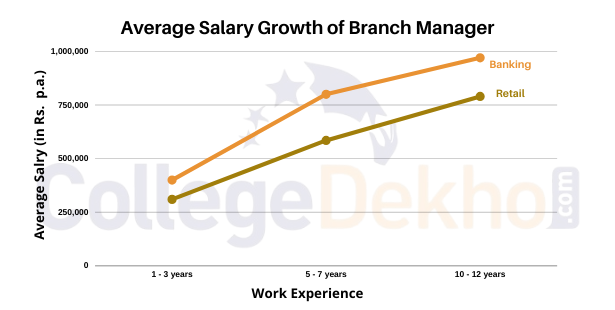 Books & Study Material to Become Branch Manager
Given below are some of the best books recommended for Branch Managers.
7 Habits of Highly Effective People: Powerful Lessons in Personal Change by Stephen R. Covey

The 21 Irrefutable Laws of Leadership: Follow Them and People Will Follow You by John Maxwell

The Speed of Trust: The One Thing that Changes Everything by Stephen M.R. Covey

How to Win Friends and Influence People by Dale Carnegie

Leadership: The Power of Emotional Intelligence by Daniel Goleman

It's Your Ship: Management Techniques from the Best Damn Ship in the Navy by Captain D. Michael Abrashoff
Pros of becoming a Branch Manager
Branch Managers have administrative control of their branch and hence are free to make their own decisions.

The salary growth for Branch Managers is good and they can earn excellent salaries in their late careers.

Many undergraduate degree courses available and easy postgraduate options for growth can be pursued.
Cons of becoming a Branch Manager
Branch Managers often face tough targets for the growth and sustenance of a branch.

Dealing with customer complains on a daily basis has the potential to get hectic.

Work experience with good track record is essential for this role.
Top Colleges to pursue career as Branch Manager
Paths for Being Branch Manager