Career as a Personal Financial Advisor
About Personal Financial Advisor
Personal Financial Advisor provides advises to the clients according to their need and requirements. Besides this, he also helps the clients plan their long term as well as short terms goals. Personal Financial Advisor offers advice on many things such as estate planning, insurance, mortgages, retirement, investment, college savings to help the clients manage their savings. He provides assistance to the clients while considering some important factors such as mitigating risk, avoiding costly errors and financial market. Most of the Personal Financial Advisor has its own expertise such as risk management or retirement planning. 
Responsibilities of a Personal Financial Advisor
Check some major responsibilities of a Personal Financial Advisor provided below.
Meeting with clients to discuss their goals and requirements

Resolving the doubts of clients regarding potential risks and investment options 

Helping clients to plan their retirement

Analysing the financial performance of the clients and providing them with solutions to improve their financial performance

Explaining the type of service they offer to the clients

Providing them with a list of benefits they will offer them with the services
Eligibility to become Personal Financial Advisor
Check the minimum eligibility criteria for a career as a Personal Financial Advisor provided below.
Education Required

Bachelor degree in any finance-related field is required.

Candidates who have passed bachelor degree in accounting, business, finance, economics, law or mathematics will be preferred

Work experience of 1-2 years will be required by some companies

Good knowledge of financial management and financial planning

Certification

Certified Financial Planner (CFP) certification provided by the Financial Planning Standards Board (FPSB)

Skills

Some of the skills required for a Personal Financial Advisor are listed below.

Math skills

Sales skills

Analytical skills

Interpersonal skills

Speaking skills

Problem-solving skills

Communication skills
Courses to Become a Personal Financial Advisor
The table provided below contains all the courses to become a Personal Financial Advisor. You can select these courses based on your qualifications. If you have completed a bachelor degree already then you can go for a bachelor degree in finance.
Course

Total Fee (Approx)

Top Colleges for Finance Planning/ Management

Rs. 1.2 lakh to Rs. 8.30 lakh




Rs. 50,000 to Rs. 1.25 lakh

Rs. 20,000 to Rs. 1.50 lakh

Rs. 15,000 to Rs. 80,000

Rs. 50,000 to Rs. 2.00 lakh

Rs.20,000 to Rs. 5.00 lakh

Rs.25,000 to Rs. 2.12 lakh

Rs. 30,000 to Rs. 75,000
If you are looking for admission to any of the course provided here then you can fill our Common Application form. Besides this, you can also call on our toll-free number 1800-572-9877 to get admission related assistance.
Types of Job Roles Personal Financial Advisor
Two major types of Personal Financial Advisors are wealth managers and private bankers. They help clients while investing their money and planning retirement. Job roles of a Personal Financial Advisor depend on whether he is working for any organization or as an individual. There are some Personal Financial Advisors that pursue this profession as part-time. Some major job profiles where Personal Financial Advisor may apply for a job are provided below.
You can ask more questions about the Personal Financial Advisor such as job profiles and annual salary on the Collegedekho QnA zone.
Employment Opportunities for Personal Financial Advisor
Most of the recruiters for Personal Financial Advisor belong to the Securities management and Financial investment sector. Some of the major employment opportunities for Personal Financial Advisor are Investment firms, Financial Planning firms and Insurance companies. You can check the graph provided below to know more employment opportunities available for a Personal Financial Advisor.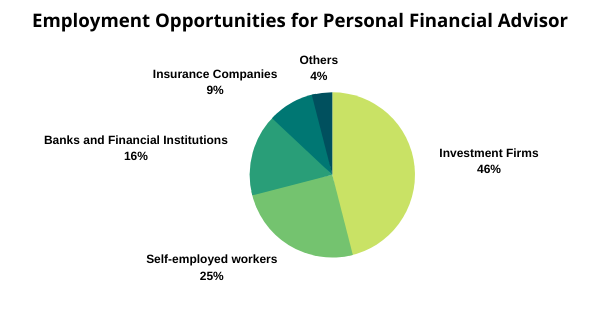 Top Recruiting Agencies for Personal Financial Advisor
Some of the major recruiting companies for Personal Financial Advisor are listed below.
Planning to choose Personal Financial Advisor as your career?
Pay Scale/Salary of Personal Financial Advisor
The average salary of a Personal Financial Advisor is INR 2 lakh per annum

Personal Financial Advisor who works at investment companies and financial services firms are also given bonus

A candidate who has good communication skills will earn more as a Personal Financial Advisor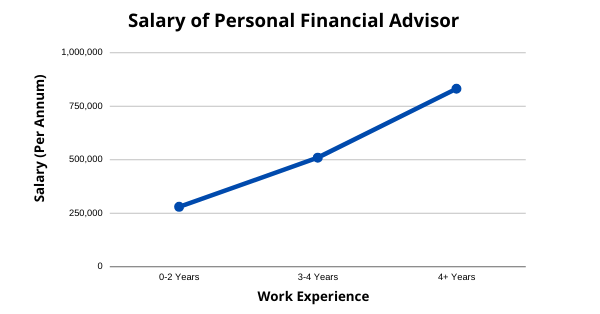 Books & Study Material to Become Personal Financial Advisor
A Personal Financial Advisor should have a good understanding of the financial market and investment strategies. He can refer to some of the important books provided below to gain more knowledge about financial markets and financial planning.
Storytelling for Financial Advisors by Scott West and Mitch Anthony

Endless Referrals by Bob Burg

The Nature of Investing by Katherine Collins

Ineffective Habits of Financial Advisors by Steve Moore and Gary Brooks

The Million-Dollar Financial Advisor by David J. Mullen Jr.

Questions Great Financial Advisors Ask by Alan Parisse and David Richman

Investment Leadership by Jim Ware, Beth Michaels, and Dale Primer
Pros of becoming a Personal Financial Advisor
People consult a Personal Financial Advisor for taking meaningful advice.

Salary of a Personal Financial Advisor is not fixed. They can earn more depending on their capabilities.

He does not have to follow the 9-6 work routine.

This profile will help you understand the financial market.
Cons of becoming a Personal Financial Advisor
Good analytical skills and maths skills are required for this profile

A Personal Financial Advisor can face difficulties in the initial stage of the career as people prefer taking advice from an experienced person

Work hours of Personal Financial Advisor are not limited

Most of the companies hire candidates who have at least 1-2 years of experience.
Top Colleges to pursue career as Personal Financial Advisor
Paths for Being Personal Financial Advisor