Career as a Plant Manager
About Plant Manager
Plant Manager managers all the daily activities of the manufacturing plant while increasing the revenue and production. He also ensures that the tasks are completed within the given deadline. He is responsible for overseeing daily operating reports, developing scheduling plans, managing schedules and increasing production. 
Plant Manager is also responsible for ensuring safety precautions are followed by the staff members. Candidates who are looking to make a career as a Plant Manager should have a good understanding of operating plans and possess excellent leadership and communication skills. Apart from this, he should have in-depth knowledge of management and business principles such as strategic planning, budgeting and resource allocation. 
Responsibilities of a Plant Manager
Check some major responsibilities of a Plant Manager provided below.
Maintaining an optimal level of customer services for both external as well as internal customers.

Coordinating with staff members to prepare profit plans for plants

Providing support to all facility services 

Allocating resources and material to the staff members

Recruiting, hiring and training new staff members

Overseeing the performance of all staff members

Developing processes to increase productivity

Resolving the concerns raised by staff members 
Eligibility to become Plant Manager
Check the minimum eligibility criteria for a career as a Plant Manager provided below.
Education Required

Candidates must have cleared bachelor degree in business management or administration

Those who are looking to apply for a managerial position must have completed a master degree in business management or administration

They should have a good knowledge of Microsoft Office and other important software

Work Experience

Candidates should have at least 3 years of work experience as Plant Supervisor

Those who have at least 1 years of work experience in production, marketing, safety or demand management may also apply for this profile

Skills

Some of the skills required for a Plant Manager are listed below.

Excellent interpersonal skills

leadership abilities

Problem-solving skills

Good Communication skills

Time management skills
Courses to become a Plant Manager
The table provided below contains some of the courses to become a Plant Manager. You can check the average fee of each course provided along with them. Besides this, you can apply to these courses by filling our Common Application Form.
Course

Total Fee (Approx)

Top Colleges for Business Management

Rs. 27,000 to Rs. 8.00 lakh

Rs. 45,000 to Rs. 3.00 lakh

Rs. 30,000 to Rs. 2.60 lakh

Rs.40,000 to Rs. 6.00 lakh

Rs. 95,000 to Rs. 15.00 lakh

Rs.15,000 to Rs. 25.00 lakh
You can also call on our toll-free number 1800-572-9877 to get admission related guidance.
Types of Job Roles Plant Manager
Plant Manager is responsible for managing the operations of the plant while increasing the revenue. His job roles will vary from industry to industry. A Plant Manager may start his career by working as a trainee and then he can advance to managerial and directorial level. Some of the job profiles available for a Plant Manager are provided below.
If you want to know more about Plant Manager then you can ask questions on the Collegedekho QnA zone.
Employment Opportunities for Plant Manager
Plant Managers are mostly hired by construction and manufacturing companies. Besides this, some of the companies are starting a plant to boost up their production also hires plant managers. Around 30% of employment opportunities for Plant Manager are available in manufacturing plants, 20% in automobile companies and 15% in the logistics industry. You can check more employment opportunities available for a plant manager from the graph provided below.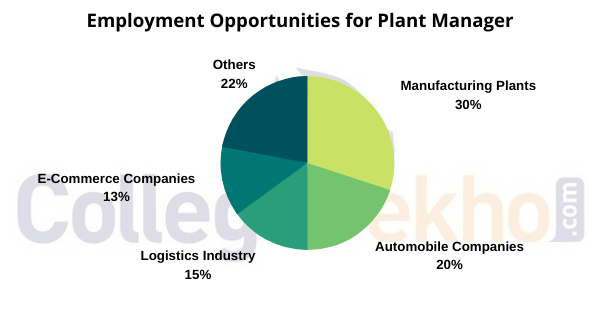 Top Recruiting Agencies for Plant Manager
Some of the major recruiting companies for Plant Manager are listed below.
Maruti Suzuki India Ltd

JSW Steel Ltd

Tata Steel Limited

Tata Motors Ltd

Mahindra & Mahindra Ltd

Hero MotoCorp

TVS Motor

Ashok Leyland
Planning to choose Plant Manager as your career?
Pay Scale/Salary of Plant Manager
A Plant Manager with a work experience of 3+ years will surely get an average salary of INR 8 lakh per annum

There are some companies that also offer a bonus to the plant managers depending on their job responsibilities and performance.
| | | | |
| --- | --- | --- | --- |
| Profile | Starting Salary per annum (in INR) | Mid Level Salary per annum (in INR) | Senior Level Salary per annum (INR) |
| Plant Manager | 4,65,000 | 7,69,000 | 10,29,000 |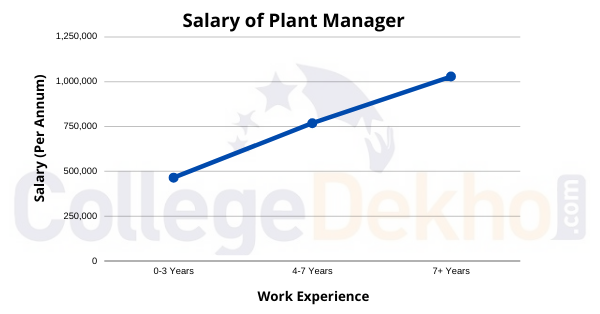 Books & Study Material to Become Plant Manager
Provided below are some recommended books for Plant Managers
The Plant Manager by Euan James

Manager's Guide to Operations Management by John W. Kamauff

Plant Manager's Manual and Guide by Charles H. Becker

Competing Against Time: How Time-Based Competition is Reshaping Global Mar by George Stalk

Plant Manager's Handbook by Charles H. Becker

Key Concepts in Operations Management by Michel Leseure
Pros of becoming a Plant Manager
This profile is one of the highest-paid profiles in manufacturing industries

A career as a Plant Manager is suitable for the people who like to manage large projects

This profile is perfect for people who are comfortable working indoors

You can apply to any industry such as manufacturing industry or automobile industry
Cons of becoming a Plant Manager
A career as a Plant Manager is not suitable for the people who are more interested in technical jobs

Work experience of 2-3 years is required for this position

You may have to work for long hours

You will have to make sure that the tasks are completed within the given deadline
Top Colleges to pursue career as Plant Manager
Paths for Being Plant Manager