Career as a Clinic Manager
About Clinic Manager
A Clinic Manager, as the name suggests, is a person who is responsible for managing the day-to-day operations of a clinic or outpatient department in a hospital. Clinic Managers supervise all of the operational activities of a medical business, ensuring that the clinic runs smooth and proper care is taken of patients. They also ensure that any patient complaints are taken care of promptly by the staff,
Clinic Manager is a leadership position in a clinic. They are usually also responsible for certain human resource management of medical facilities. This includes hiring activities such as advertising vacancies, taking interviews, helping with the onboarding of new recruits and conducting the orientation and training of new staff members.
Clinic Managers also usually have the authority to provide operations instructions to the staff members of a clinic and they also keep track of the performance of staff members and provide feedback to the higher authorities when required.
Clinic Managers are also required to perform the planning for the expansion and smooth running of a clinic. They are required to talk to various vendors to source the equipment and consumables for a clinic. They must also ensure that a clinic is running in compliance with the local health and hygiene laws.
Responsibilities of a Clinic Manager
Given below are some common job responsibilities of a Clinic Manager role.
Providing administrative instructions to the office staff.
Overlooking the hiring and training activities of staff.
Ensuring high standards of service and patient care.
Coordinating with patients and doctors.
Maintaining patient records and ensuring customer satisfaction.
Planning for the growth and betterment of the clinic.
Eligibility to become Clinic Manager
Check the table below for the job requirements of a Clinic Manager.
Education

Usually, a bachelor's degree is a minimum requirement for Clinic Managers.
Some clinics might allow candidates from any educational background while others may only accept candidates with education in specific fields including paramedical courses, hospital administration etc.
Students with professional degrees may be given preference for the role. The education will also depend on the type of clinic (dermatology, dentist, Ayurveda etc.)
MBA degrees are generally not seen as a requirement but significantly increase the chances of growth and selection.

Work Experience
Candidates are required to have around 2 to 5 years of experience for this job role.
Skills

The skills required to become a Clinic Manager have been listed below.

Excellent Communication Skills
Self-Motivated
Leadership Skills
Team Management Skills
Experience in a relevant administrative role
Well-versed with MS Office software
Disciplined
Eye For Detail
Courses To Become A Clinic Manager
The following courses are suitable for students who wish to take up a career as a Clinic Manager.
Get admission into your choice of a hospital management college in India. Fill the Common Application Form (CAF) today! Call our helpline number 18005729877 for any queries.
Types of Job Roles Clinic Manager
The job profiles for Clinic Managers are generally the same. The career options that are available for Clinic Managers generally vary by the type of Clinic or medical facility they work in. Some of the job roles related to that of a Clinic Manager have also been provided below.
Employment Sector/Industry for Clinic Manager
The career opportunities for Clinic Managers are mostly available in private clinics as well as hospitals. Depending on the educational background as well as work experience of a candidate, they can take up Clinic Manager roles in various kinds of speciality clinics such as:
Dermatology Clinic
Skin Clinic
Nursing Homes
Ayurvedic Clinics
Medical Centres
Fitness Centres
Nutritionist Clinics
Veterinary Clinics etc.
Planning to choose Clinic Manager as your career?
Pay Scale/Salary of Clinic Manager
Clinic Managers is a well-paid profession that offers good salary packages and the growth in this field is also above average. Given below are the average salary details of a Clinic Manager in India.
| | | | | |
| --- | --- | --- | --- | --- |
| Job Profile | Average | 1 - 3 years | 5 - 7 years | 10 - 12 years |
| Clinic Manager | Rs. 11.00 LPA | Rs. 3.80 LPA | Rs. 7.00 LPA | Rs. 22.00 LPA |
| Medical Practice Manager | Rs. 24.50 LPA | Rs. 12.70 LPA | 18.00 LPA | Rs. 25.50 LPA |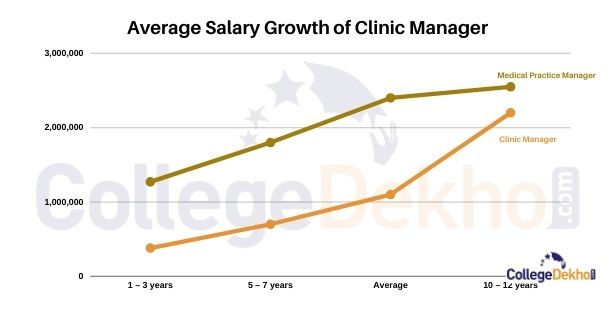 Books & Study Material to Become Clinic Manager
Given below are some of the best books for Clinic Managers in India.
The High-Performing Medical Practice by Owen J Dahl

The Business Side of Medicine: What Medical Schools Don't Teach You by Dr Tom Harbin

Physician Practice Management by Lawrence F. Wolper

Introduction to Medical Practice Management by Deborah Montone, Michelle Lenzi

Secrets of the Best-Run Practices by Judy Capko
Pros of becoming a Clinic Manager
Good salary with fast growth.
Bachelor's education is sufficient.
Administrative role with supervisory responsibilities.
Cons of becoming a Clinic Manager
Very detail-oriented job.

Handling too many responsibilities can get hectic.

Travelling may be required.
Top Colleges to pursue career as Clinic Manager
Paths for Being Clinic Manager