Career as a Medical Practice Manager
About Medical Practice Manager
A Medical Practice Manager is a person who manages all office-related operations of a practising physician. They supervise the operations of various sections of medical offices or clinics including the front office, staffing, billing, patient complaints, storing medical records, maintaining an inventory of medicines and equipment etc. Medical Practice Managers ensure the smooth operations of a clinic and handle it like any other place of business. Usually, Medical Practice Managers will not be found in the offices of small practitioners. However, their services are essential in the clinics that have large-scale operations and require a professionally-trained person who is trained in management skills and has a working knowledge of the medical sector.
Medical Practice Managers perform a wide range of duties in a medical business ranging from managing human resources to ensuring good patient care and relations. They also ensure that a clinic is in compliance with the local health, hygiene and workplace laws. Medical Practice Managers must provide instructions to the staff on how to perform day-to-day operations and they are also usually involved in report collection and maintaining records. They may also be required to interact with the patients directly and must provide effective solutions to everyday problems arising in a medical practitioner's office. They are also involved in coordinating with the supplies of medicine and equipment and must keep an eye on the inventory and quality of equipment.
Responsibilities of a Medical Practice Manager
Given below are the common duties and responsibilities that are part of a Medical Practice Manager's job.
Ensuring timely opening and closing of the clinic.

Taking the interviews of potential recruits and providing training to new employees.

Taking care of HRM activities such as boarding formalities, salary payment, salary slip generation etc.

Resolving workplace conflicts.

Supervising staff operations.

Managing the finances of the operations including the billings, insurance, taxes etc.

Negotiating with vendors to reduce the cost of procuring supplies and equipment.
Eligibility to become Medical Practice Manager
The requirements to become a Medical Practice Manager can be found given in the table below.
Education

The candidates must at least have a bachelor's level of education in a relevant field such as nursing, paramedical, life sciences etc.

A master's degree in healthcare management is also recommended for this role.

Candidates having business education with relevant work experience may also be considered for these roles.

Work Experience

Being a leadership role, it requires years of experience to get this job profile. Usually, 5+ years of experience are required.

Skills

Excellent management and organisation skills.

Strong interpersonal communication

Assertive personality with the ability to supervise multiple departments.

Strong communication skills.

Ability to negotiate with vendors

Process-oriented with an eye for detail.
Courses to Become a Medical Practice Manager
You can consider the following courses to become a Medical Practice Manager in India.
Course

Average Fee
Healthcare and Hospital Management Colleges
Rs. 2 - 2.5 lacs
Rs. 1.5 - 2 lacs
Rs. 1.5 - 2.5 lacs
Fill the Common Application From (CAF) and get admission to your favourite college providing hospital management course. To discuss your admission requirements, call our helpline 18005729877.
Types of Job Roles Medical Practice Manager
Some of the job profiles available for Medical Practice Managers include.
Employment Sector/Industry for Medical Practice Manager
The most common area of employment for a Medical Practice Manager is in a private hospital or clinic. They can find employment opportunities in other establishments providing medical services such as Nursing Homes, Government Hospitals, Therapy Clinics, Nutritionist Clinics, Residential Care Facilities, Healthcare Consultancies etc. The employment opportunities for Medical Practice Managers are distributed as given in the chart below.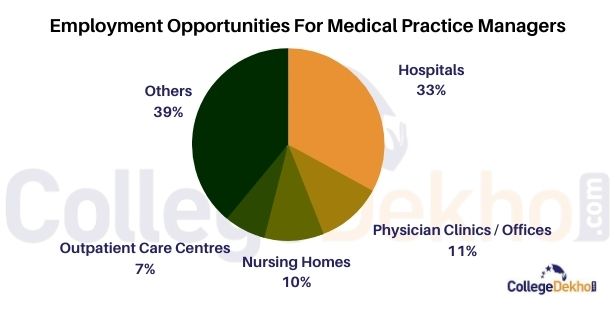 Medical Practice Manager is a desk job. Most of the work of a Medical Practice Manager is done indoors and requires the use of a computer and MS Office Tools. They are also required to communicate with other employees and vendors on a day to day basis.
Planning to choose Medical Practice Manager as your career?
Pay Scale/Salary of Medical Practice Manager
Medical Practice Manager is a profession that pays extremely well. It is a job that requires high levels of competence and knowledge and hence commands a very respectable compensation. Plus, Medical Practice Managers are often available for candidates having 7 to 10 years of work experience in the medical sector and hence even the starting salary for this role is quite high. The average salary growth of a Medical Practice Manager in India can be checked below.
| | | | | |
| --- | --- | --- | --- | --- |
| Job Profile | Average | 1 - 3 years | 5 - 7 years | 10 - 12 years |
| Medical Practice Manager | Rs. 24.50 LPA | Rs. 12.70 LPA | 18.00 LPA | Rs. 25.50 LPA |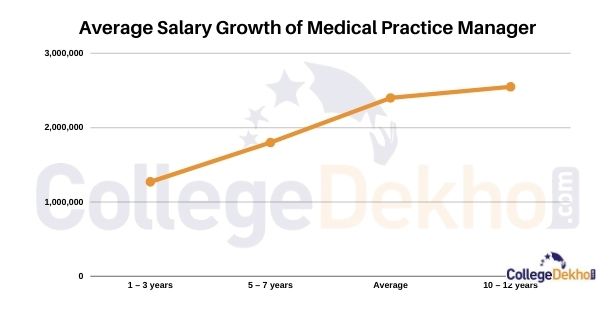 Books & Study Material to Become Medical Practice Manager
Given below are some of the best-recommended books for Medical Practice Managers.
The Business Side of Medicine: What Medical Schools Don't Teach You by Dr Tom Harbin
Introduction to Medical Practice Management by Deborah Montone, Michelle Lenzi
Physician Practice Management by Lawrence F. Wolper
Secrets of the Best-Run Practices by Judy Capko
The High-Performing Medical Practice by Owen J Dahl
Pros of becoming a Medical Practice Manager
Medical Practice Managers are well-paid professionals with their average late-career salaries reaching close to Rs. 30 LPA.

It is a supervisory position that comes with authority and respect. Plus, there are great prospects of growth.

One of the most secure and recession-proof professions in the private sector.
Cons of becoming a Medical Practice Manager
Regular study of the latest practices followed by medical workplaces is necessary.

The job is very hectic and may lead to high levels of stress in professionals.

Frequent travelling may be required.
Top Colleges to pursue career as Medical Practice Manager
Paths for Being Medical Practice Manager