Career as a Housekeeping Manager
About Housekeeping Manager
A Housekeeping Manager is a person who is responsible for organizing, developing and planning the overall operations of the housekeeping department. He is also responsible for laundering bed linen, cleaning rooms, and maintaining furnishing in residential homes, hotels, students accommodation and hospitals. Housekeeping Manager oversees the day-to-day activities of the housekeeping department to ensure that offices, guest quarters and other designated areas are kept in a clean and tidy state. He also coordinates with the Executive Housekeeper and other team members in order to ensure that desired standards are met. A Housekeeping Manager also manages the training and recruitment activities of other team members. 
Responsibilities of a Housekeeping Manager
Check some major responsibilities of a Housekeeping Manager listed below.
Maintaining the housekeeping budget and providing billing summaries

Supervising the work of housekeeping staff and other team members

Recruiting and training new housekeeping staff members

Purchasing cleaning equipment and supplies 

Conducting pre-event  inspections of all rooms, clubs and other public areas

Upholding the highest standards of safety and cleanliness

Managing the daily activities of the Housekeeping department 
Eligibility to become Housekeeping Manager
Candidates who are interested in a career as a Housekeeping Manager will have to satisfy the eligibility criteria decided by the organization. The eligibility criteria to become a Housekeeping Manager is provided below.
Education Required

Bachelor's degree in hospitality management

Some of the companies also hire candidates who have completed a High school diploma in relevant field

Master's degree is not a mandatory requirement for this profile

Work Experience

Skills

Some of the skills required for a Housekeeping Manager are:

Management skills

Leadership skills

Recruitment skills

Good communication skills

Professional attitude

Decision-making skills

Basic accounting skills

Purchasing and inventory skills
Courses to become a Housekeeping Manager
The table provided below will help you know some of the courses that you can pursue in order to become a Housekeeping Manager. The table also contains some well known Hospitality Management colleges that you consider for admission. You can apply to these colleges by filling our Common Application Form.
Course

Total Fee (Approx)

Top Colleges for Hospitality Management

INR 24,000 to INR 1.80 lakh

Bachelor of Hospitality Management
INR 50,000 to INR 3.4 lakh

INR 40,000 to INR 5.00 lakh

INR 55,000 to INR 2.50 lakh

INR 25,000 to INR 6.50 lakh
Types of Job Roles Housekeeping Manager
Job roles of a Housekeeping Manager vary from industry to industry. Some of the major duties of Housekeeping Manager includes supervising room attendants and cleaning staff, managing controlling costs and helping room attendants clean rooms. He can start his career as a staff housekeeper. After that, he can advance to supervisory or management position. A housekeeping manager may also pursue a certification in order to learn some additional skills about hospitality management. Some of the job profiles available for a Housekeeping Manager are listed below.
If you want to know employment opportunities and job profiles available for Housekeeping Manager, you can ask your questions on the Collegedekho QnA zone.
Employment Opportunities for Housekeeping Manager
Housekeeping Manager mainly works at motels, hotels and resorts. He can also look for a job in Guesthouses or Lodges. You can check the graph provided below to know the sectors where a Housekeeping Manager can apply for a job.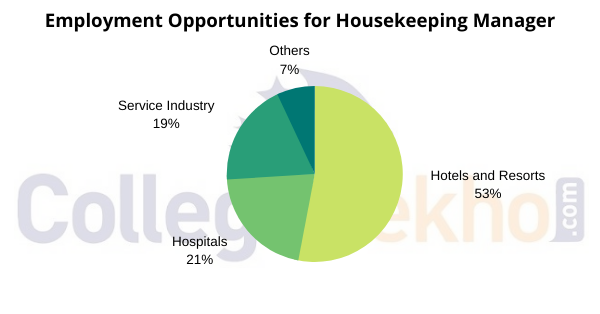 Top Recruiting Agencies for Housekeeping Manager
Some of the major recruiting companies for Housekeeping Manager are listed below.
The Leela Palace, Udaipur

Umaid Bhawan Palace, Jodhpur

The Taj Mahal Palace, Mumbai

The Oberoi Amarvilas, Agra

The Leela Palace, New Delhi

The Oberoi Gurgaon
Planning to choose Housekeeping Manager as your career?
Pay Scale/Salary of Housekeeping Manager
The average salary of a Housekeeping Manager will vary depending on his experience and skills. A Housekeeping Manager who has a working experience of 3+ years can earn up to INR 5 lakh per annum. Besides this those who are new to the industry may earn up to 3 lakh per annum.
| | | | |
| --- | --- | --- | --- |
| Profile | Starting Salary per annum (in INR) | Mid Level Salary per annum (in INR) | Senior Level Salary per annum (INR) |
| Housekeeping Manager | 2,19,000 | 5,10,000 | 8,38,000 |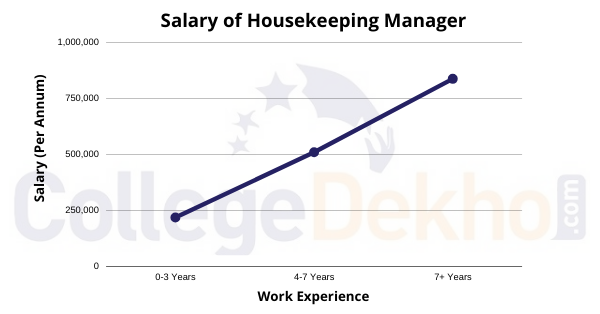 Books & Study Material to Become Housekeeping Manager
Provided below are some recommended books for Housekeeping Manager.
Housekeeping Management by Matt A. Casado

Text Book Of Hotel Housekeeping Management & Operations by Sudhir Andrews

Managing When No One Wants to Work by Ralph Peterson

I Cant Keep Calm Because I Am an Executive Housekeeper by William Turner

Housekeeping Management by Aleta Nitschke

Hotel Facility Planning by Tarun Bansal
Pros of becoming a Housekeeping Manager
This profile doesn't require any master's degree

This profile will help you improve your leadership skills

Payscale of Housekeeping Manager is high in comparison to other housekeeping jobs

Many employment opportunities are available for a Housekeeping Manager
Cons of becoming a Housekeeping Manager
You should have good presentation skills

A lot of physical work is required for this profile

You should have at least 4 years of experience

You will be responsible for providing good quality service to the clients