Career as a Housekeeping Supervisor
About Housekeeping Supervisor
Housekeeping Supervisor is a person who is responsible for supervising the work activities of cleaning personnel. Besides this, he ensures the cleaning and maintenance of rooms in hospitals, hotels and educational institutions. A Housekeeping Supervisor inspects the work of other team members and assigns duties to the cleaning personnel. He also performs human resource task such as training new staff members and conducting interviews. A good Housekeeping Supervisor maintains a record of all purchases and performs the duties of an Executive Housekeeper whenever required. Candidates looking for a successful career as a Housekeeping Supervisor should have excellent management skills and ability to deal with all kinds of situations. 
Responsibilities of a Housekeeping Supervisor
Check some major responsibilities of a Housekeeping Supervisor provided below.
Training housekeepers on maintenance and cleaning tasks

Checking rooms and common areas such as stairways and lounge areas, for cleanliness

Participating in large cleaning projects whenever required

Responding to special requests of the guests

Motivating team members and resolving any queries that occur on the job

Scheduling shifts and arranging replacements in cases of emergencies
Eligibility to become Housekeeping Supervisor
Candidates who are looking for a job as a Housekeeping Supervisor will have to satisfy the eligibility criteria decided by the organization. The table provided below contains the eligibility criteria to become a Housekeeping Supervisor.
Education Required

Candidates must have completed a diploma in relevant field

Those who have completed a bachelor's degree in hospitality management will be preferred

They should be proficient in all Microsoft Office application

Work Experience

6 months to 1-year working experience in hospitality or housekeeping

Skills

Provided below are some skills required for Housekeeping Supervisor
Courses to become a Housekeeping Supervisor
You check the table provided below to know some of the courses that you can pursue to become a Housekeeping Supervisor. The table also contains the average fee and top colleges offering these courses. You can apply to these courses by filling our Common Application Form.
Course

Total Fee (Approx)

Top Colleges for Hospitality Management

INR 24,000 to INR 1.80 lakh

INR 40,000 to INR 5.00 lakh

INR 70,000 to INR 3.00 lakh

INR 40,000 to INR 2.50 lakh
Types of Job Roles Housekeeping Supervisor
Housekeeping Supervisor is responsible for creating a schedule for employee and ensuring that the cleaning supplies are fully stocked. Luxury hotels have a different quality than family-friendly tropical resorts. Since these hotels are open 24/7, Housekeeping Supervisor can apply for a part-time job also. His job roles will depend upon his responsibilities. Some of the job profiles available for a Housekeeping Supervisor are provided below.
If you want to know what career is perfect for you, you can give our Career Profiling Test. Besides this, you can ask questions about a career as a Housekeeping Supervisor on Collegedekho QnA zone.
Employment Opportunities for Housekeeping Supervisor
Housepeeking Supervisors are mainly hired by a chain of hotels and resorts. They can also look for a job in hospitals, lodges, guest houses and service industry. More than 50% of the employment opportunities available for Housekeeping Supervisors are there in the hospitality industry. The graph provided below will help you know more about the type of industries where a Housekeeping Supervisor can look for a job.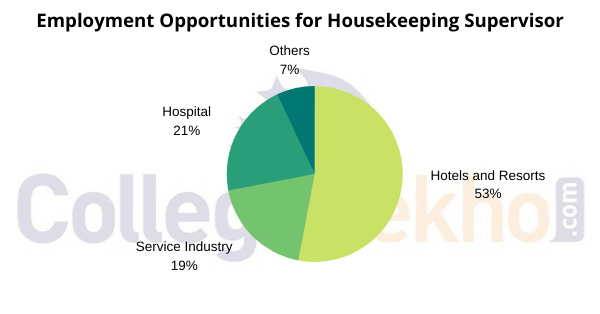 Top Recruiting Agencies for Housekeeping Supervisor
Some of the major recruiting companies for Housekeeping Supervisor are listed below.
The Taj Mahal Palace Mumbai

The Leela Palace Udaipur

The Oberoi New Delhi

The Oberoi Rajvilas

Taj Falaknuma Palace

The Lodhi New Delhi

The Leela Palace New Delhi
Planning to choose Housekeeping Supervisor as your career?
Pay Scale/Salary of Housekeeping Supervisor
The average salary of a Housekeeping Supervisor is INR 2.5 lakh per annum. The table provided below will help you understand the salary of Housekeeping Supervisor for all level of experience.
| | | | |
| --- | --- | --- | --- |
| Profile | Starting Salary per annum (in INR) | Mid Level Salary per annum (in INR) | Senior Level Salary per annum (INR) |
| Housekeeping Supervisor | 1,90,000 | 2,50,000 | 4,10,000 |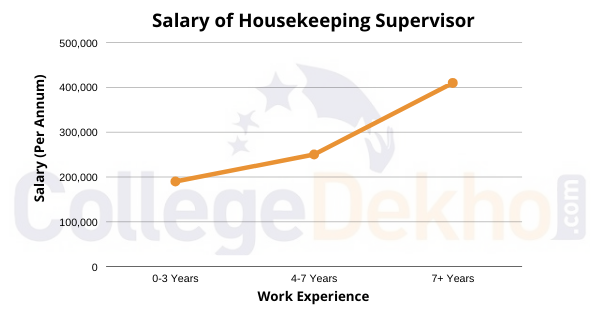 Books & Study Material to Become Housekeeping Supervisor
Provided books are some recommended books for Housekeeping Supervisor.
Guide to Hotel Housekeeping by Mary E. Palmer

Housekeeping Management by Matt A. Casado

Text Book Of Hotel Housekeeping Management & Operations by Sudhir Andrews

Managing When No One Wants to Work by Ralph Peterson

Hotel Housekeeping: Operations and Management by G. Raghubalan and Smritee Raghubalan

Housekeeping Management by Aleta Nitschke, Margaret M. Kappa

Managing Housekeeping Operations (AHLEI) by Aleta Nitschke and William D. Frye
Pros of becoming a Housekeeping Supervisor
This profile is ideal for candidates who like working indoors

A career as a Housekeeping Supervisor is suitable for those who like interacting with people

You do not require any higher degree for this profile

You won't have long working hours
Cons of becoming a Housekeeping Supervisor
This profile is one of the lowest-paying jobs in housekeeping

This profile is not suitable for those who are interested in technology-related work

You should have the ability to perform different kinds of the task at the same time

Good presentation and communication skills are required
Paths for Being Housekeeping Supervisor