Career as a Territory Manager
About Territory Manager
A Territory Manager is a person responsible for managing and directing the sales force to achieve targets within the territory. He is also responsible for account management of the client and sales performance in a geographical area. A Territory Manager oversees the daily operations of the Sales Representatives that are allocated to a specific geographical area.  His main work is to plan sales and marketing strategies and to set short term and long term sales targets. He is in charge of managing the organization's sales force. A Territory Manager also performs recruiting activities such as training sales employees. He may develop strategies for improving the business relationship and the organisation's profit. 
Responsibilities of a Territory Manager
Check some major responsibilities of a Territory Manager provided below.
Managing customer accounts and building strong relationships with the existing and new clients

Monitoring competition within a specific region

Preparing and submitting reports to the Sales Director

Designing marketing plans and strategies

Present services and products to prospective customers

Participating in promotional or industry events

Analysing sales performance at regular intervals
Eligibility to become Territory Manager
Candidates who are looking for a career as a Territory Manager should satisfy some eligibility requirements decided by the company/ organisation. They can check the table provided below to know the minimum eligibility criteria to become a Territory Manager.
Education Required

Candidates must have completed a bachelor's degree in business administration, marketing or any other relevant field

Those who have completed a master's degree in marketing and business management will be preferred

Proficient in MS Office or any other relevant software

Good knowledge of Salesforce, Oracle Siebel, Microsoft Dynamics 365 or any other sales software

Skills

Provided below are some skills required for Territory Manager

Effective communication skills

Excellent analytical skills

Problem-solving skills

Exceptional customer service skills

Team-management skills

Leadership skills

Work Experience
Courses to Become a Territory Manager
The table provided below contains some courses that you can pursue in order to become a Territory Manager. The table also contains some of the well-known colleges for business administration. Candidates may apply to any of these colleges by filling our Common Application Form.
Course

Total Fee (Approx)

Top Colleges for Business Administration

INR 45,000 to INR 3.00 lakh

INR 27,000 to INR 8.00 lakh

INR 1.00 lakh to INR 6.00 lakh

INR 15,000 to INR 25.00 lakh
Types of Job Roles Territory Manager
A Territory Manager analyses the market and designs strategies for promoting the sales of the organisation. His job roles vary from company to company. There are many job profile available for a Territory Manager. Some of them are listed below.
Branch Manager

Accounts Manager

Business Manager
You can ask questions about a career as a Territory Manager on the Collegedekho QnA zone. Besides this, If you want to know what profile is right for you, you can take our Career Profiling Test.
Employment Opportunities for Territory Manager
Territory Manager is one of the major job positions in the sales department. Candidates can apply to any sector in a company that has a sales team. Some of the employment opportunities available for a Territory Manager are Insurance Firms, Tour and Travel Firms and Pharmaceutical Companies. More than 40% of jobs available for a Territory Manager are there in the IT Firms. You can check the graph provided below to know the type of companies available where a Territory Manager may apply for a job.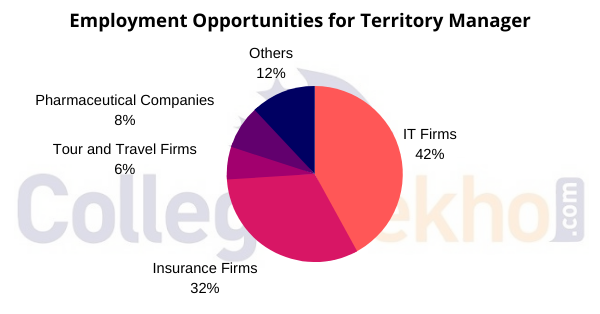 Top Recruiting Agencies for Territory Manager
Some of the major recruiting companies for Territory Manager are listed below.
Coca-Cola India

PepsiCo

ICICI Bank

Sony India

Nestle

LIC

Tata Motors

HDFC Bank
Planning to choose Territory Manager as your career?
Pay Scale/Salary of Territory Manager
An experienced Territory Manager can earn up to INR 6 lakh per annum. His salary will depend on his experience and skills. The average salary of Territory Manager for all levels of experience is provided in the table below.
| | | | |
| --- | --- | --- | --- |
| Profile | Starting Salary per annum (in INR) | Mid Level Salary per annum (in INR) | Senior Level Salary per annum (INR) |
| Territory Manager | 2,91,000 | 5,04,000 | 10,00,000 |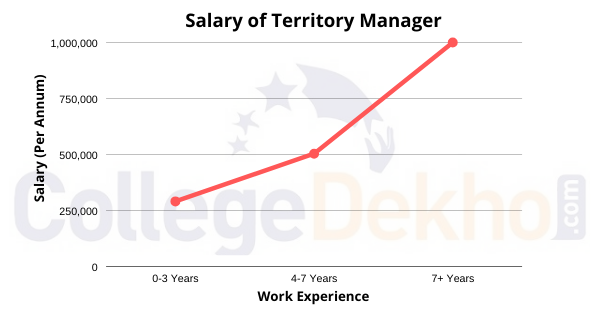 Books & Study Material to Become Territory Manager
Here are some recommended books for Territory Manager
Sales Management by Mike Weinberg

Nuts and Bolts of Sales Management by John Treace

The Challenger Sale by Matthew Dixon & Brent Adamson

Cracking the Sales Management Code by Jason Jordan & Michelle Vazzana

The Sales Boss by Jonathan Whistman

The Science of Selling by David Hoffeld
Pros of becoming a Territory Manager
You will learn new marketing and promotional strategies

This profile will help you develop leadership skills

You will be earning a good salary

You may decide when you want to meet the client
Cons of becoming a Territory Manager
You will have to work hard to complete your targets

Good analytical skills are required for this profile

The workload can be a bit too much and it can get stressful

Most of the clients prefer a candidate who has some work experience
Top Colleges to pursue career as Territory Manager
Paths for Being Territory Manager