Career as a Hospitality Manager
About Hospitality Manager
A Hospitality Manager oversees the daily operations of the restaurant, hotel or hospital. He supervises various departments such as room service, budgeting and finances, spa services, housekeeping and front office.  The hospitality manager is responsible for establishing standard operating procedures and setting standards for outstanding customer service. His major role is to develop a management and commercial strategy for boosting sales and profit of the organization. A Hospitality Manager ensures that the guests have an amazing experience and front office staff complete their tasks in a timely manner. 
He is the leader of all departments of the hotel and is responsible for solving their problems. He is involved in the legal and financial aspects of the establishment, including working closely with vendors.
Responsibilities of a Hospitality Manager
Check some major responsibilities of a Hospitality Manager provided below.
Handling and resolving customer complaints when necessary

Supervising and overseeing the work of the staff members

Ensuring all records are kept properly and consistently

Managing budgets and approving expenditures

Organising and coordinating staff and operations 

Developing new marketing and promotion strategies

Hiring qualified staff members when needed

Checking the supplies and equipment quality and quantity 
Eligibility to become Hospitality Manager
Candidates who are looking for a career as a Hospitality Manager should meet some eligibility requirements decided by the hotel. They can check the table provided below to know the minimum eligibility criteria to become a Hospitality Manager.
Education Required

Candidates must have completed BSc/ BA or any other relevant degree in hospitality management

Hands-on experience with MS Office, Enterprise resource planning or any other relevant software

Good knowledge of hospitality procedures and best practices

Skills

Provided below are some skills required for Hospitality Manager

Work Experience

Candidates should have one-year work experience in customer service or sales

They should have some experience in the hospitality industry

Certification
Courses to become a Hospitality Manager
Candidates may check the table provided below to know some of the courses that they can pursue to become a Hospitality Manager. They can also check some of the well-known hospitality management colleges from the table below. Candidates may apply to any of these colleges by filling our Common Application Form.
Course

Total Fee (Approx)

Top Colleges for Hospitality Management

INR 24,000 to INR 1.80 lakh

INR 40,000 to INR 5.00 lakh

INR 25,000 to INR 6.50 lakh

INR 55,000 to INR 2.50 lakh

Bachelor of Hospitality Management
INR 50,000 to 3.4 Lacs
Types of Job Roles Hospitality Manager
A Hospitality Manager is responsible for ensuring guest satisfaction and managing personnel. His job responsibilities will depend upon his job title and experience. For example, one who works under the food department will be responsible for ensuring the quality and taste of the food while the one who works under housekeeping will be responsible for overseeing the work of housekeeping personnel. Some of the job profiles available for a Hospitality Manager are listed below.
If you want to know more profiles and employment opportunities available for a Hospitality Manager, you can ask questions on the Collegedekho QnA zone. Besides this, If you want to know what career is right for you, you can take our Career Profiling Test.
Employment Opportunities for Hospitality Manager
Hospitality Manager is one of the most important job positions in the hospitality industry. They are hired by almost all types of industries. Some of the employment opportunities available for a Hospitality Manager are Hotels, Resorts, Motels, Guest Houses, Hospitals, Tourism Industry, Aviation and Service Industry. He can also look for a job at Multinational companies. The graph provided below will give you an idea about the type of companies where a Hospitality Manager can apply for a job.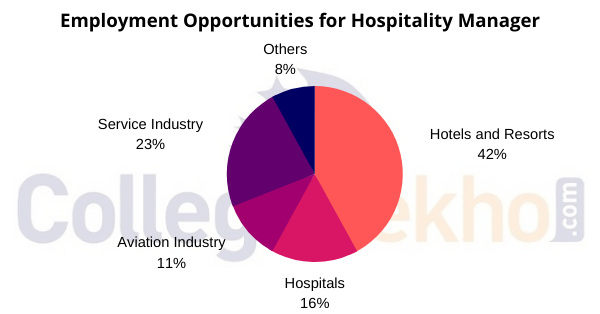 Top Recruiting Agencies for Hospitality Manager
Some of the major recruiting companies for Hospitality Manager are listed below.
The Paul Bangalore

The Suryaa New Delhi

The Oberoi Mumbai

The Claridges Hotel

The Oberoi Udaivilas, Udaipur

The Leela Palace, New Delhi

Amanbagh Resort, Rajasthan
Planning to choose Hospitality Manager as your career?
Pay Scale/Salary of Hospitality Manager
The average salary of a Hospitality Manager is INR 483,561. Besides this, those who are new to the hospitality industry can earn up to INR 3 lakh per annum. The table provided below contains the average salary of the Hospitality Manager for all levels of experience.
| | | | |
| --- | --- | --- | --- |
| Profile | Starting Salary per annum (in INR) | Mid Level Salary per annum (in INR) | Senior Level Salary per annum (INR) |
| Hospitality Manager | 2,01,000 | 4,84,000 | 10,00,000 |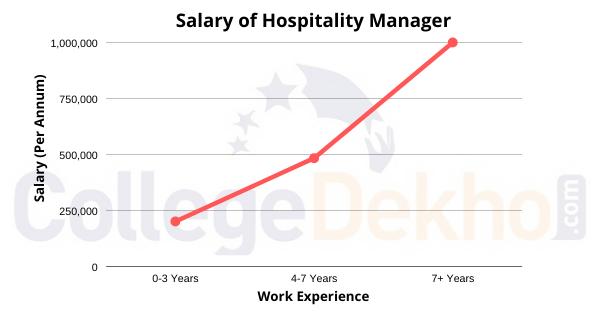 Books & Study Material to Become Hospitality Manager
Here are some recommended books for Hospitality Manager
The Heart of Hospitality by Micah Solomon

Introduction to Hospitality by John R. Walker

Hospitality facilities management and design by David M Stipanuk

Quality Service by William B. Martin

The Hospitality Manager's Guide to Wines, Beers, and Spirits by Albert W. A. Schmid

Managing People in the Hospitality Industry by Michael Riley
Pros of becoming a Hospitality Manager
You can choose any industry to work in

There are plenty of opportunities available for career advancement

You will get many benefits such as discounted food and free travel

Your work will never be boring
Cons of becoming a Hospitality Manager
You should have at least one year of experience in the hospitality industry

Good communication and teamwork skills are required

Your starting salary will be low

You may be saddled with work during the initial stages of the career
Paths for Being Hospitality Manager