Career as a Executive Chef
About Executive Chef
Executive Chef is the leader of all the cooks and culinary assistants working inside a restaurant's kitchen. He is in charge of everything that goes out of the kitchen. An Executive Chef is responsible for overseeing some of the administrative tasks involved in running a restaurant and establishing a cooperative relationship with team members. He also manages the work of line cooks and sous chefs. An Executive Chef participates in creating new dishes, planning menu, overseeing kitchen expenses and ensuring the quality of food. 
His major duties include ensuring all food safety regulations, modifying the menu and coordinating with the kitchen members. An Executive Chef also hires and train the new kitchen staff members. Some of the Executive Chefs are specialized in a certain type of cuisine such as the Mediterranean, Ethnic, American or Asian. 
Responsibilities of an Executive Chef
Check some major responsibilities of an Executive Chef provided below.
Supervising kitchen staff's activities

Recruiting and managing kitchen staff

Ensuring hygiene standards and proper grooming for all kitchen staffs

Interacting with guests to collect feedback on food quality

Maintaining Quality levels of storage, receiving, presentation, production of food

Keeping time and payroll records

Estimating food requirements and labour/ food costs

Ensuring all products are prepared in a consistent manner

Modifying menus or creating new ones that satisfy quality standards
Eligibility to become Executive Chef
Candidates who wish to become an Executive Chef will have to meet the eligibility criteria decided by the hotel. They can check the eligibility criteria to become an Executive Chef provided below.
Education Required

Candidates must have completed a bachelor's degree in hotel management or culinary arts

Those who have completed a master's degree in culinary arts will be preferred

They should have good knowledge of food profession principles and practices

Some of the hotels hire candidates who have good knowledge of human resources management, BOH systems and inventory.

Work Experience

5+ years of experience in hotel management or any relevant field is required

Skills

Provided below are some skills required for Executive Chef

Excellent communication skills

Time Management skills

Organisation skills

Willingness to Learn

Ability to Skilfully Multitask

Leadership Skills
Courses to Become an Executive Chef
You can check the table provided below to know some of the courses that you can pursue to become an Executive Chef. The table also includes the total fee and the top colleges offering these courses. You may apply for these courses by filling our Common Application Form.
Course

Total Fee (Approx)

Top Colleges for Culinary Arts

INR 40,000 to INR 3.00 lakh

INR 40,000 to INR 5.00 lakh

INR 10,000 to INR 3.00 lakh

INR 65,000 to INR 2.90 lakh

INR 60,000 to INR 3.00 lakh
Types of Job Roles Executive Chef
Executive Chef is one of the important job positions in any hotel. His job responsibilities vary from hotel to hotel. He is responsible for enhancing the productivity of kitchen staff such as culinary assistants, sous chefs, cooks, and even dishwashers. Most of the Executive Chef work around 12 hours a day. Duties of an Executive Chef are not just limited to the kitchen as he also has to manage some work outside the kitchen such as hiring staff and reporting to the head restaurateur. Some of the major profiles available for an Executive Chef are provided below.
Head Chef

Restaurant Manager

Line Cook
If you want to know what profession is perfect for you, you can take our Career Profiling Test. Besides this, you can ask questions about a career as an Executive Chef on Collegedekho QnA zone.
Employment Opportunities for Executive Chef
There are many employment opportunities available for an Executive Chef. He can apply to restaurants, spas, convention centres, resorts, hospitals and medical centres, corporate facilities, catering companies, cruise lines, casinos and guesthouses. Apart from this, an Executive Chef can also start his own catering company. The graph provided below will provide you with a detailed understanding of the employment opportunities available for an Executive Chef.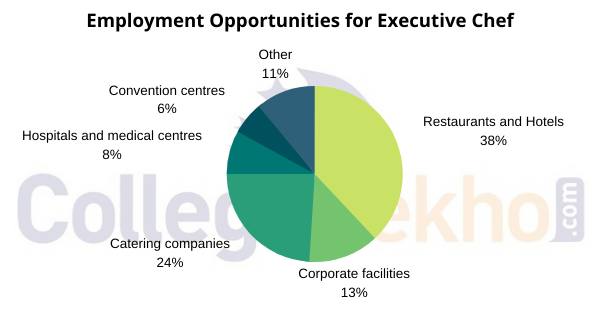 Top Recruiting Agencies for Executive Chef
Some of the major recruiting companies for Executive Chef are listed below.
The Taj Mahal Palace Mumbai

The Leela Palace Udaipur

The Lodhi New Delhi

The Leela Palace New Delhi

The Oberoi New Delhi

The Oberoi Rajvilas

Taj Falaknuma Palace
Planning to choose Executive Chef as your career?
Pay Scale/Salary of Executive Chef
The average salary of an Executive Chef will vary according to his skills and experience.

Candidates who have some experience in menu planning, budget preparation and inventory management can earn up to 8 lakh per annum.

Those who are working in top reputed and luxury hotels of India may earn more in comparison to those working in small restaurants.
| | | | |
| --- | --- | --- | --- |
| Profile | Starting Salary per annum (in INR) | Mid Level Salary per annum (in INR) | Senior Level Salary per annum (INR) |
| Executive Chef | 4,95,000 | 8,50,000 | 15,10,000 |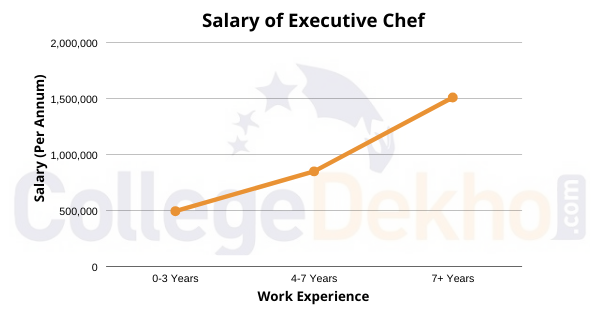 Books & Study Material to Become Executive Chef
Books & Study Material to Become an Executive Chef
Here are some recommended books for Executive Chef.
The Tummy Trilogy by Calvin Trillin

On Food and Cooking by Harold McGee

The Flavor Bible by Andrew Dornenburg & Karen Page

On Food and Cooking by Harold McGee

Essentials of Classic Italian Cooking by Marcella Hazan

Becoming a Chef by Andrew Dornenburg and Karen A. Page

The Devil in the Kitchen by Marco Pierre White
Pros of becoming a Executive Chef
This profile will help you express your creativity

Executive Chef profile is one of the highest-paid profile in hotel management

You may start your own business such as a catering company or a hotel

Numerous job opportunities are available for an Executive Chef
Cons of becoming a Executive Chef
You will be working 12 hours a day. Sometimes you will have to work during the weekend also

This profile requires you to be physically as well as mentally active

If you are aiming to work at any five-star restaurant, you really have to work hard

You will have to be updated with new dishes and techniques
Paths for Being Executive Chef