Career as a Duty Manager
About Duty Manager
A Duty Manager is responsible for overseeing the day-to-day operations of the organisation, including facilities, security, customer service and administration. He oversees the maintenance and overall safety procedures of the organisation. A Duty Manager is also responsible for organising meetings with other executives or managers. Some of the major duties of a Duty Manager are scheduling employees' shifts, conducting regular inspections and delegating relevant duties. 
A good Duty Manager should possess good communication and time management skills. Besides this, he should be flexible to work night shifts also. Occasionally, duty managers are required to live on-site at the location they are managing.
Responsibilities of a Duty Manager
Check some major responsibilities of a Duty Manager provided below.
Keeping track of quarterly, monthly and yearly goals

Resolving customer's complaints and issues

Working with management to assess and update processes and policies

Scheduling regular maintenance and cleaning of facilities

Resolving significant disagreements between staff

Hiring and training new staff members

Helping management to create the department's budget

Monitoring and reporting on cash flow and revenue
Eligibility to become Duty Manager
Candidates seeking a career as a duty manager will have to meet some of the requirements decided by the organisation. They can check the table below to know the eligibility criteria for becoming a duty manager.
Education Required

Candidates must have completed a bachelor's degree or diploma in hospitality management

They do not require a master's degree for a career as a Duty Manager

Candidate should have a good knowledge of cash management and relevant procedures

Work Experience

Skills

Listed below are some skills required for Duty Manager

Problem-solving

Communication

Decision making

Leadership

Supervision

Customer service

Professionalism

Project management
Courses to become a Duty Manager
The table provided below comprises some courses that you can pursue to become a Duty Manager. The table also contains some well-known hospitality management colleges. You can apply to any of these colleges by filling our Common Application Form. Besides this, if you need any admission related assistance, you can call on our toll-free number 1800-572-9877.
Course

Total Fee (Approx)

Top Colleges for Hospitality Management

INR 40,000 to INR 5.00 lakh

INR 24,000 to INR 1.80 lakh

INR 55,000 to INR 2.50 lakh

INR 25,000 to INR 6.50 lakh
Types of Job Roles Duty Manager
The job role of a Duty Manager varies from industry to industry. Candidates who want to become a Duty Manager may start their career as a supervisor or trainee in the hotel management. After that, they can advance to the managerial level. There are many other profiles available for a Duty Manager. Some of them are listed below.
Security Manager

Facility Manager

HR Coordinator
If you want to know more employment opportunities and profiles available for a Duty Manager, you can ask your questions on the Collegedekho QnA zone. Besides this, you can take our Career Profiling Test to know what profession is perfect for you.
Employment Opportunities for Duty Manager
More than 40% of job opportunities available for a Duty Manager are there in the hotel industry. He can look for a job at any hotel, resort, guest house, club, motel or resort. Besides this, some other types of industries where a Duty Manager may apply are tourism industry, hospitality industry, manufacturing companies and MNCs. You can check the graph provided below to know the employment opportunities available for a Duty Manager.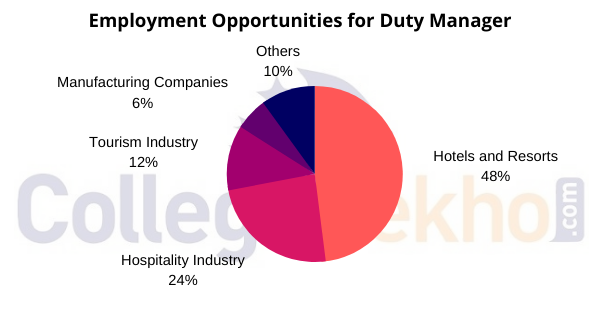 Top Recruiting Agencies for Duty Manager
Some of the major recruiting companies for Duty Manager are listed below.
Taj Rambagh Palace, Jaipur

The Paul Bangalore

The Oberoi Mumbai

The Oberoi Udaivilas, Udaipur

Wildflower Hall, Shimla

Umaid Bhawan Palace, Jodhpur

Amanbagh Resort, Rajasthan
Planning to choose Duty Manager as your career?
Pay Scale/Salary of Duty Manager
A Duty Manager who has at least 4 years of experience can get an average salary of INR 4 lakh per annum. His average salary will vary according to his skills and experience. Those who have a working experience of more than 8 years can earn around 7-8 lakh per annum.
| | | | |
| --- | --- | --- | --- |
| Profile | Starting Salary per annum (in INR) | Mid Level Salary per annum (in INR) | Senior Level Salary per annum (INR) |
| Duty Manager | 2,00,000 | 3,51,000 | 6,13,000 |
Books & Study Material to Become Duty Manager
A Duty Manager should have good communication and presentation skills. He can check some of the books provided below to learn some additional skills and knowledge about hotel management.
Getting Everything You Can Out Of All You've Got by Jay Abraham

Delivering Happiness by Tony Hsieh

Resonate by Nancy Duarte

Presentation Zen by Garr Reynolds

The Heart of Hospitality by Micah Solomon

Be Our Guest by Theodore B. Kinni
Pros of becoming a Duty Manager
This profile will help you improve your time management skills

You do not require any higher degree for this profession

You will be managing a team of supervisors and executives

A career as a Duty Manager will help you learn more about the hotel industry
Cons of becoming a Duty Manager
There may be a lot of work pressure during the initial stages of your career

You will be responsible for ensuring the safety procedures of the organisation

Working hours of Duty Manager are not fixed

You should have good problem-solving skills for a successful career as a Duty Manager
Paths for Being Duty Manager