Career as a HR Coordinator
About HR Coordinator
HR Coordinator is a specialist who performs the administrative tasks of the HR department of a company. He oversees issues related to compensation, employment, employee relations and labour negotiations. The HR Coordinator is responsible for assisting HR Managers with providing administrative support, handling payroll processing and maintaining employee records. His duties are more focused on improving the HR policies, practices, processes and recommending changes to HR managers. He also performs research, data analysis and provides updates to the HR team. 
The HR Coordinator is supposed to be a strategic thinker with excellent organisational and time-management skills. Besides this, he should have a good understanding of staffing management, employee relationships and payroll. 
Responsibilities of an HR Coordinator
Check some major responsibilities of an HR Coordinator provided below.
Maintaining records of personnel-related data such as leaves, turnover rates and payrolls

Reporting to the HR Director or Manager to advise them on their functional areas

Responding to the external and internal HR-related inquiries/ requests

Producing and submitting reports on general HR operations

Hiring and training new employees

Scheduling interviews, meetings, HR events etc

Conducting and supervising training and development programs for employees

Resolving the doubts and questions of the employees
Eligibility to become HR Coordinator
Candidates who want to become an HR Coordinator need to satisfy some of the requirements decided by the company. The eligibility criteria to become an HR Coordinator will vary from company to company. The minimum requirements to become an HR Coordinator are provided below.
Education Required

Candidates must have completed BBA/ BA or any other relevant degree in business administration/ human resource management

They should have a good understanding of the HR functions and best practices

Proficiency in ATS software, MS Office and its applications

Skills

Provided below are some skills required for HR Coordinator

Strong decision-making

Problem-solving skills

Organizational skills

Time management skills

Interpersonal skills

Detail-oriented

Communication skills

Work Experience

Certification

Some of the certifications in HR Management are SHRM Certified Professional, SHRM Senior Certified Professional, Professional in Human Resources (PHR) and Senior Professional in Human Resources (SPHR)
Courses to Become an HR Coordinator
The table provided below contains some of the courses that you can pursue to become an HR Coordinator. The table also contains the average fee of the program along with some well-known colleges for human resource management. You can apply to any of these colleges by filling our Common Application Form. Besides this, if you need admission related assistance, you can call on our toll-free number 1800-572-9877.
Course

Total Fee (Approx)

Top Colleges for Human Resource Management

INR 20,000 to INR 1.8 lakh

B.A. in Human Resource Management

INR 10,000 to INR 1.5 lakh

INR 50,000 to INR 70,000

INR 15,000 to INR 10.00 lakh

INR 40,000 to INR 1.00 lakh
Types of Job Roles HR Coordinator
HR Coordinator may start his career as an HR Analyst or HR Associate. After that, he can proceed to the Manager and Director positions. His job roles will vary depending on his job responsibilities and experience. Some of the job profiles available for an HR Coordinator are provided below.
HR Representative

HR Specialist

HR Supervisor
Candidates who want to know more employment opportunities and job profiles available for an HR Coordinator may ask questions on the Collegedekho QnA zone. Besides this, If you want to know what occupation is right for you, you can take our Career Profiling Test.
Employment Opportunities for HR Coordinator
Human Resources Management is one of the most important departments in every industry. Every company hires a good HR professional who can manage all their human resources activities. A good HR Coordinator should have good communication, leadership and organizational skills. Besides this, he should have the ability to manage a team of HR professionals.
An HR Coordinator may apply to any Consulting Firm, Telecom Company, Pharmaceutical Industries or Education Company. You can check the graph provided below to know the type of companies where an HR Coordinator may apply for a job.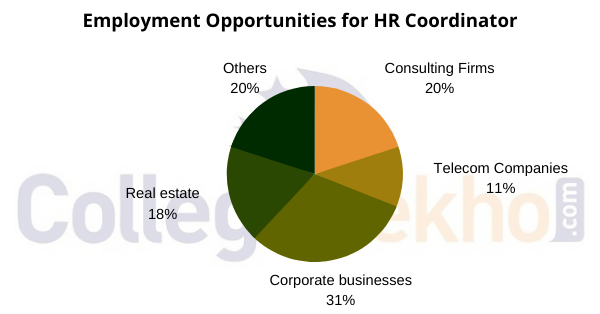 Top Recruiting Agencies for HR Coordinator
Some of the major recruiting companies for HR Coordinator are listed below.
ABC Consultants

Amazon

IKYA Human Capital

SutraHR

HCL

AON Hewitt

ManpowerGroup India

Adecco India

Global InnovSource
Planning to choose HR Coordinator as your career?
Pay Scale/Salary of HR Coordinator
An HR Coordinator who has a working experience of more than 3 years can earn up to INR 3.5 lakh per annum. Besides this, candidates who are new to the industry can earn up to INR 2 lakh per annum. The table provided below contains the average salary at various levels for an HR Coordinator.
| | | | |
| --- | --- | --- | --- |
| Profile | Starting Salary per annum (in INR) | Mid Level Salary per annum (in INR) | Senior Level Salary per annum (INR) |
| HR Coordinator | 1,98,000 | 3,56,000 | 6,05,000 |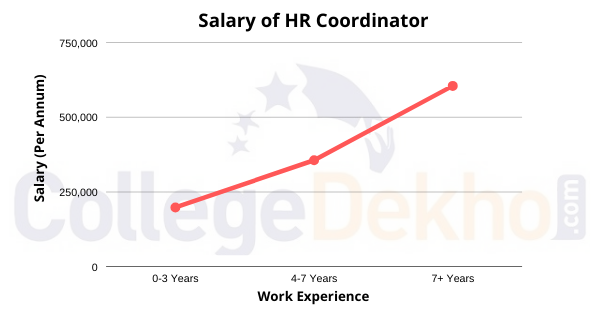 Books & Study Material to Become HR Coordinator
Provided below are some recommended books for HR Coordinator.
On Fire at Work by Eric Chester

Bring Your Human to Work by Erica Keswin

HR on Purpose by Steve Browne

The Essential HR Handbook by Sharon Armstrong & Barbara Mitchell

How A Blog Held Off the Most Powerful Union in America by Paul Levy
Pros of becoming a HR Coordinator
Many employment opportunities are available for HR Coordinator

You will be handling different kinds of tasks daily

This profile will help you improve your management and leadership skills

Working hours of HR Coordinator are fixed.
Cons of becoming a HR Coordinator
You should have good interpersonal skills for a successful career as an HR Coordinator

You will be responsible for hiring and training new employees

You will be responsible for resolving the queries of employees

Work experience of 2 to 5 years is required for this position
Top Colleges to pursue career as HR Coordinator
Paths for Being HR Coordinator