Career as a Bank Manager
About Bank Manager
A Bank Manager is responsible for managing the team of product experts, tellers and other back executives to provide outstanding customer service. In addition, they are also responsible for overseeing and organising the operation functions of financial institutions such as credit unions and banks. The primary task of the Bank Manager is to manage the work of banking staff and to improve the performance of his bank's branch. A Bank Manager also takes care of recruitment-related activities such as hiring new product specialists, tellers and providing training to them. 
The role of Bank Manager is full of responsibilities. Bank managers act as the face of the bank in their local community. They provide investment and saving-related advice to customers. A good Bank Manager should have expert knowledge of every aspect of the bank's operations. They should have the ability to handle multiple tasks at the same time. Here, find out roles and responsibilities of a bank manager, how to become a bank manager, salary of bank manager, and so on.
Responsibilities of a Bank Manager
Before moving on to how to become bank manager, let us check out some major responsibilities of a Bank Manager provided below:
Developing strategies and operational logistics for the success of the bank

Developing and promoting attractive products and services to customers

Creating and developing various databases related to banking operations

Meeting customers and resolving their problems or complaints

Hiring and training new staff members

developing good relationships with the local community and businesses

Preparing annual expenditure and operational budgets for the bank.
Eligibility to become Bank Manager
Candidates who wish to know how to become a bank manager must keep in mind that they will have to satisfy some of the requirements decided by the financial institution. The eligibility criteria to become a Bank Manager are provided below:
Education Required

Candidates must have completed a bachelor's degree in business administration or any relevant field

Companies will prefer candidates who have completed a bachelor's degree in accounting, finance or maths.

Master's degree in business administration or finance may help the candidates to apply for higher positions

Work Experience

Candidates should have at least 3 years of working experience. Some of the companies prefer candidates who have completed training in relevant field

Certificate

Certified Public Accountant (CPA) and Certified Financial Planner (CFP)

Skills

Provided below are some skills required for Bank Manager

Administration

Customer service

Interpersonal skills

Numeracy

Leadership

Problem-Solving skills

People management
Courses to Become a Bank Manager
The table provided below contains some of the courses that you can pursue to become a Bank Manager. The table also contains some well-known finance management colleges that offer quality education. You can apply to any of these colleges by filling our Common Application Form. Besides this, if you need admission related assistance, you can call on our toll-free number 1800-572-9877.
Course

Total Fee (Approx)

Top Colleges for Finance Management

INR 27,000 to INR 8.00 lakh

INR 1.20 lakh to INR 8.30 lakh

INR 50,000 to INR 80,000

INR 50,000 to INR 2.00 lakh

INR 25,000 to INR 6.00 lakh
Types of Job Roles Bank Manager
There are two types of Bank Managers i.e Retail bank managers and Commercial bank managers. The Retail bank managers manage the transactions involving in various bank branches across the country. On the other hand, Commercial bank managers deal with medium-sized enterprises and small companies and provide them with banking and financial services to increase their business. Most of the operations of Retail bank managers are carried via phone or internet. There are many other profiles available for a Bank Manager. Some of them are provided below:
Branch Manager

Financial Planner

Mortgage Broker

Service Manager
If you want to know what occupation is right for you, you can take our Career Profiling Test. Besides this, you can ask questions about a career as a Bank Manager on Collegedekho QnA zone
Employment Opportunities for Bank Manager
Bank Managers may look for a job at any financial institution such as Investment Banks, Commercial Banks, or Brokerages. Besides this, he can also look for a job at any Consultancy or Insurance Company. The graph provided below will help you know different types of companies and areas where a Bank Manager can apply for a job.
Top Recruiting Agencies for Bank Manager
Some of the major recruiting companies for Bank Managers are listed below:
State Bank of India

ICICI Bank

HDFC Bank

Axis Bank

Kotak Mahindra Bank

Bank of Baroda

IndusInd Bank

YES Bank

IDBI Bank
Planning to choose Bank Manager as your career?
Pay Scale/Salary of Bank Manager
The salary of Bank Manager who has good leadership and communication skills can be up to INR 7 lakh per annum.

Those who have experience of more than 5 years can get an average salary of INR 9-10 lakh per annum.
| | | | |
| --- | --- | --- | --- |
| Profile | Starting Salary per annum (in INR) | Mid Level Salary per annum (in INR) | Senior Level Salary per annum (INR) |
| Bank Manager | 3,50,000 | 7,84,000 | 10,00,000 |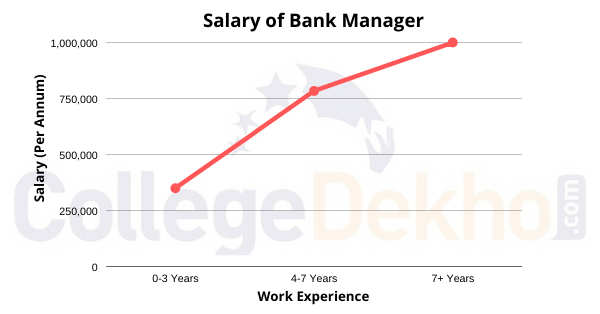 Books & Study Material to Become Bank Manager
Provided below are some recommended books on how to become a Bank Manager:
The Bank Manager by Roger Monk

Learning by Example by David Strang

Commercial Bank Management by Benton E Gup

Bank Management by Timothy W. Koch

Credit Risk Measurement by Anthony Saunders and Linda Allen

An Introduction to Banking by Moorad Choudhry

Commercial Bank Financial Management by Joseph F Sinkey
Pros of becoming a Bank Manager
One of the major benefits of becoming a Bank Manager is a good salary.

You will have fixed working hours. You do not have to work during weekends.

This profile will help you stay updated with the latest technologies in banking and finance

This profile is perfect for the candidates who are good in finance and accounting
Cons of becoming a Bank Manager
There is strong competition for this position

At least 3 years of work experience is required

You should good leadership and management skills

You will be responsible for resolving the complaints of customers
Top Colleges to pursue career as Bank Manager