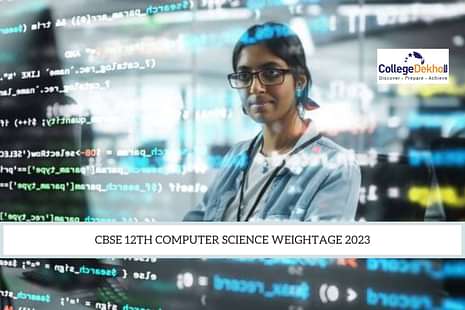 CBSE 12TH Weightage 2023: Computer Science is a popular elective choice for students who wish to pursue engineering courses later in the same field. However, at the Class 12 level, the Computer Science subject is usually found to be difficult. Therefore, in order to prepare well for it, the chapter-wise weightage distribution can prove to be very useful. The same is provided below in detail, along with the marks distribution as per the questions. The question paper of CBSE 12th computer science 2023 will have five sections with questions ranging from one mark to five marks. It is also to be noted that all programming questions are to be answered using the Python language only, even if it is not specifically mentioned in the question.
CBSE 12th Computer Science Weightage 2023: Unit-Wise
The following is the mark distribution for CBSE 12th Computer Science theoretical exam in a unit-wise manner:
Unit Number

Unit Name

Weightage

Unit 1

Computational Thinking and Programming 2

40 marks

Unit 2

Computer Networks

10 marks

Unit 3

Database Management

20 marks

Total

70 marks
CBSE 12th Computer Science Weightage 2023: Chapter-Wise
The chapter-wise weightage in detail for CBSE 12th 2023 computer science paper has been given in the table below:
Sr. No.

Chapter Name

Weightage

1.

Revision Tour

12 marks

(1m*7q + 2m*1q + 3m*1q)

2.

Functions

8 marks

(1m*1q + 2m*1q + 5m*1q)

3.

File Handling

14 marks

(1m*3q + 2m*1q + 5m*1q + 4m*1q)

4.

Stack

3 marks

(3m*1q)

5.

Network Handling

14 marks

(1m*5q + 2m*2q + 5m*1q)

6.

Database Management System

13 marks

(1m*1q + 2m*1q + 3m*2q + 4m*1q)

7.

Python Connectivity

6 marks

(1m*1q + 5m*1q)
Also Read |
Stay tuned to CollegeDekho for more Education News pertaining to boards, entrance exams, and admission.