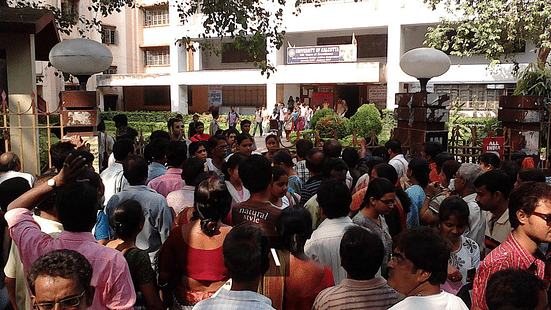 CLAT 2024 might be Conducted in Regional Languages
CLAT 2024 To Be Conducted in Regional Languages: In answer to a recent PIL filed by Sudhanshu Pathak, a law student at Delhi University, the National Testing Agency (NTA) has submitted an affidavit in the Delhi High Court about the options of conducting the CLAT 2024 entrance examination in other languages than English. The agency has supported the possibility of organising the national-level law entrance examination in other regional languages such as Hindi, Marathi, Bengali, Gujarati, Telugu, Assamese, and so on. NTA also stated that it can also conduct CLAT 2024 as a Computer-Based Test (CBT) instead of a Paper-Based Test (PBT).
The court bench headed by Chief Justice Satish Chandra Sharma and Justice Subramonium Prasad earlier asked the agency to give a reason why only CLAT 2024 exam was not held in other languages while NEET and JEE Mains examinations are being conducted in other regional languages as well. This is being seen as good news amongst the law exam aspirants who used to find it difficult to answer the paper in the English language only.
CLAT 2024 Might Be Conducted in Regional Languages
In its answer submitted in the affidavit, NTA has raised the possibility of conducting the CLAT Exam 2024 in more languages other than English in the coming months. The agency has confirmed that it has the means and provisions to organise the examination in other languages as well if required. The agency informed the Delhi High Court that it has regional language experts in a wide range of subjects who can translate CLAT 2024 UG papers into the required languages. However, the NTA has asked the court to provide at least a period of four months that are required for exam question paper preparations. If decided and supported by the Consortium of NLUs, NTA may have to postpone CLAT 2024 exam to January or February 2024 instead of its current date of December 3, 2023. 
"Accordingly, the Question Papers in respect of the Common Law Admission Test CLAT-UG can be translated into other Indian languages, such as Assamese, Bengali, Gujarati, Hindi, Kannada, Malayalam, Marathi, Odia, Punjabi, Tamil, Telugu, and Urdu and design/ printing the requisite OMR Answer Sheet in the required quantity depending upon the number of candidates to be scheduled for the said test," the affidavit submitted by NTA read. "Hence, in principle, NTA would be in a position to conduct the CLAT Examination in English and other Indian Languages as mentioned above. The CLAT (UG) can also be conducted by NTA in Computer Based Test (CBT) mode, like JEE (Main) & CUET (UG), in consultation with the Consortium of NLUs."
National Testing Agency (NTA) is the conducting authority of various entrance and employment examinations like JEE Mains, NEET, UGC-NET, CSIR NET and others.
Stay tuned to CollegeDekho for more Education News pertaining to entrance exams, boards, and admission. You can also write to us at our E-Mail ID news@collegedekho.com.,