Director of National Fire Service College (NFSC), Shamim has recently been conferred with the certificate of doctorate of professional entrepreneurship in fire and safety management by the European Continental University State of Delaware, USA.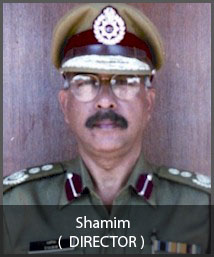 The idea of opening a Training College for Fire Service personnel of the country was conceived in the Expert Committee Meeting held in 1950 and the National Fire service college was established in 1956 at Rampur, U.P., and was later shifted to the present location viz., Nagpur, considering the Geographical and climatic advantage the city has. The college is housed at the Old Settlement Commissionate Building, altered the premises to the adequacy of a fire service Training Center, with sufficient space for conducting Fire Drills, and Demonstrations. The National Fire Service College , Nagpur functions under the Ministry of Home Affairs, Government of India, New Delhi.

The college comes under the Union ministry of home affairs. Working for almost three decades in the field of fire engineering, Shamim has wide experience in dealing with all types of fire disaster and management and always extends a helping hand in solving problems related to such issues.
A vision of making Nagpur an important international hub to deal with all matters of fire engineering in thNFSC director Shamim
e-world, Shamim has been able to establish a state-of-the-art infrastructure in Raj Nagar over a sprawling 43-acre campus with the help and support of the Union ministry of home affairs.
The infrastructure is nearing completion. Once fully operational, the facility could be utilised by agencies from all over the world, thus making Nagpur an important technical support city.