The Entrepreneurship Development Cell of Heritage Institute of Technology, Kolkata conducted the first day of its flagship event – "EntreSpark 2016: The Entrepreneurship Summit" on Wednesday, 20 April 2016.
The event will continue through Friday and Saturday, featuring seminars, workshops, and programmes by established entrepreneurs and ecosystem enablers tailor-made for college students, not just from Heritage Institute of Technology but other colleges around the city as well.
EntreSpark 2016 was formally inaugurated by the President of the Entrepreneurship Development Cell of HIT-K, Mr. Sandip Chatterjee. The entrepreneurship summit started off with a panel discussion featuring five prominent entrepreneurs from Kolkata who were graduates from Heritage Institute of Technology itself. The entrepreneurs present for this panel discussion were RohitKathotia (regional VP at Enhanced Wapp Service Pvt Ltd), Sarbajit Das (Founder and CEO, Sun-Dew Solutions Pvt. Ltd.), AnupamBaid (Director at Baid Power Services Ltd.), Bijoyaditya Mukherjee (Founder and CEO of Kamuda Naturals) and NavinSoni (Co-founder& CEO at Codez). The session was moderated by Binayak Ghosh and hosted by ArjyakBhattacharjee, both current students at Heritage Institute of Technology.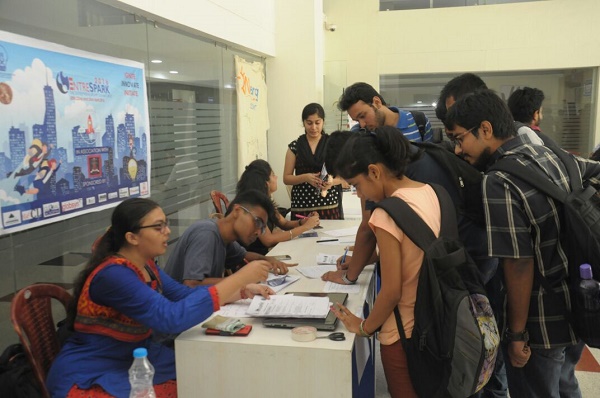 The panel discussion with Alumni Entrepreneurs of HIT-K was a huge success as the inaugural event of EntreSpark 2016. The session saw around 400 students from colleges all over the city attending and interacting with the panellists. The entrepreneurs shared stories about the initial stages of their journey, about how they went from ideating to creating successful business models out of their ideas, and about their typical approach to a given problem. They also shared their views about Angel Investments, Bootstrapping, the growth of Bengal as a hub of entrepreneurship and the challenges a first-generation entrepreneur faces in everyday dealings while trying to set up a company. Giving experiences from their own lives and careers, and taking questions from enthusiastic audience members and budding entrepreneurs, the session evolved into a brainstorming event about how best to approach entrepreneurship from the perspective of a college student.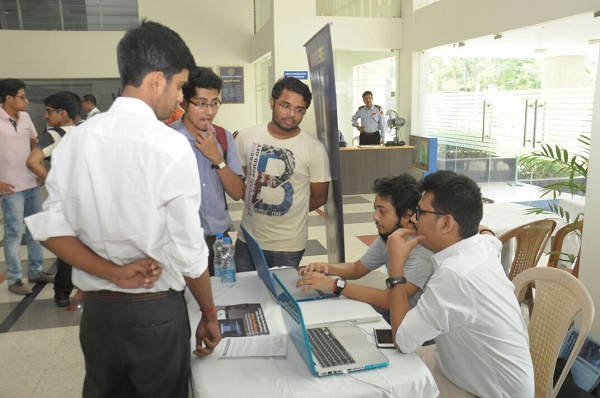 Following the panel discussion, EntreSpark 2016 continued with its next session – A Seminar on Data Science by Mr. Angshuman Bhattacharya, CEO and founder of SIBIA, one of Bengal's and India's leading Data Analytics firms. In a very educative and enthralling 90-minute session, Mr. Bhattacharya spoke about the evolution of Analytics and its importance to any medium and large scale business in the modern context. He went on to talk about how data analysis is essential for forecasting – a procedure adopted worldwide to minimize inventory costs and generate relevant information. He impressed upon the audience the need to understand and categorize data for effective business strategies in any context – be it a small scale retail outlet or a technological giant with a million employees. The Data Science seminar provided valuable insight into current market requirements and skills to the young audience.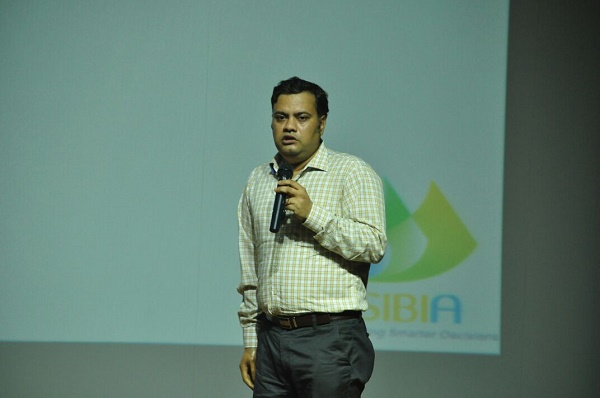 Ina addition to these on-stage events, throughout the day an Internship Fair had been organized, witnessing a footfall of over 500 interested candidates, and start-ups of repute such as Onergy, Pedagoge, Hulladek, Bookwallahs participating in it. Each company shortlisted about 50 people before a one-on-one interview was held in separate interview rooms. The students participating and being hired belonged to various backgrounds – technical, marketing, sales, etc. The Internship Fair will continue on Friday and Saturday with many other companies like Pollinate, Mera Tiffin, EazyCoach etc. joining in. A higher footfall is expected on those days as many other seminars and workshops are also lined up.
The E-Summit would continue on 22nd and 23rd April 2016 with several seminars starting with "Art of Selling" by Mr. Avelo Roy, a TEDx speaker and guest lecturer at Illinois Institute of Technology and other seminars on renewable energy, social entrepreneurship, Game Development and Virtual Reality. A 8 Hour Hackathon (conducted by Indusnet Technologies) and a Business Plan Competition would also take place wherein the winners would get mentoring and a chance to get incubated. Workshops on Python, App Development, 3D-Printing, Manual Robotics and Data Analytics would also be conducted during the period.
EntreSpark 2016 is already off to a grand start and promises to keep getting bigger and better over its next two days!
Source: Soutrik Das. City Journalist-Kolkata, CollegeDekho
Writeup Credit: Rajdeep Taluckdar