The Entrepreneurship Cell of IIM-U(Indian Institute of Management – Udaipur)"SAKSHAM" in collaboration with Title sponsor TiE (The Indus Entrepreneur) Udaipur, Associate sponsor Quicker and Media guest organized the flagship event "PRARAMBH- 32 Hour Startup Challenge" last week. The competition was attended by 67 participants.
Participants who took part in the competition, representing the views of the startup, were selected through voting, the selected competitors get the chance to make the team together with selected partners. Thereafter, begins 32-hour-long-race, "Prarambh" starts with the teams brainstorming on their favorite ideas and see how can they develop a minimum viable product out of it, which may be an app, a working device, or it may be a model. A total of 10 team out of 30 with one idea each is in the race that ends on last day.
THE MENTOR'S WERE-
Entrepreneur, strategic advisory, start-up mentor Mr.Anup Jalan.
CEO at Green Umbrella Investment Advisory Pvt. Ltd. Mr.Sumit Mehrra
Startup Tech/Agile Mentor Mr.Rajan Tawate.
CEO of Incubate Hub Mr.Rajiv Mukherjee.
CEO of Advaita Solutions Mr.Ravi Devulapally.
Co-Founder of Clerk-2 & CEO at Pricebaba Mr.Ankur Agrawal.
Founder & Head of Technology at Cynepta Mr. Gaurav Mantri
The teams were guided by all these with their expertise in technology and business.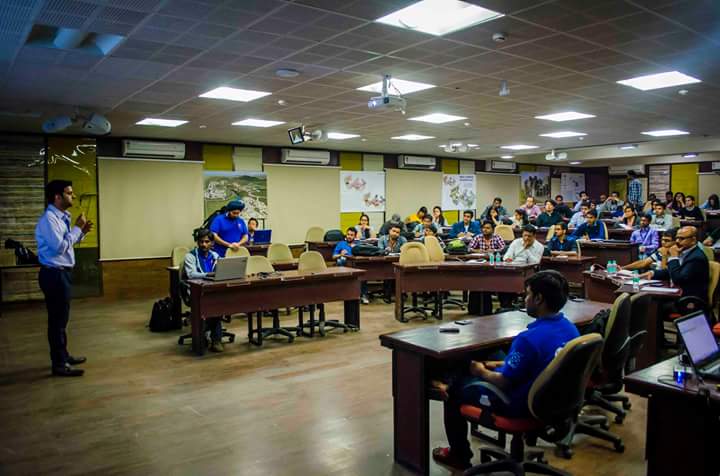 National chief & Director of BBCL & Spring Board Ventures Mr. Rajesh Sharma, Manager -Portfolio Operations & Investment in Startup Oasis Mr. Tarun Agrawal, And the owner of Enrichmentors Mr. Arun Singhal were present there as judges of the competition.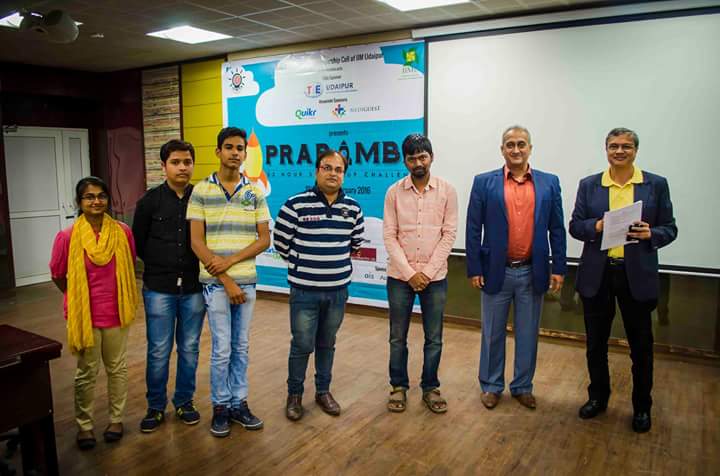 Team "My legacy" won PRARAMBH 2016, selling an idea of sharing emotions. 'They offer a platform to share messages with your loved ones at any point of time in the future'
Source – Jay Kumar Savita, City Journalist, Udaipur, Collegedekho.com