The Indian Institute of Management Udaipur (IIMU) held its 4th annual Convocation on Monday, 21 March 2016 at the MLSU auditorium, Sukhadia University Campus, Udaipur.
Dr. Pankaj R Patel, Chairperson of the Board of Governors of the Institute, and Chairman of Zydus Cadila (Renowned Pharmaceutical Company) delivered the welcome address. He stated that this batch of students has made the institute proud through their various activities and initiatives in the international arena. He also pointed that this is indeed a special occasion as this is the last Convocation ceremony being held at MLSU campus which is a temporary campus and that the next events will be at the new 300-acre campus which is in construction.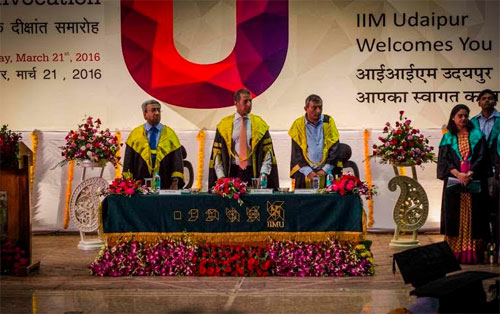 Mr. Rajan Bharti Mittal, Vice Chairman and Managing Director of Bharti Enterprises, was the Chief Guest and delivered the convocation address. He congratulated all the passing students on this joyous occasion and urged the passing batch to be sensitive to the society at large. He spoke about the challenges that he had to face during the license raj era and how liberalization has eased up many of those challenges. But he also mentioned that current generation faces a different set of challenges altogether. The current fast-paced environment requires managers to think differently and cited examples of a few global startups which did things that were unimaginable a couple of decades ago. He appreciated the college for its unique vision and encouraged the students to be quite involved with the society at large.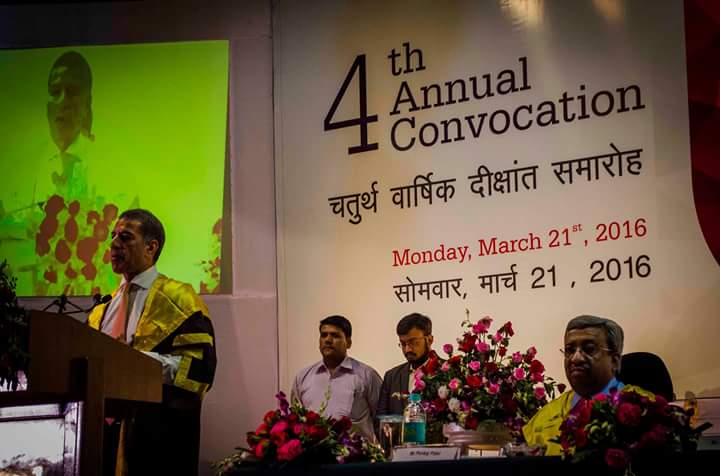 Prof. Janat Shah, Director of the Institute, delivered the concluding address. He congratulated everyone on the convocation of yet another batch and mentioned that the transformation in students over the last couple of years is very encouraging. Prof. Shah told how being a manager can give an opportunity to impact many lives and, in turn, the nation as well and urged the passing batch of students to be at the forefront of this journey.
The occasion was graced by the members of the Board of Governors of the Institute and other dignitaries from Udaipur. A total of 120 graduating students of IIMU's Post Graduate Program and 10 students of IIMU's Post Graduate Program for Executives received the diploma at this year's convocation.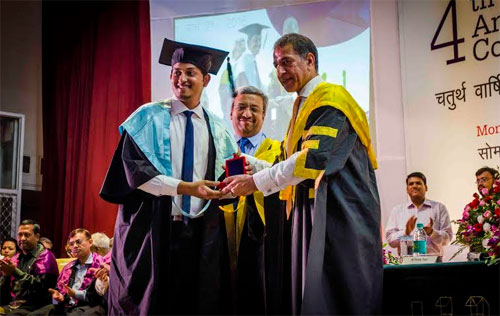 Name of the students who received the Gold Medals are as follows –
IIMU Award for Scholastic Performance
PGPX – Mr. Gautam Shirish Hardikar
PGP – Mr. Hitarth Bhadresh Mehta
IIMU Award for Best PGP All-Rounder - Mr. Vidit Mongia
Source – Jay Kumar Savita, City Journalist, Udaipur, Collegedekho.com