Institute of Leadership Entrepreneurship (iLEAD) held its much awaited interactive meet on 'Art, Craft and Business of Short Film-making' at its campus recently . The session that saw several promiment persons in their respective fileds like Mr. Cyrus Dastur, eminent short film director and actor and Ms. Papiya Mukherjee, head of the Edutainment Show.
The session at iLEAD's auditorium began with an introductory video about Shamiana's fun-filled journey over the years. Following that was an enlightening discussion with the man, Mr. Dastur. An actor and theater enthusiast (owner of the Theater Production Company, ' Two Plus Productions'), Cyrus emphasized on the power of audio visual medium that can be utilized for a different type of storytelling- short films.
Cyrus Framroz Dastur is the founder of 'Shamiana Arts', one of the best platforms connecting the likes of short film makers and movie buffs from all over the world.
He stressed on how engaging and compelling short films are, in comparison to their feature counterparts. With the online world taking connectivity to a different point, almost everyone has a story. Coupled with that is the objective of being a good filmmaker that propels them to reach out to the world at large via short films.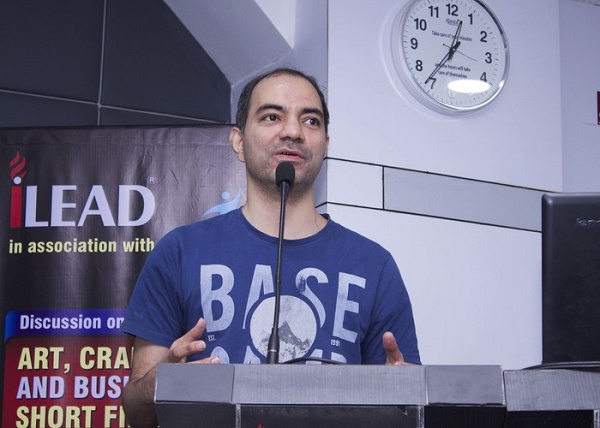 Mr. Dastur replied to almost every query that students of iLEAD had. One of them was the importance of dialogue in short films. To demonstrate how this medium can work sans conventional tools, he screened the 2014 hit- 'Lila', written and directed by the Argentine Director, Carlos Lascano. One of the best 'artsy' films, the story about an artist's creativity and imagination combining live action, animation and illustration fetched it several awards in numerous festivals from all around the world.
For budding filmmakers, the Director stressed on making short films that shouldn't exceed 5 minutes. Sending their works of art to festivals add value, besides ensuring a generous dose of revenue generation.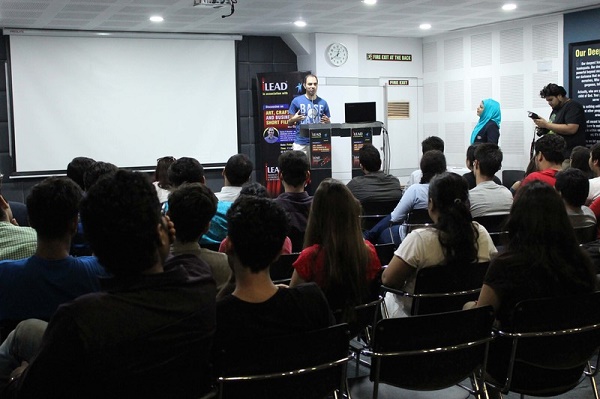 Dastur's venture, 'Shamiana Arts' is doing every bit to help young and talented short film makers to explore their potentials. The man behind "When God said Cheers!!" his flagship production and "Intehaa", based on the works of Mirza Ghalib is currently a popular figure in social media circuits. His Facebook group, 'Shamiana- the Short Film Group' can be accessed by all.He left the campus shortly after, but not before a sightseeing tour of the entire campus.
Source: Soutrik Das, City Journalist- Kolkata, CollegeDekho