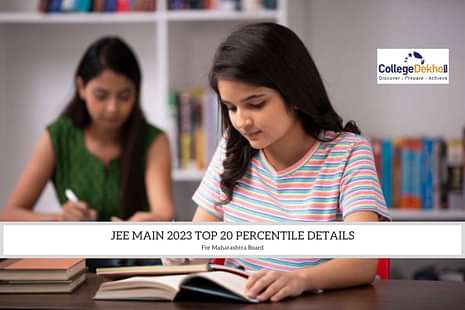 JEE MAIN 2023: After the huge demand from the dropper aspirants of JEE Main 2023, the National Testing Agency (NTA) on January 10th partially relaxed the mandate of 75% score in board examinations. This relaxation is applicable for the batches of 2021 and 2022, as well as the current batch of 2023. As per the new criteria given by the NTA, candidates who either have 75% and above in their board exams or those who are in the top 20 percentile will be eligible for admissions through CSAB counselling rounds.
Most of the candidates are unclear about the 'Top 20 Percentile' criteria and hence, the Maharashtra Board on January 13th released the top 20 percentile details for March 2022 pass-out batch. The top 20 percentiles vary from category to category. However, in a disappointing instance for the dropper students, Maharashtra board top 20 percentile 2022 for all categories is more than 75%. Thus, even with the relaxation, candidates who have secured less than 75% (65% for SC/ST) in the boards are not eligible for admissions through JEE Main 2023.
LATEST |
JEE Main 2023: Maharashtra HSC 2022 Top 20 Percentile
The category-wise details of JEE Main 2023 top 20 percentile for Maharashtra HSC March 2022 exam are tabulated below. These values are as given by the Maharashtra Board.
| | | |
| --- | --- | --- |
| Category | Total Marks in Top 5 Subjects (out of 500 marks) | Top 20 Percentile |
| General/Open | 391 marks | 78.20% |
| OBC | 397 marks | 79.40% |
| SC | 382 marks | 76.40% |
| ST | 383 marks | 76.60% |
If there are any further relaxations in this criteria, it will be decided by the Bombay High Court. The case filed by the child rights activist Anubha Srivastava Sahai against NTA has not been dismissed altogether. Only the postponement issue of it has been dismissed. The next hearing, which will be exclusively on the 75% criteria, is scheduled on February 21, 2023. If any changes are ordered then, the same will be implemented by the NTA. Until then, this criteria is to be taken as finalized.
Stay tuned to CollegeDekho for more 
Education News
pertaining to boards, entrance exams, and admission.