Narula Institute of Technology announced the launch of its 1st ever 'Innovation Club' in association with Confederation of Indian Industry (CII) at its campus.
The Innovation Club was launched at the occasion of NIT's annual techno-management fest "Kritanj-2016, Crossroad of Innovation"- aims at developing a fundamental change of instilling the innovation and entrepreneurial attitude and creative thinking at academic and industry level among students.
The innovation club was launched by Mr. Aloke Mukherjee, Former Chairman of CII in the presence of many distinguished guests from industry as well as from the field of academics. On the occasion also about 3000 excited students eagerly and patiently awaited for the launch of their 'dream' club.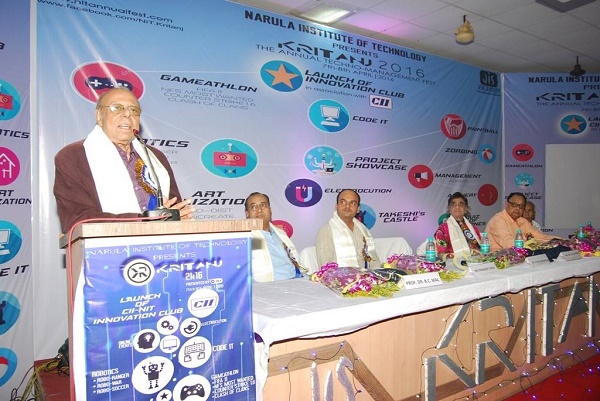 Sardar Taranjit Singh, Managing Director, JIS Group commenting on the launch said," In today's world the goal of getting an education isn't to solve some of yesterday's problems, but to tackle problems in the future that we don't know about today, using technology that hasn't been invented yet. This is where the need to innovate – to do things in new or different ways - comes in. Today with the launch of the innovation club at our NIT campus we as an education service provider want to give our students a chance to inhabit a borderless world offering limitless connection, data and mobility wherein they can choose to access knowledge and participate in a dialogue on a global scale. It will be a platform for them to pursue several technological breakthroughs which will be required for the advancement of today's society towards a better future."
With the global economy itself transforming and global connectivity becoming the defining characteristic of today's world, the corporate sectors are relentlessly pursuing to incorporate continual innovation a part of their organizational DNA. They are looking up to a workforce who can 'innovate' for them and keep them afloat in a market wherein the nature of 'demands' changes on a daily basis. This innovative workforce is provided by educational institutions - such as JIS group – that belief in practical education and in that fact the power of innovation explores a huge range of possible improvement that will shape the world for the foreseeable future. Kitanj-2016 – the techno-management fest organized by Narula Institute of Technology under the aegis of JIS Group – is a step towards making the institute's belief a reality.
It is a platform wherein students can showcase their projects and ideas through various activities such as hardware and software Project Demonstration and Multimedia Presentation. The launch of 'Innovation Club" will further propagate this unique platform to inspire students to create, build and implement their thought processes and ideas through diverse ground-breaking projects thus enriching their knowledge through creativity and hands-on training. The Innovation Club with dedicated space of 1000 SQ feet; with basic instruments, equipment and software will harbor great success as students will get an opportunity to exhibit their inherent potential in this wonderful platform.
Source: Soutrik Das, City Journalist-Kolkata, CollegeDekho