Swami Vivekanand Jayanti and National Youth Day was observed at Maharshi Dayanand University (MDU). MDU Vice Chancellor Prof. B.K. Punia and other Senior University functionaries offered floral tribute at Swami Vivekanand's life-size statue in Central Library premises.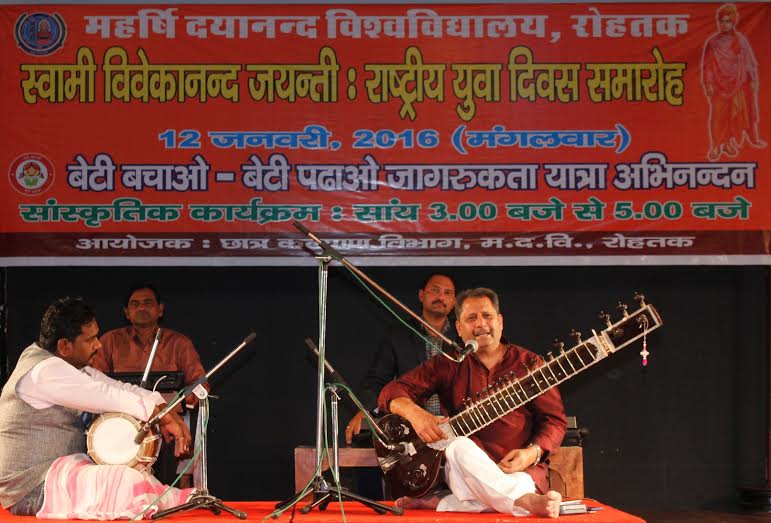 Vice Chancellor Prof. B.K. Punia inaugurated a Book-Display Exhibition in Vivekanand Library focused on books on Swami Vivekanand. Prof. Punia said that Swami Vivekanand's personality and life-journey is truly inspirational, and the youth must take inspiration from his life to contribute their mite towards nation-building.
A Slogan Writing Contest was organized in MDU's Student Activity Centre under the aegis of National Service Scheme (NSS)- Unit I & II. Yamini (Law Dept.) won the First Prize, Pooja Ahlawat (English) won Second Prize, and Ritu Ahlawat (History) won the Third Prize.
Later in the evening, a felicitation & cultural programme was organized in Radhakrishnan Auditorium to felicitate the girl-participants of BETI BACHAO-BETI PADHAO JAGRUKTA YATRA organized by Indian Media Centre (Haryana Chapter). Dean, Students Welfare Prof. Rajbir Singh, Registrar Jitender Bhardwaj, distinguished citizens of Rohtak were prominent among those present on the occasion. Director, Youth Welfare Jagbir Rathee conducted the cultural programme.