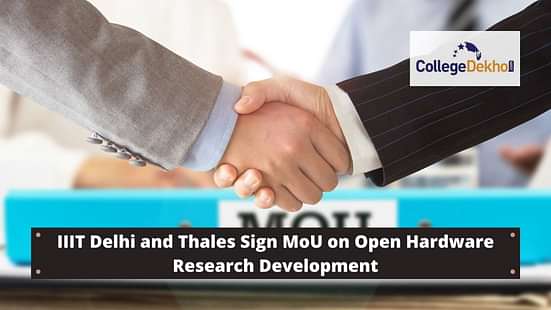 Indraprastha Institute of Information Technology Delhi or IIIT-D and Thales have agreed to collaborate on research and development in the areas of open hardware and related topics. Using configurations available with the RISC-V open ISA specification, this partnership will enable the co-development of complicated microprocessor architectures and multi-core processing systems. Space applications, defence, smart manufacturing and edge computing will all benefit from these systems. 
Thales and IIIT Delhi will work together to address safety challenges in the embedded software and processors for critical applications. It will utilise an open-source hardware approach as part of this collaboration. The activities will begin in August this year and will be completed in stages. 
The Vice President and country director of Thales in India Ashish Saraf sounded ecstatic to be collaborating with a prestigious institution as IIIT Delhi. He believes that this collaboration is happening at a crucial time when technological breakthroughs are rapidly reshaping the world around human beings. He is confident that by combining the scientific talent of IIIT Delhi and the knowledge of Thales, research and development will improve in the areas of open hardware and related issues and provide a massive boost to India's thriving innovation ecosystem. 
Also Read - IIIT Delhi Launches PGD in Computer Science & AI - Check Eligibility Criteria & Fee Details
Professor Ranjan Bose, the director of IIIT Delhi, was also pretty excited about this newly-formed highly productive relationship between his institute and Thales. He feels that this "one-of-a-kind" partnership will not only use complementary skill sets on both sides but is also a very big step forward towards strengthening Indo-French cooperation and collaboration.  
Before IIIT Delhi, Thales has associated with reputed institutions like IIT Delhi, IIT Madras, IIT Bombay and IISc Bangalore. 
Also Read - Find out more about the IIIT Amendment Bill 2020 that was passed in Rajya Sabha 
Dignitaries who were present at the signing of the "Memorandum of Understanding" include the Associate Professor of IIIT Delhi Dr Sujay Deb, Dean of IRD IIITD Professor Mukesh Mohania, IIITD Director Professor Ranjan Bose, Head of Thales Engineering Competence Centre Bangalore Satish Menon, Vice President and country director of Thales in India Ashish Saraf, Vice President Technical Operations (Research & Technology of Thales) Philippe Valery and Thales' Chief Scientific Officer Marko Erman. The associate professor of IIIT Delhi Dr Sujay Deb will render his services as the principal investigator of the research project.